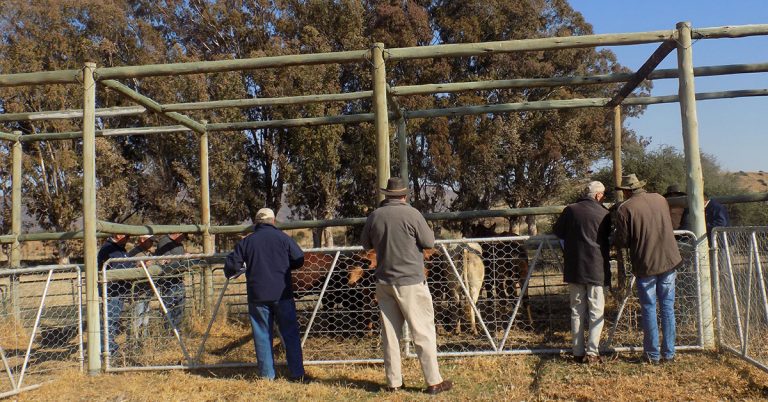 The agriculture sector needs clarity, as a matter of urgency, on a clause in the Level 4 lockdown regulations announced by President Cyril Ramaphosa on Sunday, 27 June, that says "gatherings at auctions are not permitted".
This was according to Christo van der Rheede, Agri SA's executive director, who told Farmer's Weekly this clause was extremely confusing.
"Does this prohibit auctions, and if so, does this include all types of auctions? What is going to happen to agricultural auctions that have already been scheduled for the next two weeks, and how on Earth can an auction take place without a gathering of people? These are the questions we need answers for," he said.
Van der Rheede added that, in light of the fact that agriculture had been declared an essential service, common sense dictated that agricultural auctions had to be allowed to continue.
According to him, livestock auctions formed an essential part of the livestock industry, and although online auctions were an option, it was not always practical or possible.
Agri SA also expressed serious concern about the ban on liquor sales that formed part of the current Level 4 restrictions. In a statement, the organisation said it was bound to have a dire impact on the wine industry in particular.
The closure of restaurants and tourism facilities would further exacerbate the situation.
"Where are the support packages for the broader liquor industry? Support for the hospitality, tourism industries and the hunting industries? We need answers on these questions and we need them urgently," Van der Rheede said.
Meanwhile, the Beer Association of South Africa (BASA) said it was seeking legal advice on the "inexplicable decision to implement a fourth [liquor] ban in the interest of protecting jobs and livelihoods".
Patricia Pillay, BASA CEO, said in a statement that the rise in COVID-19 infections was a direct result of large gatherings, a lack of social distancing, and the failure to wear masks, not liquor consumption.
"The South African beer industry supports some 400 000 livelihoods in the country [through the] supply and value chains. The previous three [liquor] bans have devastated thousands of small businesses across the beer value chain, leaving business owners, their employees and families destitute.
"Many more businesses will now find themselves on the brink of closure as a result of the latest 14-day ban, [with] no financial relief being made available by government," Pillay told Farmer's Weekly.
Francois Rossouw, executive head of the Southern African Agri Initiative, said there was also confusion in the hunting industry about what the restrictions meant for hunters and hunting outfitters.
The organisation had therefore sent an urgent letter to the Minister of Co-operative Governance and Traditional Affairs, Nkosazana Dlamini-Zuma, to seek clarification on whether hunting trips were regarded as interprovincial leisure trips.
"Our office has been inundated by enquiries regarding the matter. In light of the above, we want to find out if the definition of 'leisure' includes a limitation on local [subsistence] hunters and hunting."