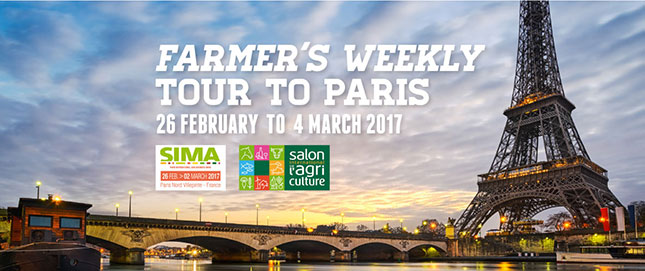 This is a must-see event for:
Crop farmers
Livestock producers and breeders
Agribusinesses and input suppliers
Members of producers' organisations
What is SIMA? 
SIMA – the Paris International Agribusiness Show – is amongst the largest expos of its type in the world. It comprises two parts:
SIMA, which exhibits a vast range of agricultural equipment and machinery, and
SIMGENA, which showcases livestock, genetics and livestock production, and holds dozens of competitions and open shows.
This double event is held at the Paris Nord Villepinte, a large convention centre near the Charles de Gaulle Airport.
The Salon International de l`Agriculture (SIA) – the Paris International Agricultural Show – is a separate event held at the Paris Porte de Versailles exhibition centre, the largest exhibition park in France.
Registration to attend SIMA 2017 show
For applications, enquiries, tour programme information and assistance with online pre-registration to SIMA 2017, contact Marianna du Plessis at Farmer's Weekly: [email protected]; mobile: +27 82 337 6127 (8am-5pm).
To reserve your air ticket and payment towards the Farmer's Weekly tour package,complete the application form and return it to the above email address.
Application for a visa invitation letter takes place with the online registration for the SIMA show entrance. For visa application assistance, email Yolanda Barkhuizen at [email protected]
Final application to participate in the Farmer's Weekly tour: 1 November 2016
Final online registration to attend the SIMA show: 10 November 2016.
First deposit (50%) to ensure your flight and hotel accommodation as per quoted package is payable to Boland Travel not later than 25 November 2016. Final outstanding balance payment is required on or before 12 January 2017. No exceptions will be allowed and an automatic price increase on the balance amount will be payable. Full payment up front is the preferred option, and will incur no additional administration fees.
The final day for visa applications is 2 February 2017. Applications for the invitation support letter from France to accompany the visa application close on 1 February 2017.
The full payment for late registrations must be made by 12 January 2017.
Note that applications after 12 January 2017 will result in a new package on flight and accommodation rates, and availability will not be secured. The quoted tour package will not apply for late registrations.