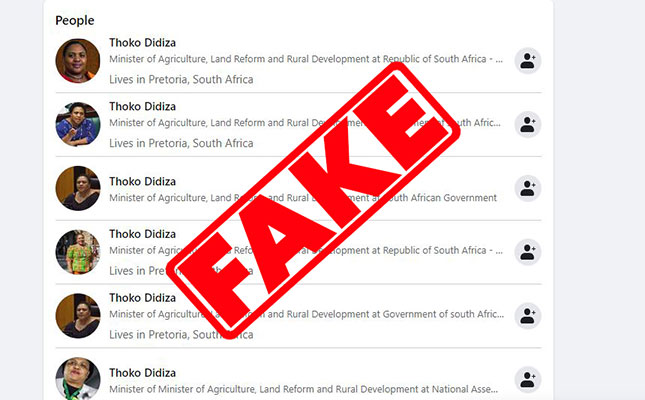 The Department of Agriculture, Land Reform and Rural Development (agriculture department) has issued a statement in which it warns members of the public about a number of fake social accounts claiming to belong to agriculture minister, Thoko Didiza.
According to the statement, this minister wished to confirm that she did not have any accounts on social media platform.
READ Fake food threat to the livestock sector
Didiza had been inundated with calls from concerned citizens trying to verify whether she was indeed the person they had been engaging with on these social media platforms, the department said.
"The minister would like to distance herself from the fraudsters who are [impersonating] her. She would like to confirm that there is no EU development funding programme that she is involved in."
Didiza had reported the matter to both the South African Police Service and the administrators of Facebook.
READ Negative outlook for agri employment, despite good harvests
"I urge all of you to be vigilant about anyone who [impersonates] me; these fraudsters are working day and night to get your hard-earned money," she warned in the statement.
Farmer's Weekly was able to find at least 12 accounts on Facebook created in Didiza's name, which all featured photos of the minister. At least four of these accounts had more than 600 followers listed.