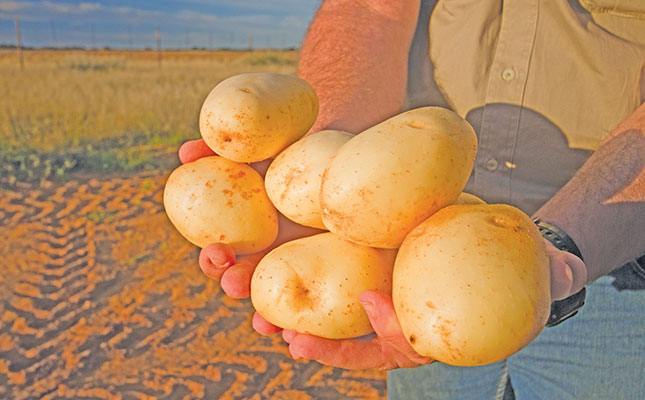 Mbavhi Maliage, a forecaster at the South African Weather Service, told Farmer's Weekly that the heatwave, which hit Gauteng, Mpumalanga, Limpopo and North West on Sunday (2 October) would likely dissipate from Friday (7 October).
Piet Engelbrecht, chairperson of Agri Limpopo, said while farmers in the region were used to heatwaves at this time of year, they were currently falling behind on their irrigation schedules, which could have a significant impact on crops in the long term.
READ 'Rolling blackouts threaten SA's food security and exports'
"It's still too early to see what the extent of sunburn will be, but there will definitely be damage."
Meanwhile, Willie Jacobs, CEO of Potatoes South Africa, told Farmer's Weekly that the industry was already anticipating a potato shortage as Limpopo farmers were harvesting potatoes up two months earlier than planned because the rolling blackouts made irrigation impossible.
"In the final months of potato production, a farmer's yield doubles for every additional month he or she can keep the product in the soil. The way things are going at the moment, farmers will not be able to realise their full harvest this year."
As the harvested potatoes would also be smaller, the national yield would be lower, he added.
READ Floating solar panels: generating power and saving water
Meanwhile, Dr Pierre Bester, a veterinarian at the Warmbad Animal Clinic in Bela-Bela, advised farmers to keep food and water as close to their animals as possible during the heatwave to ensure that they did not have to use "excessive energy to reach it".
"It's also a good idea to keep the animals [in a shaded area]."
The rolling blackouts were also creating difficulties for farmers who had to pump drinking water from boreholes, Bester said.
"In many cases, the pumps are not powerful enough to pump water in a short period of time, and consequently there isn't sufficient water available for livestock."
READ Considering the switch to solar energy? Read this first!
Bester added that this was especially problematic in communal areas. "Communal farmers' animals also have to [walk] far to reach feed, and this places incredible stress on the animals."