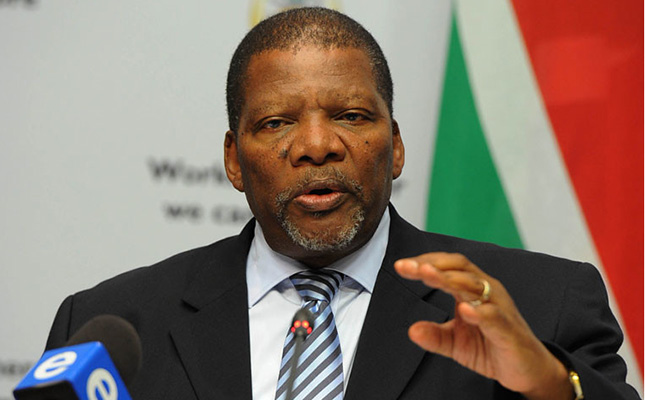 Gugile Nkwinti, the Minister of Water and Sanitation, reportedly unduly used his influence to secure a R97,6 million farm in Limpopo for a friend and his business partner during his tenure as Minister of Rural Development and Land Reform (DRDLR).
READ Election 2019: Political parties on land and farming
This was according to a report recently published by the Public Protector, Advocate Busisiwe Mkhwebane.
Mkhwebane's office began the investigation into Nkwinti's alleged violation of the Executive Ethics Code for members of the Cabinet, deputy ministers and members of provincial executive councils, following media reports and a complaint from DA Member of Parliament, Thomas Walters.
Nkwinti also requested the Public Protector to investigate the allegations against him "to subject himself to public scrutiny", the report said.
According to the report, Nkwinti was approached by a fellow ANC member and family friend, Errol Velile Present in May 2011, who asked him to assist him and his business partner, Moses Boshomane, to acquire Bekendevlei Farm in Limpopo for their personal interests.
The report added that within about eight months of this request, the DRDLR acquired Bekendevlei Farm for R97,6 million, and Present and Boshomane were made the beneficiaries of this property.
READ Government bailout for Canadian farmers
Mkhwebane found that Nkwinti and Present had a "father and son-type" of relationship and that Nkwinti had been a guest speaker at Present's wedding.
"The allegation that Minister Nkwinti abused his position of authority and unduly influenced the acquisition of Bekendevlei Farm for the purposes of allocating it to Messrs Present and Boshomane is substantiated. The allegation that Minister Nkwinti received a R2 million bribe as a reward for facilitating the transaction is without basis and could not be supported by evidence," the report said.
Based on these outcomes, Mkhwebane said that President Cyril Ramaphosa had 30 days from 3 May to take the appropriate action against Nkwinti for violating the Executive Ethics Code and Constitution in the Bekendevlei Farm transaction.
Nkwinti had since approached the North Gauteng High Court with an urgent application to interdict Mkhwebane from making the report public.
Department of Water and Sanitation spokesperson, Sputnik Rattau, told Farmer's Weekly that Nkwinti had applied for the interdict to allow the Minister time to respond to Mkhwebane's findings.
"The ruling will only be made on Thursday. This a matter to do with Minister Nkwinti's time at the Department of Rural Development and Land Reform and so it would be incorrect for [the Department of Water and Sanitation] to [comment on] the merits of this case," Rattau said.