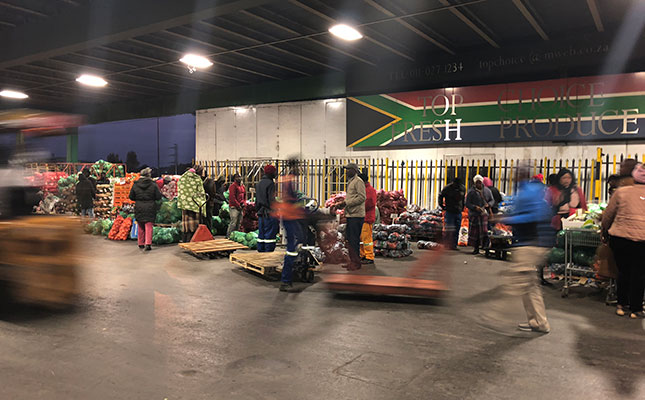 An amendment to South Africa's lockdown regulations that will allow informal traders with the necessary permits to resume operations was announced by the Minister of Cooperative Governance and Traditional Affairs (CoGTA) Nkosazana Dlamini-Zuma, on Thursday.
The amendment was made to the initial lockdown regulations published in terms of the Disaster Management Act 2002 in the Government Gazette on 2 April.
READ Food security at risk as African countries lock down
"One of the things we have realised is that spaza shops were supposed to be open, but for some reason some were asked to close. So, we are just clarifying that spaza shops should be open."
She said this also applied to informal food traders.
"Those trading in food informally are allowed to do so, but they must get a permit from their councillor or their municipality, then they will be free to trade."
The amendment was to Part B of Paragraph 5 of the regulations, which was substituted with the following paragraph:
"Grocery stores and wholesale produce markets, including spaza shops and informal food traders, with written permission from a municipal authority to operate [is] required in respect of informal food traders".
In response to a question about the transportation of goods across provincial borders, Dlamini-Zuma said this was permitted when the goods were included on the current list of essentials published by government, such as food products.
READ Minimal coronavirus impact for cross-border banana farmers
"Goods that are not in the regulation for now are not allowed," she said.
The impact of the 21-day lockdown, which was instated by Government to slow down the spread of the coronavirus disease (Covid-19), on informal traders such as fruit and vegetable hawkers or even spaza shops had been a talking point this week.
The Institute for Poverty, Land and Agrarian Studies (PLAAS) released a report titled 'Food in the time of the coronavirus: why we should be very, very afraid', which stated that the lockdown was already having an impact on the capacity of poor people to access food.
This was especially true in the "informal food economy", including small farmers, street vendors and spaza shops, which PLAAS described as "important in meeting people's daily food needs".
The research indicated that the street food trader sector supported approximately 500 000 livelihoods nationally, accounting for 40% of township economy.
READ How African superfoods inspire local agripreneur
"A large proportion of food sold and consumed in townships is from street traders; surveys suggest that up to 70% of households usually source food from informal outlets," the report stated.
It also highlighted the impact on small farmers and trading platforms such as fresh produce markets.
"An estimated 60% of the goods traded at the Johannesburg Fresh Produce Market sell onto the informal township market," the report said.
Observations in the first week of South Africa's lockdown included the effect on, for example, small farmers who supplied fresh produce markets, but were locked out of supply chains through supermarkets.
PLAAS said it estimated that about 20% of the 30 000 commercial farms in the country produced about 80% of "our food".
However, about 180 000 commercially-oriented farmers were being negatively affected. This was due to restrictions on trading, and other factors such as not being able to access communal areas like gardens or lands to tend crops or livestock.
For the full report, visit plaas.org.za/food-in-the-time-of-the-coronavirus-why-we-should-be-very-very-afraid.
Click here for COVID19 updates.