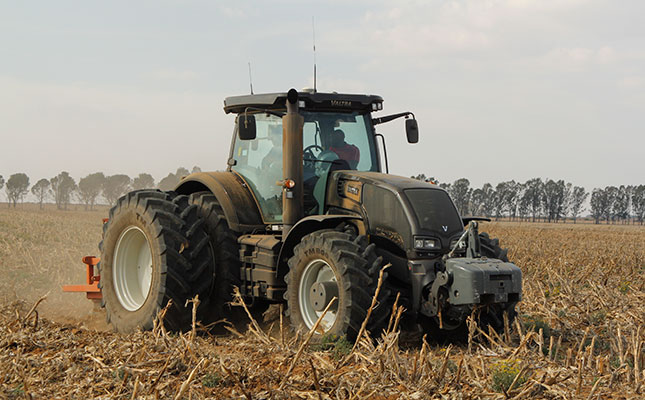 New tractor sales continued their strong trajectory nationwide during February, a trend which has been evident since the beginning of the year. However, last month's combine harvester sales were somewhat below those of February 2020.
Data released by the South African Agricultural Machinery Association (SAAMA) showed that January 2021's tractor sales of 445 units were 27,9% up on January 2020's figure of 348 units. The 648 new tractors sold in February were also a 28,3% increase on the 505 units sold in February last year.
READ A methane-powered tractor by New Holland
Total tractor sales for the first two months of this year were, therefore, 1 093 units, or 28,1% more than the 853 units sold during the same period last year.
SAAMA's data showed that while five new combine harvesters were sold in both January 2021 and January 2020, the 14 units sold in February of this year were 22,2% down on the 18 units sold in February last year. A total of 19 new combine harvesters were sold compared with the 23 units sold during the same period in 2020.
Commenting on the sales figures, Agbiz's chief economist, Wandile Sihlobo, said in the latest issue of the SA Weekly Agricultural Viewpoint newsletter, that the ongoing positive impact on international and, therefore, South African grain and oilseed prices due to rising demand for these commodities from China, were contributing to the strong tractor sales.
READ A methane-powered tractor by New Holland
"The increasing demand for South Africa's grains in Southern Africa and the Far East markets, coupled with the relatively weaker domestic currency, also supported domestic grain prices. [In 2020] South Africa had its second-largest grain harvest [ever]. Farmers were on the right side of having supplies in an environment with favourable prices and, thus, the slight improvement in the finances that supported the increased machinery sales," he said.
He told Farmer's Weekly that the dip in comparative combine harvester sales was unsurprising given that South Africa's grain and oilseed farmers were now between harvesting seasons. As the mid-year harvesting season for 2020/2021 summer grain and oilseed approached, a slight uptick in new combine harvester sales could be experienced in May and June.
"The 2019/2020 marketing season saw strong agricultural machinery sales, and so the rate of replacement of machinery is expected to be fairly low this year," Sihlobo said.
In his analysis of February's agricultural machinery sales, SAAMA chairperson, Karel Munnik, said the sentiment in the country's agricultural machinery sector remained "very positive". This was due to good outlooks for the 2020/2021 summer grain and oilseed harvests, and expectations of good prices for these.
"There are still quite a few variables which may affect summer crops, so there is some caution in the industry. Initial estimates for the 2021 calendar year are quite encouraging, with [tractor] sales likely to be up to 15% higher than [the 5 738 units sold] in 2020," Munnik said.