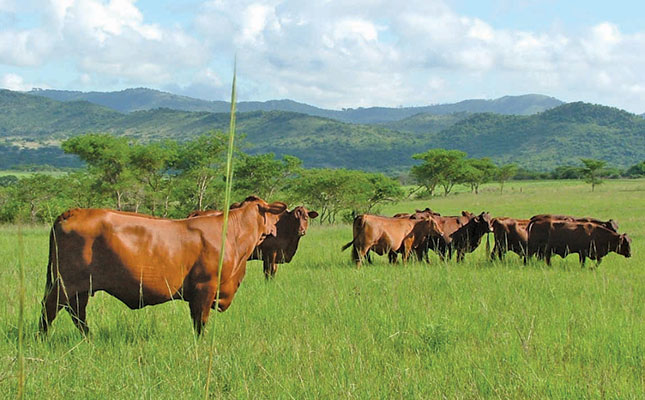 The walls of Amy Williams's office on Scotston farm in Mpumalanga are adorned with photographs of prize-winning animals, testimony to their owner's 45-plus years of cattle-breeding skills. And the accolades, it seems, are not stopping any time soon.
In 2020, her bull DJW 17 029 was nominated for an Agricultural Research Council Platinum Bull award.
Hailing from Scotland, and with a family heritage of cattle farming going back 800 years, Williams married a South African and found herself on a farm in Barberton in the early 1970s. While her husband continued tobacco farming, she took up cattle breeding, starting with Brahman crosses.
"My husband's father was talked into buying a Santa Gertrudis bull. When we weaned the calves, the weights were better from the Santa Gertrudis side. I started adding a few to the herd and bought some registered female animals, and then registered as a Santa Gertrudis breeder in 1975," she says.
Today, the Williams Santa Gertrudis stud prides itself on breeding functionally efficient animals with good beef qualities.
The stud comprises 125 breeding cows, with the full herd being between 280 and 340 head, depending on the time of year. With just 950ha of grazing, Williams says that there is little room for expansion.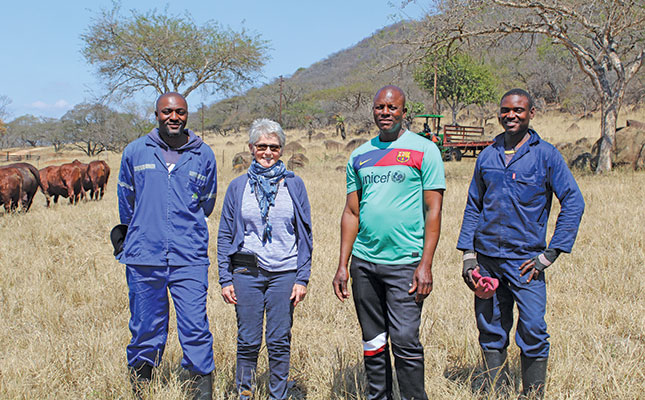 "We stock at a ratio of around 4ha/LSU. The cattle don't get additional feed, only a lick, which consists of protein in winter and phosphate in summer. If veld conditions are especially tough, I add 20% energy to the lick."
The inter-calving period (ICP) averages 401 days, and calves have an average birthweight of 37kg. The herd's calving percentage varies according to veld conditions, but averages between 86% and 93%.
"In 2019, we really struggled because of the drought," Williams admits.
"We're supposed to be in a high-rainfall area, but we've been ina six-year drought. For decades, our average annual rainfall was 739mm, but that has dropped to below 600mm over the past six years. In addition, the rain fluctuates between 300mm and 1 400mm a year.
"Calving percentage in circumstances like ours is very dependent on environmental conditions. If a cow loses too much condition before calving, she'll have difficulty picking up enough weight to reconceive for the next breeding season. It's for this reason that I stick to a rigid calving season, calving from mid-September to mid-December."
The farm's sourveld also presents a challenge, with the herd unable to benefit from more palatable, sweetveld grasses such as those found elsewhere in South Africa. Moreover, the Lowveld plays host to a wide range of tick-borne diseases, including gallsickness, redwater and heartwater. The cattle are dipped as necessary, which equates to about once a month in winter and twice a month in summer.
According to Williams, Santa Gertrudis cattle, which were largely developed from Bos indicus cattle, fair better in the hotter, more humid conditions of the Lowveld than some B. taurus breeds.
"Our environment, my emphasis on fertility, and management that entails no feeding have all resulted in a slightly smaller type of breeding cow than in the western parts of the country, for example." As her main market is commercial beef producers, she tries to run her herd in much the same way as her clients run theirs, so as to lessen the shock when bulls are introduced to a new area.
Breeding
Williams uses four to five breeding bulls, as well as artificial insemination. All bulls are tested for fertility, and sheath scrapings are done to ensure that the animals are free of venereal diseases. They are then put to the cows around 10 December, where they stay for three months. All animals are tested annually for tuberculosis and contagious abortion.
"In all our years of farming, we've never had a positive case, but we must always be vigilant. The herd is also treated with injectable vitamins A, D and E three times a year, and Multimin with selenium. In winter, we inject Supavax as well as lumpy skin disease vaccine, and if it looks like a wet summer, we inject again for lumpy skin."
Williams selects primarily for fertility, and states simply: "If you don't have fertility, you have nothing."
She also selects for structural correctness, and pays attention to estimated breeding values for birthweight, weaning weight, milk production and testicular circumference.
"I don't want to have to pull a calf out at birth. Doing this can mean the loss of the calf and the dam," she says.
Her aim is thus for low birthweights and heavy weaners, as breeding fast-growing weaners is the essence of the beef industry, she stresses.
"If I buy a bull, I look at the ICP of his dam, as this is indicative of her fertility. I also look for good milk values, suitable weaning figures and scrotal circumference."
She notes that the Santa Gertrudis breed by and large fulfils these criteria: it breeds small calves, enabling ease of calving.
"The dams have good milk and the weaners grow well, providing a favourable feed conversion ratio in the feedlot."
Her programme focuses on complementary breeding, strengthening traits that are weaker.
"If I see that a cow is weaker on milk, then I try to complement that by using a bull that's higher than average in his milk values. Likewise, with any other traits that I feel need to be strengthened, for example, length, depth or width.
"I've been fortunate enough over the years to have judged at cattle shows locally and abroad, so hopefully by now have a good idea of what a functionally efficient, beef-carrying animal should look like.
"As a stud breeder, I'm always trying to improve my animals from a visual, performance, beef, and functionally efficient point of view."
Williams carries out a number of selections. "The first is at the end of May and then later I have a fairly strict selection to ensure we continue with structurally correct, sound animals that will make it into the breeding herd.
"I do another selection on the veld at about 18 months and a final selection just before the bulls are fattened for our annual bull sale. This takes place at the end of August near Kinross in Mpumalanga under the name Louwrens/Williams with our guest seller who has recently joined us, Heiner Hinze."
Williams attends only the National Championship Show, which takes place every three or four years. This, she says, is both for pleasure and benchmarking.
"Being in the Lowveld, I don't have many cattle farmers or Santa Gertrudis breeders in the vicinity, so attending shows gives me a good opportunity to see where I slot in. Shows also help with marketing the cattle, but of course that only works if you do well!"
As the stud breeder's market is the commercial farmer, these are the customers she tries to please.
"I've found over the years a tendency towards a shorter, thicker-set animal, which is especially in demand in the harsher regions of the eastern side of the country."
Running cattle in the Lowveld has its challenges, but she has not let these hinder her.
"Since we registered our herd, I've never missed a national championship competition in South Africa. I'm now in my 70s, so when I stop, there's a good chance the cattle farming side of things will also stop, as my son is a macadamia farmer and has little time to spend on cattle. I have good help on the farm who have been with me for many years and know what they're doing."
Perseverance
The joy that Williams experiences in breeding cattle is evident. She notes that success in stud breeding can come only from hard work, dedication and a love for the process.
"I look at the cattle and think all the time about how I can improve on what I have. I'm still trying to breed the perfect animal!"
She is proud to have second- and even third-generation farmers as customers, and also plays an active role in mentoring emerging farmers.
"The farming community of this country has enriched my life hugely. Being a cattle farmer has given me a wonderful opportunity to see this country and the world, and meet people who share my passion for breeding. I enjoy attending shows, judging, and checking up on my clients, many of whom I consider lifelong friends."
Email Amy Williams at [email protected].