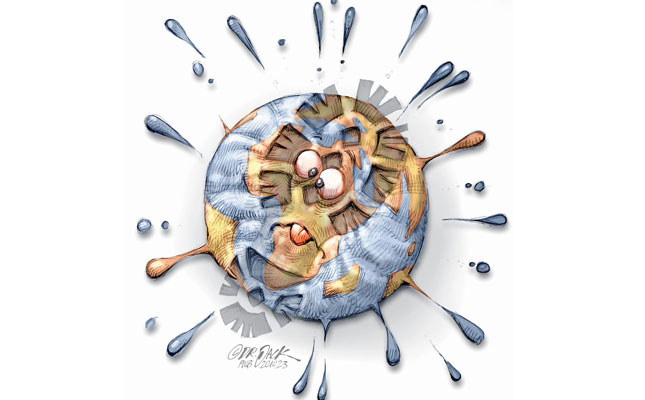 'Rights of nature' is the idea that nature possesses fundamental rights, just as humans do. The Rights of Nature movement has ancient roots, arising from indigenous traditions that have always treated humans as part of nature, rather than distinct from it.
Rights of Nature seeks to rewrite the legal system to work for the environment instead of against it.
The movement is led by indigenous peoples, civil society, legal experts, and youth organisations, who all demand systemic reform of our treatment of nature.
Earth's ecological systems are deteriorating dramatically. A 2019 UN report on biodiversity found that human activity is driving mass extinction and global biodiversity loss, with dire ramifications for human well-being and society. The report warned that transformative change is needed to save humanity and nature.
A Rights of Nature approach offers such transformative change. First, it recognises that nature is not mere human property, but possesses basic rights. These can be established by defining nature as a 'subject of rights', as a 'legal person', as a 'rights-bearing entity', or through other terminology.
Nature's rights may include rights to exist and to thrive, and the right to restoration. Second, a Rights of Nature framework gives nature legal standing, which means its rights can be defended directly in a court of law. Third, it creates duties for humans to act as guardians or stewards of the natural world.
The movement
The Rights of Nature movement includes a diverse array of actors and many jurisprudential and advocacy approaches. This article explores this diversity, as well as the similarities that make the movement distinctive.
Normative value
Alongside concrete outcomes of new laws and cases, the concepts enshrined by rights of nature measures have important normative value, and reframe exploitative or destructive relationships between people and nature.
Knowledge exchange
Rights of Nature is already a transnational jurisprudence. There is growing acknowledgment of such rights within the UN and they are enshrined in numerous UN General Assembly resolutions. As the Rights of Nature approach develops, concepts will continue to travel across and between international and domestic legal systems. An important role for the movement is to continue to support this exchange, both within and across countries.
Connection to human rights
Advocates can draw upon existing legal approaches to develop rights of nature alongside other areas of international and domestic law. In some jurisdictions, recognition of rights of nature is connected to human rights, including the right to a healthy environment and indigenous peoples' rights.
Strategic litigation
Strategic litigation and judicial decisions have played a critical role in turning the dial up. Court decisions can inform the development of legislation, institutions and environmental planning. However, strategic litigation may face procedural constraints. Legal innovations, such as expanded procedural rules for standing and evidence in Bhutan and the Philippines, provide possible models for overcoming these constraints by making it easier for concerned individuals to bring environmental claims on behalf of nature.
Guardianship
In many cases, Rights of Nature remedies have involved the creation of a guardianship body responsible for a particular natural phenomenon, such as a river, forest or an entire ecosystem. Guardianship bodies are often advised by experts and required to report regularly on their progress.
Specialist authorities/tribunals
Other models include the establishment of independent authorities, as in the case of the Yarra River in Australia, in which the Birrarung Council was created through legislation to act on behalf of the river and advocate for its protection and preservation. Ombudsmen and specialist tribunals are established or tasked in some jurisdictions with investigating and addressing maladministration or rights violations. They have the potential to play an important role in standard setting and accountability.
Local ordinances
Cases in the US and Brazil provide examples of local Rights of Nature ordinances and other actions by local authorities, as well as tribal and indigenous jurisdictions and councils, in response to inaction or violations at state or federal level.
Remedies and enforcement
Remedies for violations of the rights of nature may include both restitutional and preventive measures. Alongside the creation of new guardianship bodies, courts have ordered environmental action plans, demarcation of protected areas, data collection and studies, judicial oversight and monitoring, rehabilitation and restoration, and awarded damages. However, court decisions often face implementation challenges and are sometimes nullified by higher courts or executive orders. As a result, civil society monitoring and advocacy, together with executive action, are needed to ensure progress.
A grassroots and global movement
The success of the Rights of Nature movement depends on collective action and a strong and committed movement of local communities, environmental activists, lawyers and others in efforts that may eventually culminate in court decisions and legislation.
In Africa
The only formal codification of the rights of nature within Africa is in Ugandan legislation. After an extensive campaign by civil society groups in 2019, Uganda enacted environmental legislation that explicitly enshrines rights of nature.
Section 4 of the National Environment Act of 2019 provides that nature has the right to exist, persist, and maintain and regenerate its vital cycles, structure, functions and processes in evolution.
A person has a right to bring an action before a competent court for any infringement of the rights of nature under this act. The act stipulates that government must apply precautionary and restrictive measures in all activities that could lead to the extinction of species, the destruction of the ecosystems or the permanent alteration of natural cycles.
Reporting on the draft bill, the Committee on Natural Resources of the Parliament of Uganda commented that for a very long time, "laws have only [permitted] treating nature as property".
The committee added that for the right to a clean and healthy environment to be guaranteed, the environment needed to be recognised as a rights-holding entity.
Although the 1995 Constitution and the National Environment Act 1995 provided for people's right to a clean and healthy environment, and the Constitution commanded the state to protect natural resources such as water, wetlands, minerals, oils, fauna and flora, it did not provide for nature to hold, enjoy and enforce its rights.
To solve this meant giving universal rights to both humans and nature to enjoy a clean and healthy environment.
The legal right focuses on the idea of legal standing (often described as the ability to sue and be sued), which enables 'nature' to go to court to protect its rights.
Legal rights are not the same as human rights, and so a 'legal person' does not necessarily have to be a human being. Corporations, for example, are also treated in law as 'legal persons' as a way to endow companies with particular legal rights, and to treat the company as legally distinct from its managers and shareholders.
Therefore, the same practice should apply to nature.
The views expressed in our weekly opinion piece do not necessarily reflect those of Farmer's Weekly.
This report was published in October 2020 and produced by the Cyrus R Vance Center for International Justice, the Earth Law Center and International Rivers.