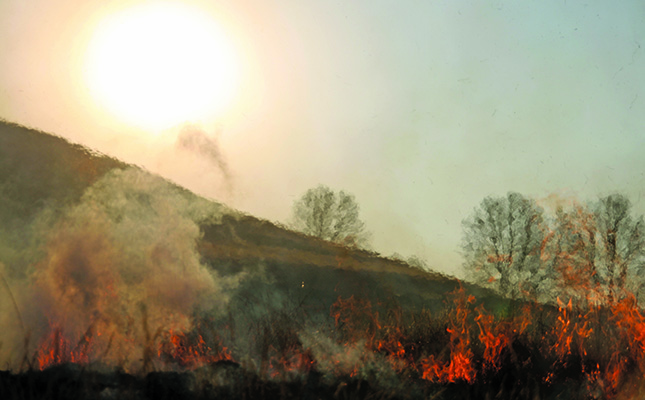 Fire authorities are bracing themselves for the Western Cape fire season that kicks-off on 1 December.
"The Western Cape is known for [having] an extreme fire season and Working on Fire (WoF) has been gearing up throughout the year to be ready from all aspects," said  Melany Duthie-Surtie, provincial general manager of WoF.
She said that while the organisation was not able to predict how intense or extensive the upcoming summer fire season would be because: "We still have large portions of areas that has not burned in a while and due to global warming, we have strong winds and they are a big factor in fire. We haven't had large fires in the Cederberg, West Coast, Table Mountain, Boland, and Grabouw regions, and the [area along the] Garden Route closer to the Eastern Cape are all areas that are at high risks."
According to Duthie-Surtie, 700 firefighters were stationed at various bases across the province. Since the beginning of November, aerial support that consists of six spotter planes, five helicopters and two bomber planes, had been on standby in the province.
She added that neighbouring provinces would also assist with firefighters and vehicles when needed.
"WoF had also been busy with fire prevention work such making firebreaks, block-burns, as well as fuel reduction for our partners that include fire protection associations, Cape Nature, Table Mountain National Park, as well as SANParks," she said.
In addition, WoF also conducted fire awareness education programmes at schools and in communities, as well as door-to-door campaigns, specifically targeting communities that were "fire prone", she said.
The Greater Overberg Fire Protection Association provided these guidelines for farmers to ensure that they are well prepared for the 2019/2020 fire season:
Make sure that fire equipment is in order. This is the last chance to do some maintenance before the fire season starts.
Post clear directions to your farm somewhere that is easily accessible. It will help firefighting teams to find your farm easily.
Draw a rough map of your farm on which the farm's boundaries, water points and escape routes are indicated. This will save time.
Farmers should familiarise themselves with the best exit routes from their farm, should they need to evacuate. Also, ensure that farmworkers and family members know which routes to take in case of an emergency. 
Make sure there are alternative routes for fire service trucks if farm gates are not wide or high enough.
WATCH: Firefighting demonstration