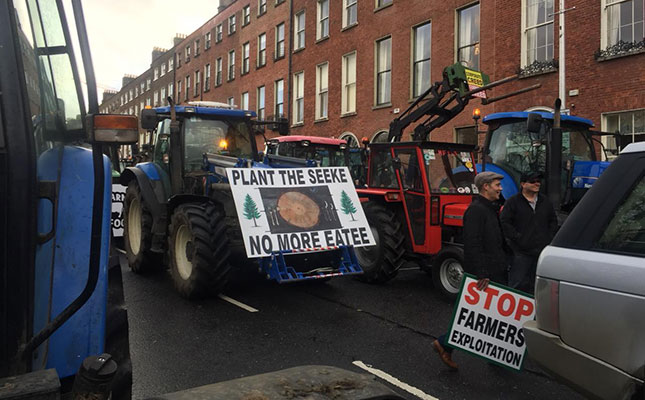 In the latest incident in a string of protests across Europe during the past few weeks, farmers took to the streets of Paris, France on Wednesday and blocked the city's streets with more than 1 000 tractors.
French farmers were protesting the continued 'farmer bashing' or 'agri bashing' in the EU, which has been described by EU agricultural organisations as public hostility toward farmers for nitrogen emissions and pesticide use, particularly from climate activists.
They also expressed grievances about free trade agreements, government reforms, and new regulations that would hinder the already struggling sector.
This protest followed a similar event in Germany on Tuesday, when over 10 000 farmers reportedly converged on the Brandenburg Gate in the centre of Berlin. Farmers from across Germany descended on Berlin to take part in a mass protest against the government's agricultural reform package that was pushing a reduction in the use of fertilisers, pesticides and insecticides.
According to local media reports, farmers were also calling for transparent and honest research into nitrogen emissions.
Farmers, who were already struggling to keep their operations afloat, said the environmental protection measures went too far and posed a risk to the existence of family farms, according to media reports.
Elsewhere in Europe, farmers also expressed their frustration with 'farmer bashing' and continuously being made scapegoats for climate change.
Hundreds of farmers took to the streets of Dublin, Ireland earlier this week to protest, blocking off the streets in the city centre with their tractors for two days, refusing to move until they were granted a meeting with Irish agricultural minister Michael Creed.
Many farmers were angry about what they said was the crisis facing the beef sector in that country as a result of low beef prices and rising taxes, according to a beef farmer near Meath and spokesperson of the Beefplan movement, Hugh Doyle.
"I believe farmers and consumers should work together to deal with the climate change crisis, rather than placing the blame solely on farmers when both parties are equally complicit in the climate crisis," he told Farmer's Weekly.
Thousands of fruit and vegetable producers also staged protests across the Andalucia region in Spain last week, expressing similar concerns with regard to major threats to the agri-food sector there.
These protests came less than two months after farmers in the Netherlands took their tractors to the street in a similar protest.
Farmer's Weekly previously reported that more than 2 200 farmers converged on The Hague to protest against Dutch Liberal Party MP Tjeert de Groot's call for livestock production in that country to be halved.
The protest resulted in traffic congestion estimated to have reached 1 136km during the morning peak hour.