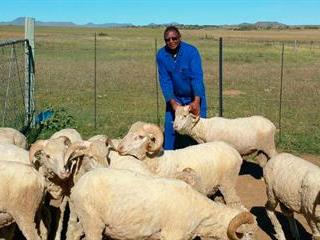 Another 10 rams, bred by new farmer Lawrence Maduna of Lady Grey, was donated to Ngobo communal farmers earlier in July.
The project forms part of the NWGA Genetic Improvement Programme (GIP), funded by the Department of Rural Development and Land Reform (DRDLR).
Bonita Francis, NWGA public relations officer, said the rams were fully adapted to the veld and farming conditions of the communal farming areas of the Eastern Cape.
"The objective is to improve the genetics of the existing communal flocks to ensure long term sustainability. The recipients are required to remove and slaughter sub-standard animals in the flocks in exchange for the top quality rams."
Since 2002/2003 more than 30 000 rams have been distributed to communal areas. Each year an average of 236 communities receive rams, with the process being repeated at four year intervals.
This means that during this period, more than 30 000 inferior rams had been removed from the communal areas.
"I am grateful to the NWGA for the assistance and for granting me the opportunity to be part of the transformation process," Maduna said.