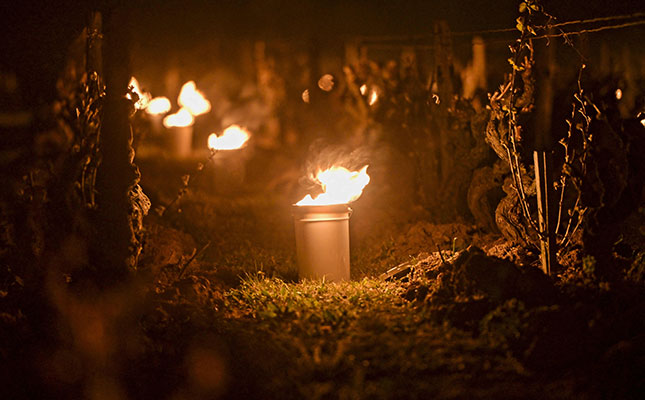 The French government will increase the upper claim limits of the country's agriculture catastrophe fund to compensate farmers for the recent extensive damage suffered to their crops due to unexpected cold weather.
This was according to Prime Minister Jean Castex, addressing that country's parliament on Tuesday, 13 April.
The French wine industry has been particularly hard hit by the cold snap that was accompanied by widespread frost, the worst in decades, while temperatures plunged to as low as -6˚C.
READ Simple and effective ways to beat the heat and the frost
Jean-Marie Barillère, the head of a major wine industry association, told Le Figaro the frost had hit "80% of French vineyards".
The destruction had spread across most of France's winegrowing regions, including the Rhône Valley, Bordeaux, Burgundy, Champagne and the Loire, he said.
Rural farmers were caught by surprise by the plunging temperatures, which followed a period of mild weather.
To protect their vineyards from the heavy spring frost, wine farmers were forced to light candles and burn bales of straw.
Placing smouldering straw bales in the vineyards provided a smokescreen that would prevent the early sun from burning frozen shoots, while they also sprayed water on the vines so that the ice that formed could protect them from freezing.
READ Free State's first black, female raisin farmer (and she makes wine)
In addition, some installed heaters and wind towers to mix the cold air near the ground with the warmer air above, while others even resorted to low-flying helicopters to achieve this, according to Reuters.
Vines were the worst hit, but almond and fruit trees were also affected, as well as some other crops, including beets and canola.
Le Figaro reported that emotions were running high throughout French wine regions.
Anne Colombo, president of the Cornas appellation, a top winegrowing area in the Rhône region, said it was the worst frost in more than half a century.
"We've had greater problems with hail than frost [in the past], but this year was devastating," she said.
The Rhône Valley suffered the worst damage, especially the Côte-Rôtie. Philippe Pellaton, president of Inter-Rhône, said the region was expected to realise its smallest harvest in 40 years, with some estates losing their entire crop.
Thierry Mothe, a winemaker near Chablis told the Financial Times that up to 95% of the potential crop on some estates would be wiped out by the frost.
Many winemakers were not insured against the effects of frost due to the high cost of coverage, he explained.
Italy also suffered severe spring frosts during the same week, which affected vineyards in Piedmont, Tuscany and as far south as Lazio, with up to 80% of some producers' crops being lost to frost in Piedmont according to the Financial Times.