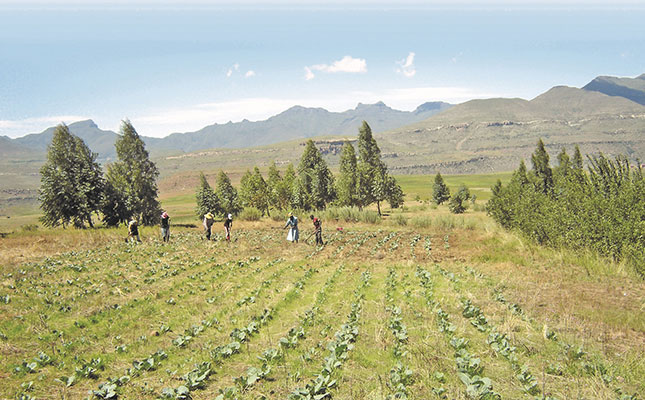 The way in which the COVID-19 relief scheme for small-scale farmers was designed and how it was adapted over time says a lot about government's understanding of farming and the food system.
Speaking during a webinar presented by the Institute for Poverty, Land and Agrarian Studies (PLAAS) at the University of the Western Cape, Prof Ruth Hall of PLAAS, said she believed that many of government's assumptions were flawed.
READ Mentorship – the good, the bad and the ugly
When the COVID-19-related lockdown restrictions were introduced in South Africa in March last year, small-scale farmers lost access to markets and services, and even access to their farms and livestock in some cases.
Government's response was to launch a relief programme specifically for small-scale farmers, which provided subsidies for farming inputs. Alongside food parcels and additional social grants, this was how government aimed to address the crisis, she said.
Samkelisiwe Mkhize of the Association for Rural Advancement said in his opening address that, "The relief [programme] for small-scale farmers ran from April 2020 through to the present, [and was implemented] in three phases: two directly from government and one from the Solidarity Fund, with both government and private sector support.
"Each phase had different rules as to who was eligible and offered different levels and forms of support. There were winners and losers throughout this process. Some farmers were able to access support and sustain production, while others got support but in ways that didn't help them."
READ The basics of growing groundnuts on a small scale
According to Hall, the primary problem with the vouchers was that they had been designed in a highly restrictive manner.
"Farmers could not choose where they wanted to redeem them. In fact, they could not even choose what to redeem them on." She explained that bureaucrats were making decisions about which inputs farmers should be acquiring.
Hall also pointed out that input supply support was not the only thing small-scale farmers needed.
"In many cases, the real problem was the loss of markets, and yet the only support they received was input support six months later, which was not resolving the real problem."
She suggested that alternative support measures should be investigated, such as transport subsidies, guaranteed markets, and the provision of general infrastructure.
Meanwhile, the DA called on the Minister of Agriculture, Land Reform and Rural Development, Thoko Didiza, to commission an independent audit of the department's farmer relief voucher scheme.
This followed claims made by farmers on social media platforms, alleging serious irregularities and possible fraud.
According to a statement by DA MP, Noko Masipa, reports indicated that various individuals used forged documentation, claiming to be distressed farmers, and subsequently gained access to relief funding.
These "fake farmers" were now reportedly attempting to sell the relief vouchers to the "real farmers", who were in desperate need of relief.
"The Minister must without delay commission an audit […] to establish the extent of the fraud and the possible involvement of departmental officials. The maladministration and rot that besets her department, which undoubtedly contributed to making these fraudulent claims possible, must be curbed, and any officials found to be involved must be held to account," Masipa said in the statement.