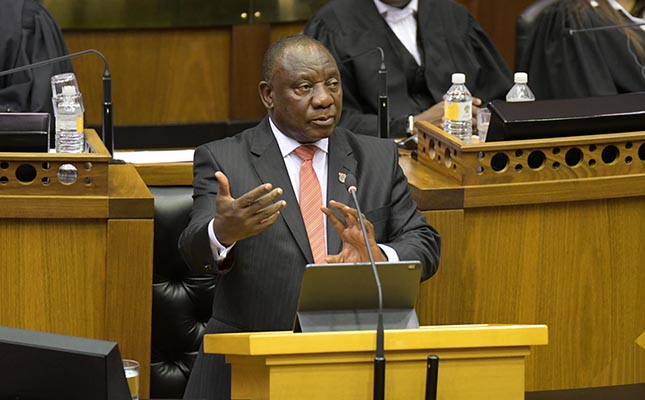 In his fourth State of the Nation Address (SONA), President Cyril Ramaphosa announced that critical action would be taken this year to build a capable state and place South Africa's economy on a path of inclusive growth.
"This year, we fix the fundamentals," said Ramaphosa.
READ The reality ahead of SONA 2020
Dr John Purchase, CEO of Agbiz, welcomed Ramaphosa's emphasis on inclusive economic growth to address key challenges facing South Africa.
"We are particularly delighted that the president recognised the challenges in logistics that could slow South Africa's agricultural exports."
In his address, Ramaphosa said South Africa's ports were congested and inefficient, and announced that a complete overhaul of the Durban port would be undertaken this year to reduce delays and costs.
#SONA2020 #Ramaphosa: our ports are congested and inefficient. During the course of this year, we will undertake a fundamental overhaul of the Durban port (the third largest container terminal in the Southern Hemisphere) to reduce delays and costs.

— Farmer's Weekly SA (@FarmersWeeklySA) February 13, 2020
Although load-shedding was unavoidable and would remain a possibility for the immediate future, Ramaphosa said measures would be implemented over the next two months that would fundamentally change the trajectory of energy generation in the country.
He said the Integrated Resource Plan of 2019 would be given effect to allow for the development of additional grid capacity from renewable energy sources.
The changed attitude towards energy generation, including the move to renewable energy, was welcomed by the agriculture sector.
READ Agri SA calls on Ramaphosa to 'stop talking and take action'
According to Omri van Zyl, CEO of Agri SA, it was one of the positive points of this year's SONA.
"For agriculture, this is a game changer. Agri SA already has the investors who are going to implement green energy in South Africa."
"I was very impressed with the president's speech as he touched on most important issues, especially the issues that affect farmers' energy usage," said Aggrey Mahanjana, group managing director of the National Emergent Red Meat Producers' Organisation.
He added that, unlike in previous years, the address was comprehensive and had the necessary detail on how various strategies will be implemented.
Ramaphosa said agriculture was one of the sectors that could play a large role in job creation, and confirmed that government would release about 700 000ha of state land for agricultural production this year.
#SONA2020 #Ramaphosa: we have released 44 000ha of state land for the settlement of land restitution claims, and will this year release around 700 000 hectares of state land for agricultural production.

— Farmer's Weekly SA (@FarmersWeeklySA) February 13, 2020