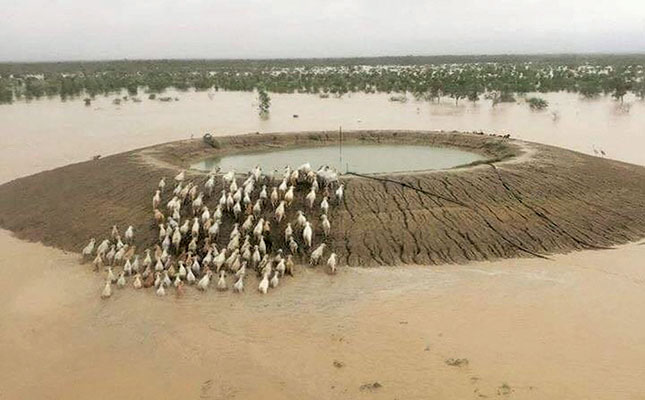 It could take years to rebuild the cattle industry in north-west Queensland, Australia, after the equivalent of an entire year's rain fell in only two weeks, killing about 500 000 head of livestock. Animals that did not drown, died of exposure in the rain and cold.
The Australian Bureau of Meteorology reported that 2m of rain fell in just 12 days in the Townsville area, about 1 300km north of Brisbane, resulting in river systems turning into an inland sea of 13 million hectares.
A rural farmers' group, AgForce, estimated that the immediate cost to cattle producers was likely to be more than A$1 billion (about R10 billion).
Michael Guerin, AgForce chief executive, said that more than 100 farmers in the devastated areas had requested fodder to try and save more than 150 000 head of cattle.
"The loss of hundreds of thousands of cattle after five, six, seven years of drought is a debilitating blow. Some farmers have lost literally everything, except an ever-growing debt, and our first priority is to make sure they're okay," he said.
Prime Minister Scott Morrison said a long-term plan would be developed to help producers.
The Australian government had tripled the initial recovery grants to A$75 000 (R754 000) to help farmers who were in a desperate situation.
"What really [had a devastating] impact this time was [that] cattle were in poor condition due to earlier drought, followed by a combination of the floods and cold, windy conditions afterwards," Morrison said.
"There's a very hard road ahead. They'll need to be able to make these properties viable and get their breeding stock back in place.
"I was with families who have been on this land for generations, building up a herd of the finest cattle in the world: generations of breeding. They just can't go and buy the same stock they had before.
"Then there are issues of debt to deal with, [along with the] stock losses, [and] cash flow [problems]," he said.
"What I'm talking about is a five- to 10-year plan to rebuild the cattle industry."