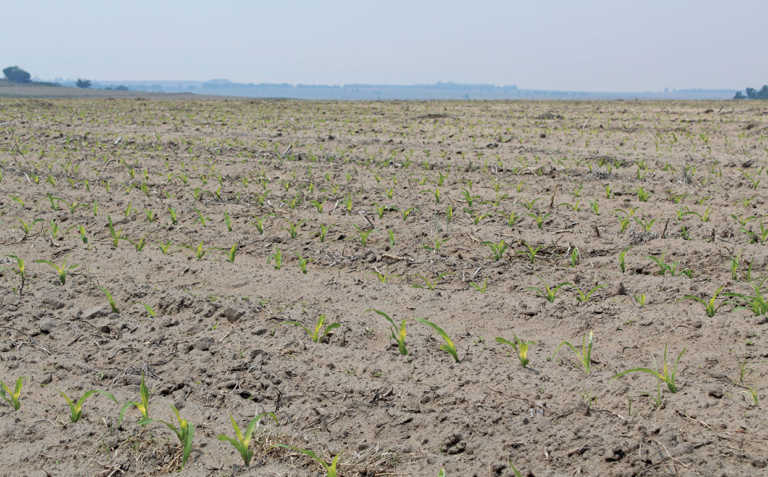 The impact of climate change continues to have devastating effects on countries across the globe, and South Africa has not been spared.
The Western Cape has experienced one of its worst droughts in decades, while the Free State and Northern Cape have seen substantial depletion of livestock as well as crop failure due to persistent drought conditions.
READ Climate variability versus climate change
Prof Francois Engelbrecht, chief researcher for climate studies, modelling and environmental health at the Council for Scientific and Industrial Research (CSIR), says the increase in temperatures across Southern Africa over the last five decades can be directly attributed to the enhanced greenhouse effect, or anthropogenic forcing.
"The effects include temperatures in the interior regions of Southern Africa that are increasing at about twice the global rate, and increases in the number of high fire-danger days and number of heatwave days. These increases in temperature on their own are important due to the negative effects that extreme temperature events have on numerous agricultural industries, for example crop yields and livestock production."
Engelbrecht notes that over the winter rainfall region, anthropogenic forcing has already increased the likelihood of multi-year droughts.
"Over the summer rainfall region, there is not clear evidence that climate change has already increased the likelihood for droughts to occur, although events such as the 2015/2016 El Niño and related drought is projected to occur more frequently under climate change."
El Niño is the warm phase of the El Niño–Southern Oscillation. During this phase, the Pacific Ocean normally warms up by 0,01%. But with global warming, the temperature increase has climbed to 0,1% and it could possibly rise to 1% if global warming continues on its current path.
The warming of the ocean interrupts the usual weather patterns and affects the global climate. This could result in droughts in one region and intense storms in another.
In response to the changing and often erratic climatic conditions seen over the past few decades, the Department of Science and Technology launched the South African Risk and Vulnerability Atlas (SARVA).
The second edition, published last year, urges planners and decision makers to move from reactive crisis management to proactive climate change and disaster risk management approaches. This is especially true for the 20 most vulnerable municipalities in South Africa, all of which are secondary cities and small towns.
SARVA states that rural areas are particularly vulnerable due to their dependency on climate-sensitive resources such as water and an agrarian landscape.
Changes in farm activity
Engelbrecht notes that the sub-Saharan climate will be especially affected by climate change.
"Southern Africa is projected to become generally drier, with more El Niño-related droughts. East Africa is projected to become generally wetter. Oppressive temperatures and heatwave-related events are projected to occur more frequently across the Southern African region."
Consequently, the economic environment will be affected, as shifts in farming activities are inevitable.
"Southern Africa has been identified by the 'Special Report on Global Warming of 1.5°C' as one of the regions in the world where climate change will impact most negatively on economic growth, considering the widespread impact on the agriculture sector," says Engelbrecht.
"Should regional warming reach levels of about 6°C towards the end of the second half of the century, the collapse of the maize crop and livestock industries may plausibly occur in Southern Africa."
READ Agriculture is changing and so must agri economists
He adds that climate change predictions should play an integral role in orchard planning, as many of these crops produce a return on investment only after several years, and continue producing a crop for decades. As temperatures shift, many regions that were once suited to certain crops might no longer produce an adequate yield.
Engelbrecht advises that each agricultural industry plan carefully to adapt to the impact of climate change over the next few decades.
"For example, the likely occurrence of more frequent heatwaves and more frequent droughts suggests that dryland agriculture will increasingly require drought- and heat-resistant crops."
He adds that the south-western part of the Western Cape is particularly vulnerable in terms of systematic rainfall reductions and more frequently occurring droughts.
"More frequently occurring El Niño events and droughts may also impact increasingly on the summer rainfall regions as we move deeper into the 21st century. Enhanced schemes for trading food between Southern African countries may also be important."
Plant and animal health
Tiaan Pool, a veldfire management expert at the Nelson Mandela University's Saasveld campus, says that the warmer and wetter conditions with higher drought occurrence will increase plant pests and diseases, as drought-stressed vegetation is more susceptible to such complications.
Alien invaders tend to adapt easily, so they will survive, while planted crops struggle. This will make it more difficult to combat weeds.
Pool adds that a higher level of carbon dioxide in the atmosphere creates more plant growth, but lower nitrogen and protein content.
"This results in slower decomposition, so there's a bigger build-up of fuel and
lower soil carbon. This could create a possible negative effect on animal feed as livestock would need to eat more to get the same nutrition."
Despite these negative effects, climate change can also introduce new opportunities for farmers. Engelbrecht notes that regional warming has already resulted in a decrease in the number of frost days over the Highveld regions of South Africa. This implies that tomato farming, for example, may become more feasible in this region in a warming climate.
Increased danger of fires
The increase in the number of devastating fires across South Africa has been attributed to climate change. According to Pool, climate change has resulted in a change in fire regimes, with the frequency, severity, size, type and season being altered.
"With drought events on the increase and extended periods of below-average rain, there'll be 31% more heatwaves, resulting in more veld fires.
"Furthermore, with rain falling over shorter periods, the water doesn't infiltrate the soil. This means we're left with rainfall that is less effective, which has a major impact on vegetation and the prevalence of veld fires."
The size of the areas that burn each year is on the increase as all the components that create runaway fire conditions are dependent on the climate.
"In the forestry industry, we're already experiencing a longer fire season, with heat building up rapidly in summer. There is no longer a gradual spring after winter, or an autumn that lingers. Due to the sudden increased heat and lower relative humidity, vegetation becomes combustible earlier in the season."
Farmers and foresters need to carefully consider how they would cope if their water were eliminated.
"Besides watering our crops, finding ways to combat the increase in fires without using water will be imperative."
Mitigation
Engelbrecht says that while the South African government has been proactive in trying to mitigate climate change, the onus is on the industrialised Northern Hemisphere countries, primarily the US and China, to reduce emissions.
"To avoid global warming of 1,5°C or more, carbon dioxide emissions need to be reduced globally by 45% by 2030 with respect to 2010 levels. To achieve this, the world needs to revolutionise the way energy is generated on the planet, with a major shift required from the use of fossil fuels to alternative forms of energy. Science tells us that it's still possible for a global climate change mitigation effort to be successful.
"The Department of Environmental Affairs (DEA) in South Africa leads a strong African presence in the climate negotiations of the UN. Through initiatives such as the Long-Term Adaptation Scenarios Project, the Third National Communication on Climate Change, and the National Adaptation Strategy, DEA policies have been strongly informed by the most up-to-date climate change science available for the Southern African region. This provides South Africa with an opportunity to respond timeously to the challenges posed by climate change," says Engelbrecht.
Email Tiaan Pool at [email protected], or Prof Francois Engelbrecht at [email protected].