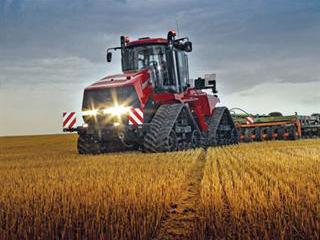 Sponsored by the American Society of Agricultural and Biological Engineers, the annual AE50 Awards recognise the most innovative new agricultural equipment worldwide. An expert panel selects up to 50 winners based on commercial impact, contributions to agriculture and engineering and advanced technology.
It's not surprising, then, that the Case IH Quadtrac 600 tractor picked up one of the 2012 AE50 Awards. With more than 500kW peak engine power, the Quadtrac 600 meets the higher PTO and hydraulic power demands of today's larger implements, resulting in major improvements in productivity.
The 12,9l engine is compliant with Tier 4A emission regulations and the selective catalytic reduction (SCR) technology can reduce fuel consumption by up to 10%. According to Case IH, the four tracks distribute weight more evenly and efficiently than a conventional two-track system, thereby reducing soil compaction. Four tracks also have better flotation and improved traction and permit the unit to legally travel on the road.
The Quadtrac 600 is designed for long days in the lands. Auto-guidance systems simplify night work and enable the operator to check the performance of the implement following behind. Lighting packages include standard halogen with optional high-intensity-discharge (HID) technology. For maximum illumination during night work, the 360° work lamp package includes four HID trapezoidal lights mounted on the cab roof and additional rear lighting is also available.
Large and quiet
With shock absorbers at each corner, the cab suspension stabilises front-to-back, side-to-side and up-and-down motions, giving a smooth ride in all terrains. A combination of springs, pads and mounts fully isolates the cab from chassis vibrations, meaning the operator can focus on the job at hand without fatigue and still have full control of all operations, even at the end of a long shift.
Within easy reach
The most frequently used controls in the Quadtrac 600 have been placed in the new armrest console. It moves with the seat and can also accommodate the optional Pro 700 monitor. The console combines 85% of tractor operations into one easy-to-use controller that fits easily in the operator's hand. These include speed selection, throttle, headland management control, electronic remote valves, rear hitch controls, PTO, joystick and much more.