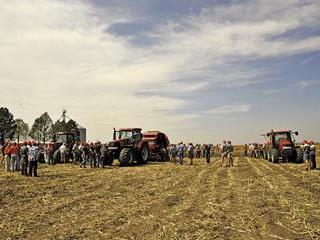 With the ever-increasing complexity and cost of farm machinery, it is becoming more and more important that suppliers of this equipment can install the machines properly on the customer's farm and provide complete operating instructions to enable the farmer to get optimal in-field performance.
To this end, Case IH recently held a full-scale training session for the staff of its dealers so that they are fully versed in all the systems and production-enhancing techniques that enable the machines to be used to their full potential. The dealers' trained representatives are now able to pass this information on to the farmer.
The two-week training session, for more than 100 salespeople from Africa and the Middle East, was held in Parys by Case IH from 5 to 14 April. The Axial-Flow 140 and 240 series combine harvesters, the Magnum, Magnum Rowtrac and Puma tractors and Ecolo Tiger and True Tandem Turbo implements were among the products highlighted.
Participants had the opportunity to get behind the wheel and test-drive Case IH tractors and combines. They were accompanied by Case IH trainers, who pointed out the latest product advancements and enhancements.
"They're all experts in their field. The passion and the knowledge they have for the products are of world-class standard," said Jaap van der Westhuizen of the Cairo Group.
Opportunity to compare products
"This kind of training gives all involved a very good look at the newest improvements to the products, as well as their advantages. We also appreciated the hands-on comparison between Case IH and other products on the market," he said.
Jaap is both a dealer – for Northmec, Case IH's South African distributor – and a client. In fact, the practical training took place on his 13 000ha Cairo Farm. "Our farming division produces soya beans, sunflower, maize and sorghum on 13 000ha of land. We use Case IH products exclusively on the farm because they've proven to be reliable," he said.
Theoretical and practical training
"The training made all of us more at ease with the machines and we definitely increased our product knowledge. It's always a great idea to combine the walk-around with practical training and to make you test-drive the equipment, as there might be a new sales representative who has not yet driven a Magnum Rowtrac, a Patriot sprayer or the Quadtrac unit," said Jaap. The training camp was rounded off with a Customer Day, with more than 400 farmer visitors from South Africa.
Joe Spencer is the mechanisation editor of Farmer's Weekly.