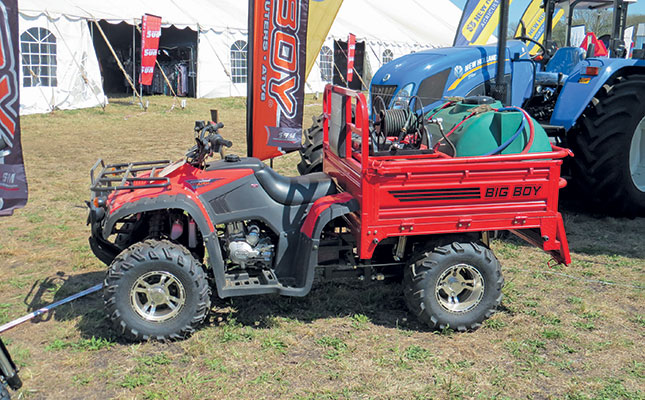 The Nedbank Eston Show had a wide range of all-terrain vehicles (ATVs) on display, with models ranging from basic to sophisticated, and with prices to match – from less than R60 000 to almost R300 000.
Big Boy 250 All-Terrain Vehicle
The Big Boy Utility Monster 250 is a budget-priced machine with motorcycle-type handlebars and a water-cooled four-stroke 250cc engine rated at 11,5kW/17,5Nm (5 500r/min). It has a manual five-speed transmission and front and rear disc brakes. The drop-side load bin has a 300kg capacity and is tipped manually.
John Deere 4×4 Diesel Gator HPX
The 4WD Gator HPX ATV is the fastest in the John Deere work utility vehicle line-up, with a top speed of 40km/h. It can handle the roughest terrain, thanks to its true 4WD, dual-range CVT transmission, hydraulically operated disc brakes and enhanced four-wheel suspension tuned to give a cushioned ride empty or with a full load. The load bin can carry up to 450kg.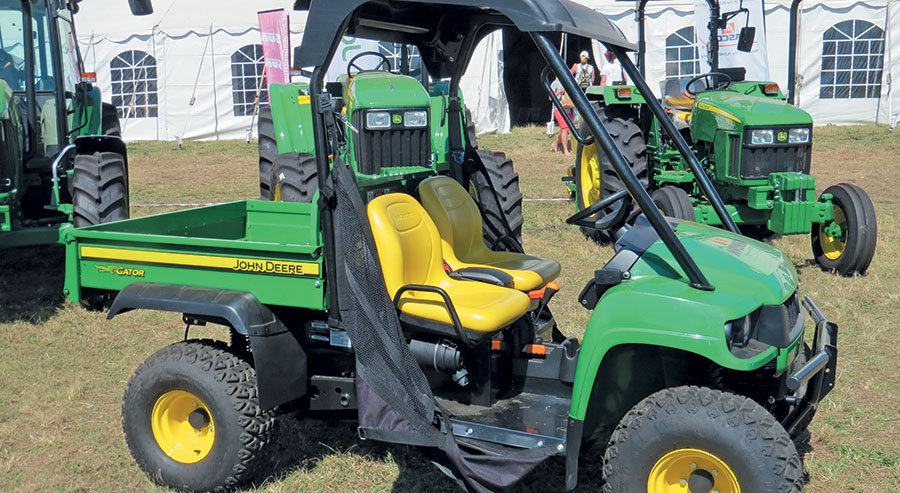 When the 4WD drive senses slip in the rear wheels, it engages the front wheels with full torque to provide maximum traction. The wide wheelbase and low centre of gravity of the Gator XPX makes it highly stable on slopes. The vehicle is powered by an 854cc three-cylinder diesel engine rated at 18,5kW.
Yamaha Viking YXM 700
The three-seater Viking YXM 4×4 is powered by a 686cc engine and has the responsive and reliable Ultramatic transmission with dual-range (Hi/Lo) drive and reverse. An automatic centrifugal clutch maintains constant belt tension for reduced belt wear and the system features a sprag clutch for all-wheel downhill engine braking in 4WD mode and reverse.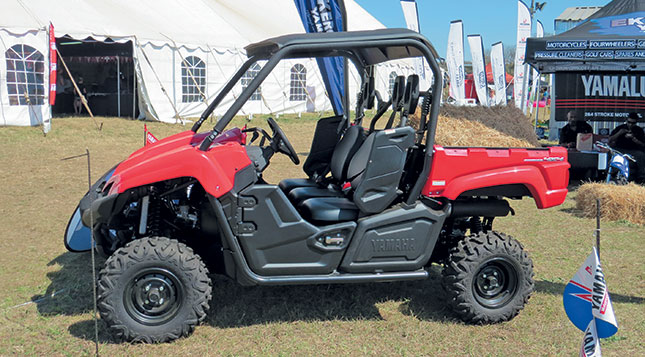 Exclusive to the Yamaha is the three-position On-Command 4WD system that allows you to quickly dial between 2WD, limited slip 4WD and fully locked differential 4WD. The rear steel cargo box has a capacity of 270kg.
Yamaha Grizzly Ultramatic 350
Tough, strong and durable, the Grizzly is a favourite with farmers. The 348cc air/oil-cooled engine together with the fully automatic Ultramatic transmission makes light work of steep hills, while the On-Command 2WD/4WD system allows easy switching between driving modes. Up to 120kg can be carried on the front and rear racks and the Grizzly has a 500kg towing capacity.
Linhai Rustler 400
The Linhai side-by-side utility vehicle is equipped with CVT transmission, shaft drive, 2WD/4WD switch, an adjustable steering wheel and a high-capacity load box. The Rustler 400 seen here is powered by a 352cc single cylinder water-cooled engine rated at 15kW. Ground clearance is 240mm, total load capacity 300kg and towing capacity 200kg.
Kioti Mechron 2210
Ideal for work or play, the Mechron has 4WD, independent rear dual A-arm and front Macpherson type suspension on a wide-track frame to provide a smooth, stable and safe ride on even the roughest terrain. The 16kW Daedong three-cylinder water-cooled diesel engine ensures powerful performance even with a full payload.
Joe Spencer is the mechanisation editor of Farmer's Weekly.