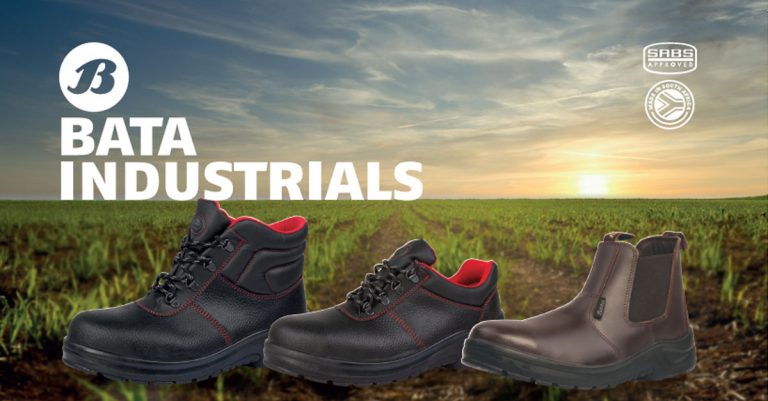 Besides the benefits of employment through the local manufacture Bata Industrials, the brand also creates economic opportunity for the entire supply chain while offering a multitude of South Africa's industries world class safety at affordable prices.
Driven by the vision of "improving working lives", Bata Industrials continues to lead through innovation.
Bata Industrials have incorporated the highest level of global technology, to ensure feet are safe from injuries at an affordable price. Safety footwear is instrumental in reducing workplace injuries and consequently reducing company and production costs.
Like all Bata footwear, affordability is a key factor, without compromising on standards while ensuring that one of the most important aspects of personal protective equipment (PPE) is kept a priority.
Choosing safety footwear that is fit-for-your-purpose, is vital for it to be an integral part of PPE. Bata Industrial's Induna Boot and Konga Shoe both have a leather upper and are suitable for general purpose wear, construction, agriculture and engineering. Both are available in black and brown, so there is a neutral colour to suit all work looks.
Bata Industrials' safety shoes are built with the notion of "Feet First" with the aim of bringing ease, comfort and safety into the workplace.
Bata Industrials commits to providing you with footwear that has the highest level of innovation and quality control as certified by the SABS approved features of the Konga and Induna Safety Boot, both of which are antistatic and non-conductive to electricity.
Research
Globally, Bata Industrials take innovation, advanced technology and research to a pioneering level with extensive in-house testing to extend safety standards. A key area of research relates to comfort and to offering the wearer a superior fit.
Bata's extensive in-house testing has culminated in products that take it one step further and as such they remain a trendsetter in the industry when it comes to technology, coupled with their global reputation of a safety shoe that offers the best possible support.
The footwear is designed not only to protect feet from accidents but also by using first-class natural materials, plastics and rubber types, feet remain healthy in uncomfortable environments.
Today, Bata Industrials is one of the world's largest manufacturers of safety of footwear and the only one that is truly a global player. With offices in the Netherlands, Chile, Mexico, South Africa, Kenya, India, China, Singapore, Australia and New Zealand, Bata Industrials serves customer markets on virtually every continent.
Safety in the workplace starts from the feet up.
For further information on BATA visit www.bataindustrials.co.za