New Holland Agriculture recently delivered 12 combine harvesters to the ministry of agriculture of the Republic of Georgia in the Caucasus on the Black Sea, south of Russia. The units are part of a larger purchase programme whereby the company will ultimately supply a total of 92 tractors and 25 combine harvesters, complemented by grain and maize headers, 25 sunflower header kits and 22 dozer blades to Meqanizatori, the ministry's farming mechanisation service provider.
The first delivery will be followed by a further 13 combines and 67 T6000 Series tractors from New Holland's Basildon plant in the UK. The company's specialty tractor plant in Jesi, Italy, will supply 22 TK4060 crawler tractors and three T8.390 tractors will come from the US. The 75kW TK4060 crawlers are the first to be sold in Georgia, while the T6000 Series, ranging from 84kW to 124kW, is a natural choice for livestock or arable applications.
"We're dedicated to supporting Georgia's efforts to mechanise the country's agriculture," says Stuart Campbell, New Holland business director, Central Asia & Caucasus. "That's why, when we undertake to supply such a large fleet of equipment, this includes much more than the provision of advanced and reliable agricultural machinery, but also top-notch support, from parts, technical assistance and training for operators to financing packages." The first 12 TC5070 combine harvesters handed over to Meqanizatori, built at New Holland's plant in Plock, Poland, will be fitted with 5,2m grain headers.
Built for heavy applications

Made in Racine in the US, the long wheelbase 255kW T8.390s are built to perform in heavy applications. They are also well suited to secondary cultivation, drilling, top-dressing and transport.

Already at work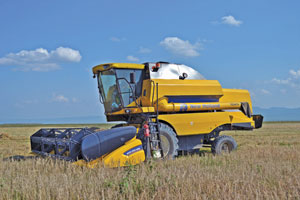 Some of the machines are already at work. Below is a New Holland TC5070 combine doing its thing in Kakheti, in Georgia's Alazani Valley. The Alazani River flows through the Caucasus and the valley is the centre of the country's wine industry.
Ideal for steep slopes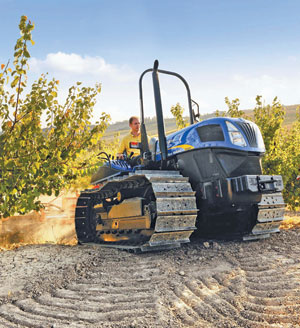 Made in Italy, the 75kW TK4060 is ideal for working on slopes too steep for wheeled tractors and, with 66kW at the PTO, is up to the challenge of heavy tillage and PTO applications.
For more information on the equipment mentioned in this report, contact Auriel Mitchley at Farmer's Weekly on 011 889 0796
or email[email protected]