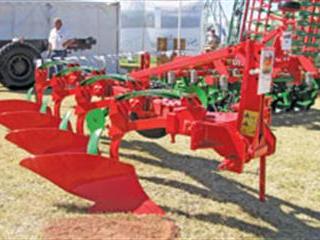 Barloworld Agriculture SA's stand at the Nampo Harvest Day featured a wide range of implements from Poland's Unia Group, which includes units suitable for soil cultivation without ploughing:
The Tur 4-furrow mouldboard plough has leaf-spring automatic re-set trip legs for protection in stony soil. Furrow width on the 4-furrow and 5-furrow models can be adjusted hydraulically from the tractor seat.
The Ibis XLH reversible series plough is fitted with a hydraulic safety device – the trip setting can be adjusted to suit the soil conditions. The ZX plough body is very effective but pulls easily, reducing the power requirement. Mounted IBIS models are available from 2-furrows to 5-furrows. Furrow width is up to 500mm and body spacing is 900mm.
The Ares Twix mounted disc harrow effectively cuts and mixes crop residues. Independently sprung pairs of discs are mounted on each bearing unit. An attack angle of up to 14° means this unit can work in very heavy soil and safely in stony soils. The Ares Twix is also very efficient at incorporating crop residues.
The Viking spring tine cultivator can be fitted with front-mounted cutting discs for use in heavy soil, as well as hydraulically operated crossboards for levelling and eliminating wheel tracks. The larger models need a tractor with at least 105kW. This is the ideal implement for final seedbed preparation after primary cultivations.
The Cross XL semi-mounted cultivator incorporates Twix twin 710mm and 660mm disc sets interspersed with two rows of heavy spring-loaded tines followed by heavy rollers to leave a perfect seedbed. It's available in sizes from 3m to 6m. Barloworld also imports Rome plough equipment from the US.
The Rome 265-70 has 72mm to 711mm x 8mm discs, and the overall mass of 8 675kg means that the penetration weight per disc is 120kg. Width of cut is 9m.
Great Plains Yield-Pro planter
Imported from the US by Agri Afrika, the Great Plains 8-row Yield-Pro can be configured for either single or twin rows. A hydraulically-powered fan provides positive air to the Air-Pro meters for exceptional accuracy in both singulation and spacing.
Back in fashion?
Disc ploughs appear to be coming back into fashion if the variety of models on offer at Nampo was anything to go by. Barloworld Agriculture imports the Agromaster brand from Turkey. Their ability to roll over obstructions means disc ploughs can be used in root-infested, stony and hard soils. They mix crop residues and weeds throughout the depth of the ploughing and it's claimed this helps prevent erosion. The disc angle is adjustable to vary the penetration in different soil conditions and adjustable disc scrapers ensure the disc remains clean.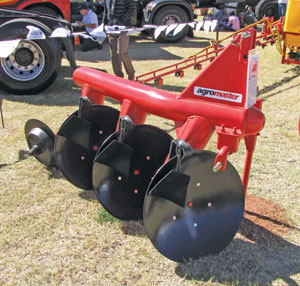 Made in South Africa
Manufactured in Pietermaritzburg, KwaZulu-Natal, for GC Tillage, the Titan Tandem 80-28 represents excellent value at under R700 000, with 711mm discs, a total mass of 10 500kg and working width of 10,5m. Ideally suited to local conditions, the Rovic-Voor 8-row combination planter has a 3 600l bin and hydraulic breakaway tines. Priced at just under R1 million, the 12-row Theebo Tech Equalizer Min-Till planter is another example of a machine designed and produced locally specifically for African conditions.
The Tatu 8-row 900mm maize and soya bean planter
The Tatu 8-row 900mm maize and soya bean planter from Brazil costs just under R600 000 in its standard format.
Fitted with liquid tanks and precision equipment, such as hydraulic motors on the seed drives as well as on the squeeze pump for liquid fertiliser, the price goes up another R90 000. You can add R150 000 for the GPS. With 100% precision in both seed and fertiliser application, this is what farmers looking at productivity and efficiency are prepared to pay.