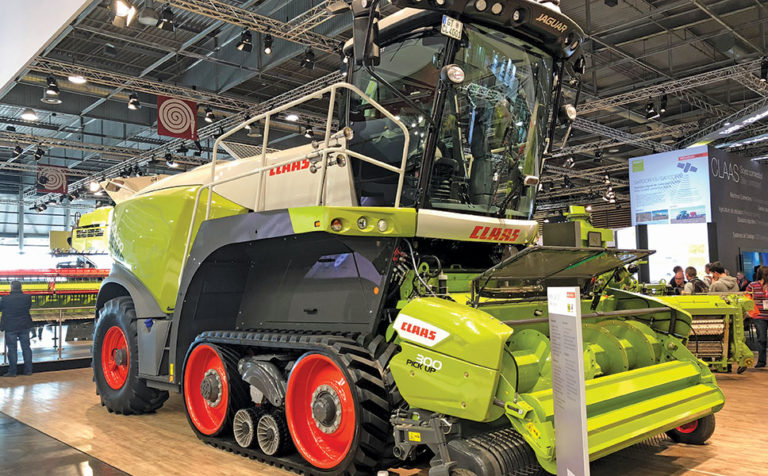 In the future, a typical commercial farmer might be able to enjoy a lazy drink on his stoep while driverless machines work day and night to bring the harvest in.
Or depopulated rural areas might be farmed by machines monitored via a cell phone from a megacity, with drones programmed to intervene where problems occur.
So much for the future. For now, the adoption of driverless farm equipment has been slow in South Africa.
Dr Jim Rankin, secretary of the South African Agricultural Machinery Association, ascribes this to the high cost of this type of technology, which adds another R3 million to the price of machines that would otherwise sell for roughly R7 million, in combination with psychological factors.
The remarkable systems on these machines make them safe to use, resulting in little to no risk of accidents or machines running onto neighbours' lands.
The machines can be tracked in real-time and have the ability to alert producers of potential glitches, such as when they are running low on fuel, fertiliser or pesticides.
Farmers can even manage the machines remotely, adjusting their course or driving speed.
In spite of this, farmers are generally afraid to allow these expensive machines to do their jobs all alone out on the land.
"The perceived risks are too great. It would be like giving your son free rein to do as he pleased just after he joined the farming business," says Rankin.
For now, therefore, farmers tend to use operator-steered technologies. The technologies in these systems have, however, also greatly improved over the past decade. So it's no longer enough merely to know where the brakes or ignition of a machine are.
"A 400kW machine may be in the same price range as a Ferrari, but unlike the Ferrari, you can't simply buy one and drive off. The electronics in these machines are more comparable with those found in aeroplanes," says Rankin.
Job market
The higher skills requirement for operators has led to a growing international demand for heavy-duty farm machine operators. In the US, this is predicted to grow by 5% each year until 2024, according to the US Bureau of Labour Statistics.
Google searches for farm machine operator jobs yield hundreds of hits for Australia and the US, but hardly any for South Africa. In fact, most of the local results omitted the word 'farm', referring instead to operator jobs, either higher up in the value chain or in the mining, construction and transport industries.
Hans-Jurie Human, owner of Human Landboudienste near Riviersonderend, an agricultural contracting business, believes there is a growing demand for farm machine operators due to urbanisation and the younger generation seeking jobs in other industries.
"Our company has plenty of machine operators, but will run into problems within the next decade because our employees are, on average, 50 years old. The younger generation is either unaware of the great opportunities offered by the industry for unschooled labourers to work themselves up into decent paying jobs, or country life doesn't really appeal to them."
The demand for unschooled general farmworkers is nevertheless shrinking, according to him, as agricultural processes become more automated and digitalised, while the demand for the tech-savvy is increasing.
Jacques Taylor, managing director of John Deere in sub-Saharan Africa, explains that machine operators generally require a higher level of literacy and numeracy, typically a Grade 12 qualification, than a general worker.
Their income potential is higher than that of people who operate old machinery and significantly higher than general farmworkers' income. Career opportunities, however, are not as numerous as in the US, because many producers still prefer to operate their own machines.
Pieter de Witt, outgoing president of the South African Institute of Agricultural Engineers, says this is not only because of the high cost of these machines, but also because of the negative impact that poor operation could have on production.
With pesticide applications, for example, implements have to be properly calibrated, driven at the right speed, and steered straight to prevent spots being skipped or sprayed twice.
Mistakes not only lead to inefficient crop protection and a wastage of fuel and expensive pesticide, but increase the risk of pests becoming resistant to certain chemical groups.
In addition to this, there is the risk of accidents.
"Farmers may be insured against expensive accidents or breakages, but downtime has other expensive repercussions due to the time-sensitive nature of agricultural production. A farmer cannot afford to sit without a combine in the middle of the harvesting season," De Witt says.
The market for owner-operators is also smaller in South Africa in comparison with the US and Europe, according to Taylor.
Lack of time to operate machinery
As farms become bigger, to take advantage of economies of scale, many farmers can no longer afford to operate the machines themselves. Gert Claassen, a grain, wine grape and vegetable producer from the Swartland, is one of these.
"Our farming operation has become so diversified that I need to stay on top of what's happening in the business in general. I can't spend days and nights driving a planter or harvester myself."
As is the case with many other farmers, Claassen has spent his working career with a specific brand of equipment, in his case John Deere, and operating these machines has become almost second nature to him.
While the majority of dealers supply hands-on training when they deliver the equipment, Claassen rarely makes use of this service.
"Most of the upgrades are common sense, and machines from the same manufacturer use the same standards, making it easy to switch from one to another. While dealers offer on-farm training, I prefer training my own staff to make doubly sure they know what they're doing," he says.
Claassen nevertheless feels there might be a gap in the market for more formal training to address the needs of new entrants and perhaps also create heavy-duty operation specialists.
Taylor agrees that the increasing complexity of agricultural machines and mainstreaming of precision farming technologies on many agricultural machines and implements mean that most institutions that traditionally provided training in this field are not well equipped to provide this new type of training to students.
Most equipment manufacturers, such as John Deere, currently fill the gap by providing training to their channel partners, who in turn provide on-farm support to end-users.
The latter also make use of the Internet to access training videos and other resources to bring themselves up to speed with the latest upgrades and developments.
"The world has become a village, with resources developed in one place being easily accessible to users in other parts of the world. John Deere has official information available through YouTube and video portals, and hosts regular farmer demo days where these technologies are demonstrated to existing and prospective customers," Taylor says.
But Claassen thinks that machine operation training should also be incorporated into the curriculums of secondary and tertiary training institutions, so that people studying towards a certificate or diploma in agriculture become familiar with these technologies and their practical applications.
According to Taylor, John Deere has begun to work with local educational institutions to assist them in incorporating these topics into their curriculums.
"In 2018, for example, Peritum Agri Institute signed an international collaboration agreement with John Deere sub-Saharan Africa to become the main sponsor of the Top Achiever Award for the NQF5 National Diploma in Plant Production, presented by this institute," he says.
Part of this agreement is that John Deere will contribute to the learning experience by bringing to the table expert skills and knowledge, focusing on the practical implementation of mechanisation in precision farming.
Rankin also identifies a need for more specialised training.
"Courses need to be hands-on, with participants given plenty of time spent in the seat to operate the machines. It's easy to switch between different brands once you have the hang of it, because the differences between brands are like those between car brands. The one has the indicator on this side of the steering wheel, and the other on the other side, for example."
The future
The digital revolution will nevertheless continue to change this market.
"While there's a higher demand for better operator training to unlock the full potential of the new technologies, factors such as artificial intelligence, machine learning and so forth are driving the industry from automation to autonomy, which will bring a different dynamic to this market," Taylor says.
Email Jacques Taylor at [email protected].