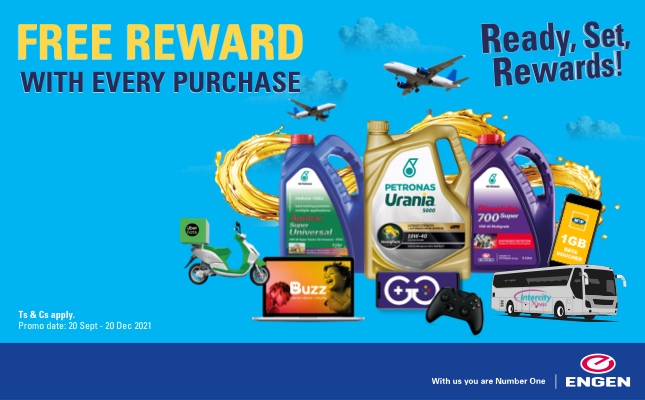 Engen supplies farmers with a range of high-performance, superior quality Engen- and PETRONAS-branded fuels and lubricants that are specifically suited to harsh Southern African conditions.
To thank its loyal customers for their support, Engen has launched an exciting rewards programme that offers guaranteed prizes to agricultural customers who purchase qualifying Engen or PETRONAS lubricants from participating stores.
The Engen Rewards Programme runs until 20 December 2021 and includes the following great prizes: R200 travel vouchers; R30 Uber Eats vouchers; 1GB of data; kids' entertainment; and online gaming vouchers. These rewards can be claimed in four easy steps:
Purchase Engen- or PETRONAS-branded lubricants or top-up at any participating outlet;
Visit engenrewards.co.za;
Enter your details and upload a picture of your till slip;
Select your reward and a confirmation SMS will be sent with instructions on how to redeem your reward.
Sharveen Maharaj, Engen's recently appointed general manager of lubricants, says: "As the leading supplier of fuels and lubricants to the agriculture and farming sector, we are grateful to our valued customers for their ongoing support and hope that this rewards programme demonstrates our gratitude and ongoing commitment to the sector."
Engen's products have been tested and endorsed by most manufacturers of modern agricultural equipment operating in the region.
"With more than a century of experience lubricating and protecting agricultural equipment in often severe operating environments, our hard-working products have been developed to provide the best protection for farming equipment in order to increase productivity and reduce costs," says Maharaj.
While it may be difficult to control the external factors that lead to engine degradation, Engen and PETRONAS lubricants provide certainty over what goes into your engine.
"Our quality lubricants combat soot, sludge and engine wear, providing exceptional piston cleanliness and optimal viscosity, all of which assures you that your machinery is running optimally, down to the very last drop," concludes Maharaj.
Visit engen.co.za/lubricants. To claim your reward, visit engenrewards.co.za.