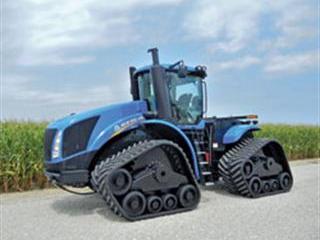 The New Holland T9 Series 4WD tractors feature massive power and advanced hydraulics. The new SmartTrax option now means a much larger footprint and therefore less soil compaction. The tracks will also boost productivity and pulling power by reducing slippage and increasing traction. SmartTrax for New Holland's wide frame T9.615 and T9.690 tractors are currently only available in the US. Customers can choose between standard and high idler modules. The latter configuration has a raised, sled-style leading edge that rides over crop residue, improving flotation and traction. It also makes it easier to drive in and out of ditches and climb over rough terrain and obstacles without undue stress on the machine.

Tracks: A brief history

The Roadless Traction Company was formed in 1919 by Lieutenant Colonel Henry Johnson, who first had experience of heavy traction machinery during the Boer War. His company made half- and full-track conversions for a wide range of vehicles, including tractors, and its relationship with Ford continued until the 1980s.The development of rubber jointed tracks enabled Roadless to produce a viable alternative to tyres for work in difficult conditions.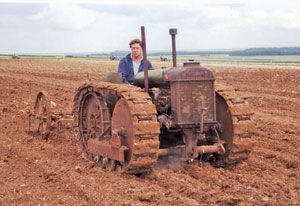 Full track conversion on a standard Fordson. Joe Spencer
Then there were County Tractors, which were well known in South Africa. At one time, KwaZulu-Natal was the UK company's leading export market for 4-wheel drive tractors. County also produced a full-track tractor using a Ford skid unit, and a number of these made their way to South Africa. It used a more conventional steel track and sprocket system.
Source: The World Encyclopaedia of Tractors & Farm Machinery by John Carroll.

Also available for combines
In addition to the productivity advantages of reduced soil compaction and virtual elimination of slippage, SmartTrax can be used on a tractor for cultivating and planting in spring, then installed on a New Holland CR9000 series combine for harvesting. In addition, when a tractor or combine needs to be replaced, the tracks can be easily moved to the new unit. Installation is almost as easy as changing tyres, as the tracks bolt to the hubs without adapters. This option is currently only available in Europe.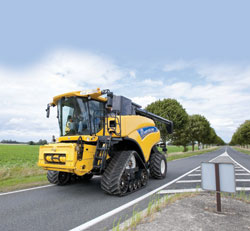 A New Holland CR9090 combine in Europe fitted with standard SmartTrax. Courtesy of New Holland

Other track conversions
Dutch Company Zuidberg-Westtrack manufactures rubber track conversions, enabling work on the land under extreme conditions and allowing the extension of the working season. Zuidberg claims that its tracks exert up to 75% less ground pressure than wheeled tractors, resulting in less compaction and damage to soil structure. Its system is interchangeable with standard wheels and is easy to fit and remove.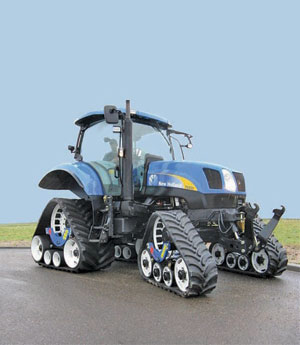 The Zuidberg-Westtrack conversion for the New Holland T7070. courtesy of Zuidberg-Westtrack