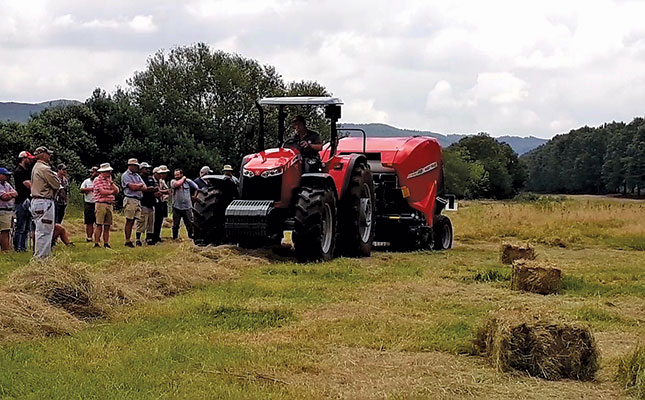 In a deal concluded last year, US agricultural equipment manufacturer AGCO took over the Lely Group's baler and loader wagon factories in Germany.
This will enable Lely to focus on the development of robotics and other innovations in dairy farming.
The addition of the baler line completes Massey Ferguson's line-up of hay equipment.
The range was launched recently in South Africa by KwaZulu-Natal Massey Ferguson distributor FMS at a demonstration on Meshlynn farm in the Kamberg district.
Advanced features
Essentially updated Lely Welger machines, Massey Ferguson's RB-series balers make up a range of fixed and variable chamber machines designed to handle hay, silage and straw.
Features include a camless pick-up, which significantly reduces maintenance, the Hydroflexcontrol anti-block system, the Constant Pressure system, Xtracut chopper and Varionet wrapping. A positive, mechanical tailgate lock ensures uniform bale density, while reducing power consumption. Options include air brakes, wider pick-ups and larger tyres.
Two variable-chamber, four- belt balers are available in 13-, 17- or 25-knife chopper options. The RB4106V forms bales from 0,9m to 1,6m in diameter, while the RB4180V forms 0,9m- to 1,8m-diameter bales.
Neat, dense bales
The fixed chamber machines, each equipped with 18 rollers, produce round bales 1,25m in diameter and 1,23m wide.
The range includes the RB1125F, with net-wrap, and the RB2125 with a 13- or 17-knife chopper. A feeder rotor enhances the capacity.
The small, square bale still has a place on a farm, particularly among horse owners, who value this size for its easy handling.
The MF1840 small rectangular baler employs a 'centre line' design in which the crop flows through the machine in a straight line, working like a mini large-square baler. This improves its efficiency, as the crop is not turned before entering the chamber.
The pick-up is 1 928mm wide and the standard bale size is 457mm x 356mm and up to 1 300mm long. Bale density is hydraulically adjustable.