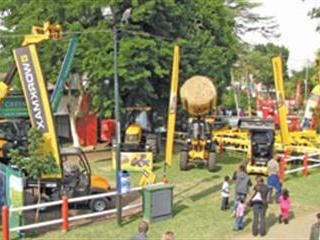 Agricultural machinery was once again a major attraction at the Royal Show and exhibitors reported that many enquiries had been converted into sales. The Kengem floating paravane ripper featured in Farmer's Weekly last July was displayed on the FMS stand. It's essentially a soil lifting device that travels at approximately 350mm below the ground, breaking up soil compaction. With additional implements attached to the basic frame it can also fertilise and prepare a land for planting in one pass.
FMS also highlighted the return of Rome disc harrows. Used for both primary cultivation and cane stool eradication when re-planting, the TAC WR 16 offset disc harrow has 16 x 914mm discs. With the unit's total weight being 5 350kg, the penetration per disc is a massive 334kg. Teamed with a tractor such as the Challenger MT765c rubber tracked crawler, which was also on the FMS stand, you'll have a formidable combination.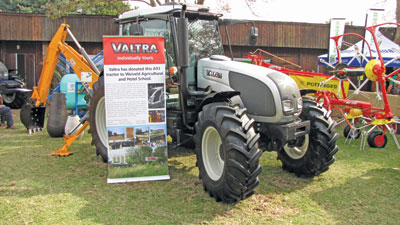 The Valtra A93.
Speaking of which, Valtrac KZN used the show to display the Valtra A93 tractor being donated to the Weiveld Agricultural and Hotel School in the Free State. As noted last issue, the tractor and other equipment donated by various companies will be used to provide hands-on training in the operation of agricultural machinery.
The Tatu RTA-6 back-hoe
Imported from Brazil by Valtrac, the Tatu tractor-mounted back-hoe can dig to a depth of 3m, load to a height of 2,87m and has a reach of 4,4m. The boom slews at 170°. Bucket widths range from 300mm to 600mm, making the back-hoe a useful implement for many jobs around the farm, from ditching to building operations.
The latest from McHale
Ideal for hay and straw baling, the McHale F5400 non-chopper round baler features a star-shaped feed rotor that quickly
and efficiently moves the crop from the pick-up to the bale chamber, maximising performance. It's suitable for contractors and large farms, with Mchale's Drop Floor Unblocking System as standard equipment. This, together with large size bearings and the continuous oiling system, contributes to trouble-free performance and a long working life.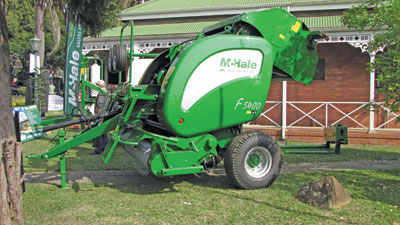 Interest growing in tracks for tractors
Built in Canada and imported by Mascor, Soucy track conversions for standard tractors contribute significantly to reducing soil compaction, allowing more air and water into the soil. Tracks are also available for other equipment such as trailers and combine harvesters.
It's claimed that, depending on the application, the Soucy track system's ground surface area is up to eight times larger than that of equivalent rubber-tyre wheels. In addition, Soucy claims fuel saving of about 4% on hard ground and significantly more in wet, muddy conditions, where the tracks are most effective. The units attach to standard tractor hubs.
Another TYM tractor
With the TYM T1003 having proved eminently suitable for the current South African market, Greenfields Agricultural Holdings has decided to bring in the smaller 55kW T723, which is powered by a 3-cylinder 3,3l engine. Like the T1003, it comes fully equipped with a 24-speed forward and reverse transmission, 4-wheel drive, power steering, three remote hydraulic valves and a joystick control valve for operating a front-end loader.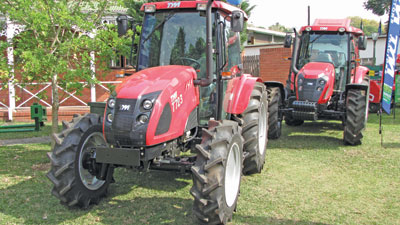 The Carter strip tiller
Developed by Cape-based Carrotech, the Carter strip tiller has many features: wide parallel linkage with adjustable down pressure, 508mm or 559mm cutting coulters, SharkTooth 381mm row cleaner or 406mm concave discs behind the cutting coulter, tines with shear bolt protection that can work up to 320mm deep, spring-loaded 457mm wavy coulters with down pressure springs, adjustable for width, angle and distance from the tine, and rolling baskets to finish the seedbed. Depth control rims on the cutting coulters ensure an even operating depth in uneven lands.
Ploughs & planters from JD
The JD 624 reversible disc plough: Reversible disc ploughs have always been popular with cane farmers. This 3-furrow unit is manufactured in the John Deere plant in Mexico, and is very competitively priced. It has 3 x 660mm discs, and the reverse mechanism works by gravity, tripped when the unit is raised. It requires a 30kW to 40kW tractor.
The JD 1010 planter: This mechanical planter is available in 2-, 3- and 4-row format, and enables smaller growers to own a planter with all the precision and accuracy of much larger and more expensive units. Seed plates are available for a variety of crops.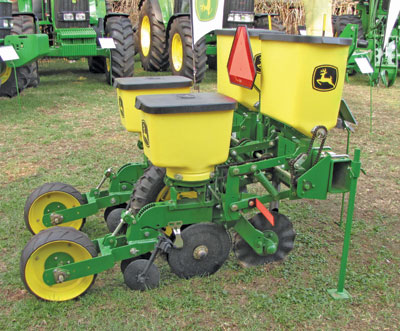 The JD 1010 planter
Turkish delights
Jupidex is importing a new range of implements built by Alpler of Turkey. Founded in 1926, the company produces around 30 000 ploughs annually. 3-furrow mouldboard plough: The dimensions of the legs on this 3-furrow plough are very impressive. It will be interesting to see how these mouldboards perform in local conditions.
9-shank chisel plough: This unit has well spaced tines with good under-beam clearance. It should work well in quite heavy trash. Trailed offset disc harrow: The design and build quality of this disc harrow is impressive. An attractive feature is the ease with which the gang angle can be adjusted simply by re-positioning a pin.
Jumil forage wagon
The Jumil forage wagon has agitating rollers at the front that tease out the forage and feed it to troughs via the side discharge auger. Capacity of this double axle model is 10m³. A simple dog clutch reverses the drive direction, and the load can be discharged from the rear. When the trailer is being used for hauling harvested forage crops, it can discharge directly onto the silage clamp.

The New Holland Roll-Belt 450 utility baler
The Roll-Belt 450 makes it possible for smaller operators to have their own baler rather than having to rely on a contractor. It makes neat, well constructed 1,2m x 1,5m bales with as little as 30 PTO kilowatts. The simple, compact design has fewer moving parts, so it's affordable, reliable and easy to maintain.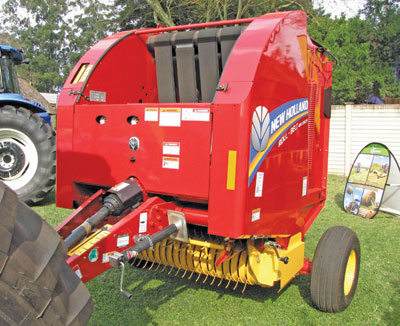 The New Holland Roll-Belt 450 utility baler

Tree harvester
One of the largest pieces of equipment at the show was the John Deere 843J feller buncher on the Bell Equipment stand. It is driven by a 168kW John Deere 6068H engine and it's claimed that the increased power from the new engine improves the recovery speed of the disc saw felling head and enhances multifunction capabilities, giving increased accumulating capacity and load handling. To get some idea of the performance of this amazing piece of equipment you can watch the video on YouTube. See www.youtube.com/watch?v=CIvG2wh4YbE

Wacker Neuson debuts
At the Royal Show for the first time this year was construction equipment company, Wacker Neuson. Its impressive display included two compact loaders. The 701 Skidsteer has the unique Quadrostatic drive concept (one drive motor per wheel), load limit regulation and standard quick-hitch system for attachments. The 350 mini loader, meanwhile, is stable, agile and easy to operate. It's ideal for gardening and landscaping. The company also has a range of small dump trucks with load capacities of up to 2t, with front-, swivel- and high-tip dump body variants. The latter is seen on the 1 500kg capacity 1601 high-tip model.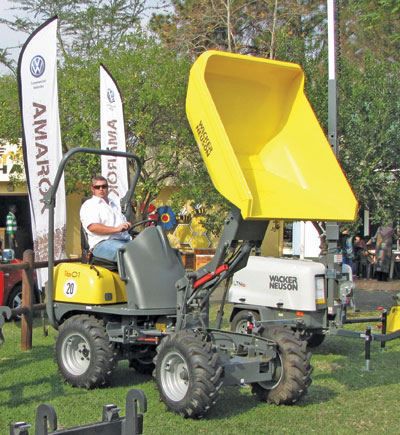 Wacker Neuson

From Kverneland
Optima HD 8-row planter: A trailed unit with central fertiliser hopper suitable for conventional planting as well as for mulch sowing or direct planting. Exact planting depth is maintained by the individual depth control wheels.
NG-M 101: A medium-size power harrow, suitable for tractors up to 105kW. The heavy-duty rigid trough design means it can work in tough conditions.
GS 80-15c: The Kverneland GS range of high performance multi-purpose rotary tillers have main frames of a 'monobloc' design made from high quality steel and are built to last. They can be equipped with four different types of blades to suit any soil conditions.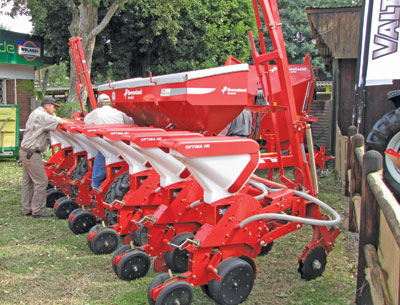 The Kverneland Optima HD 8-row plant