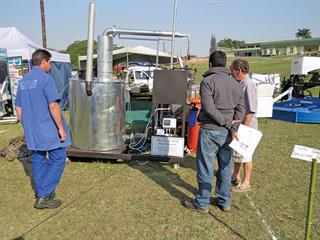 Plastics are manufactured as a by-product of mineral oil. The Eko-Diesel KZN fuel system reverses this process and converts scrap and recycled plastic back into low sulphur diesel fuel. The method uses pyrolysis, which involves a method of breaking
down products in an oxygen-free system with a heat source. The resultant gases are then passed through a distillation column and a cooling chamber to become liquid diesel. Fuel for the heat is supplied by the waste gas and from diesel produced by the process. The system uses waste plastic material. At Sugarfest, the unit was fed with old polypropylene rope.
The manufacturers claim that diesel can be produced for less than R4/l, including labour and the cost of buying recycled plastic. The system processes all types of plastic waste, except PVC and PET bottles, and has the capacity to produce up to 5 000l/month.
KenGem paravane planter
Keen interest was shown in Ken Sclanders' latest application of his KenGem floating paravane ripper. Ken recently formed an association BP Implements to build the KenGem ripper. At Sugarfest, a four-row BPI planter hitched behind the KenGem ripper was set up to plant castor oil seeds, a new option in the search for alternative and complementary crops. The seed used is an imported sterile hybrid that does not reproduce indigenous noxious weed.
The combination strip planter places seed into the cane inter-row. The action of the floating paravane in breaking up the compaction associated with cane harvesting is especially beneficial.
Ngoye Agri-Applicator
The fibre-glass and resin bin of the robust Agri-Applicator (seen here with David Mbuyazi) has a smooth inner surface to allow free flow of material to the measuring device, which can be calibrated to distribute a wide range of products by means of stainless steel rotors. The granular material is directed to one or two rows by the flexible plastic tubing, adjustable for varying row widths, while splash plates at the end of the tubes spread the material over a wider area.
Bell replacement chassis
Over the years, Bell Equipment has produced thousands of three-wheeler cane and timber loaders. Components such as engines and wheels can be replaced over time, but eventually, after long, arduous service, the main frame can become fatigued. Mega Parts, based in Park Rynie on the KZN South Coast, specialises in rebuilding equipment and offers a complete replacement chassis frame with an enclosed operator's cabin.

Unicab trailers

Tip trailer:This double-axle unit has a capacity of approximately 24m³ and can carry a 9t payload. When tipping, the body pivots about the rear axle to permit a tipping angle of 54° to discharge the cane.
Side loader (below): The 6t side loader trailer is still available for cane farmers who need to plant really steep slopes. It is remarkable that this design from the early 1960s is still probably the safest way to retrieve cane from hillsides.

Articulated sprayers
The CIMA Link 55 articulated low-volume sprayer (below) uses pneumatic atomisation based on the venturi tube principle to provide chemical treatments with a low volume of water. The tank is on a trailer connected via an articulated joint, enabling a very small turning radius. When properly adjusted, the variable track trailer wheels follow the tractor's tracks. Tank sizes range from 800l to 1 500l.
Specifically set up for spraying high-growing trees such as pecans, this CIMA 55 mounted unit can spray up to 18m high. Hand-washing and spray-line rinsing tanks are included in the main tank, and there are two agitation systems: hydraulic and pneumatic. This combination of features reportedly make it unique in the market.
Also seen at Amatikulu
Seen here with Viljoen Malan of Agriservices, this 125l Gaysa sprayer from Spain has a pump powered by a Honda engine, delivering from 18l/ min to 51l/ min at 20 to 50 bar. It comes with a reel, 10m of hose and a spray gun. The boom ends have protective covers for working under plant canopies.
The Sigma 4 has a lifting capacity of 650kg and can lift to a height of 2 700mm at the attachment coupling point. Attachments include an earth bucket, pallet fork, round and square bale fork, a grab for wrapped bales and one for round bales. The Sigma here is mounted on a 55kW Landini 7865 tractor.