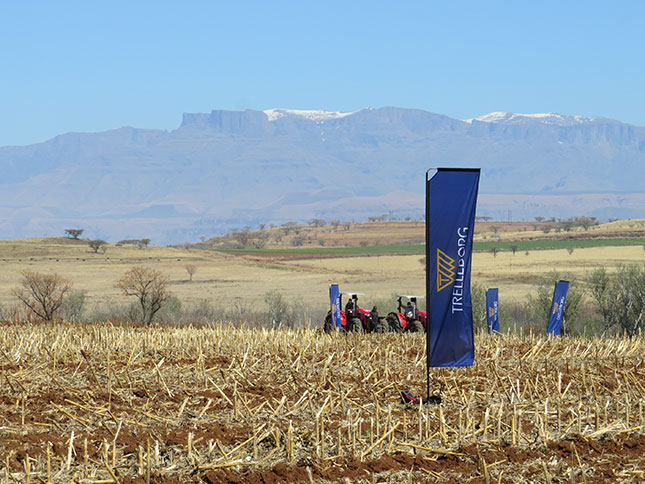 The South African leg of the Trelleborg Road Show was held recently on the Drakensberg Agricultural Services Noordhulp farm near Winterton, KZN.
The theme was 'Produce more with less', and against the backdrop of snow-covered peaks, we were treated to a professional field demonstration of how productivity can be boosted while the land can be preserved.
Two tractors working on precisely measured, identical 250m tracks, started together. One had Trelleborg tyres inflated to the correct pressure, as specified by the Trelleborg Load Calculator (TLC); the other had tyres inflated to simulate crossply tyres at the higher pressure usually employed in this type of tyre.
The tractor with the correctly inflated tyres finished the course while the other was still some way from the end of the run.
The TLC is an app that identifies the precise load per axle of the tractor and the optimal tyre pressure for each farming operation. It is available free for PC, smartphone and tablet.
The runs were timed accurately, and the clocks showed that the tractor with the correctly inflated tyres completed the course 26 seconds ahead of the other. Subsequent tests confirmed these times as a fair reflection of the advantage of running with the right pressure in the tyres.
This represents a 12,8% saving, which is considerable when translated into a full day's work.
The identical Massey Ferguson 6712s tractors were also fitted with sophisticated fuel usage monitors. The results showed that the tractor with the correctly inflated tyres used 28,7% less fuel to achieve the same task in less time. This means that considerable savings can be made, reducing input costs and improving profitability.
The soil impressions made by the two tractors were compared. Predictably, the lower pressure tyres had a considerably larger 'footprint', and it was obvious that the higher pressure tyres created more compaction.
Joe Spencer is the mechanisation editor of Farmer's Weekly.