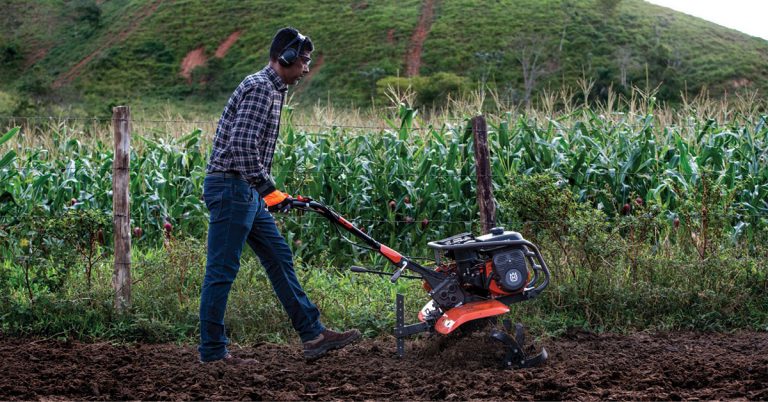 For large and open areas, a rear-tine counter-rotating tiller and generous working width is the most suitable.
The rear-tine models are designed for use on densely packed earth and lawns. With powered wheels and counter-rotating tines, these machines break up soil very effectively. Our most powerful version is the Husqvarna TR 262.
Minor gardening
The front-tine tillers are suitable for smaller landscaping work, such as in greenhouses, and on small plots, garden patches and tunnel maintenance. These tillers are driven by the tines. Standard working widths range from 74cm to 135cm and additional tines can be added for a custom size.
The smaller models are perfect for tighter garden spaces and all of Husqvarna's models can be fitted with accessories for various garden tasks. We offer several versions of front-tine models, such as the Husqvarna TF 230, TF 338, TF 435P, TF 545D and TF 545DE.
General advice when buying a tiller
For versatile garden tasks, you might consider buying a front-tine tiller with accessories for moss raking, edging, scarifying and ploughing. If you have many small patches and flower beds in your garden, you should make sure that the tiller you choose has carrying handles or transport wheels. For optimum manoeuvrability and control, our tillers have a reverse gear.
Compare our products and get more information on the tiller page.