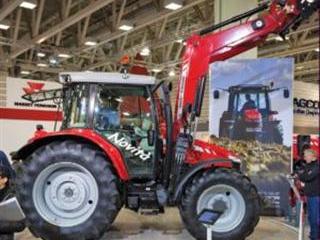 Massey Ferguson's new three-model 5600 series offers power and manoeuvrability along with exceptional performance in the yard, on the land and on the road. It also meets the latest emission regulations in this tractor bracket, says MF brand development manager Campbell Scott. The series was launched at the recent Esposizione Internazionale Di Macchine Per L'Agricoltura E Il Giardinaggio (EIMA) show in Bologna, Italy, where it was a big hit.
Specifically developed for use in tractors, the 3,3l capacity AGCO engine offers exceptional levels of power and torque at low speed for optimum fuel economy. The ingenious design of its electronically-controlled, common-rail fuel injection and superb airflow through four valves per cylinder means it requires only a maintenance-free diesel oxidation catalyst and an external gas recirculation element to clean the exhaust gases to meet Stage 3B emissions limits.
Compared with the traditional four-cylinder engine, the AGCO three-cylinder unit is considerably more compact, allowing operators to benefit from superb visibility over the narrow bonnet. In addition, three cylinders mean fewer moving parts, creating less friction and leading to better fuel efficiency.
Top class loader
According to MF, the MF5600 series comprise the best loader tractors around, especially when equipped with the MF900 loader range. Flow from the hydraulic pumps can be combined automatically, providing up to 100l/minute at 200 bars when needed. This means loaders respond quickly to controls, even at low engine revs. A new mechanical joystick not only operates the loader, but also allows operators to change direction as well as increase or decrease speed with the same lever.
Dyna-4 ECO transmission
The MF5600 tractors are equipped with the Dyna-4 ECO transmission, which ensures maximum available power at the wheels and PTO, reducing fuel consumption. The brake-activated transmission-to-neutral feature is a real boon for loader operations, increasing efficiency and convenience. In the 'Hare' setting, the new AutoDrive option allows 16 speeds to change, simply by adjusting the throttle pedal. For fieldwork, the 'Tortoise' setting automatically changes the speeds within the ranges.
High-visibility cab
Despite their compact design, MF5600 tractors are equipped with a similar-sized cab as the MF7600 range. This does not compromise manoeuvrability around the yard and in the barn, because there's a wide choice of cab positions and roof types available to suit all customers' requirements.
The cab interior boasts a new right-hand console, new pillar and new controls. The dashboard, shared with the flagship MF8600 range, allows for enhanced visibility for front loader and front implement operation. Additional new features include PTO activation linked with linkage controls, lockable spool valves and a new dot matrix information screen.
Those wanting more automation and control can adjust a number of functions, such as shuttle and powershift aggressiveness, activation of a specified engine speed when engaging the PTO, as well as accessing data such as fuel usage.