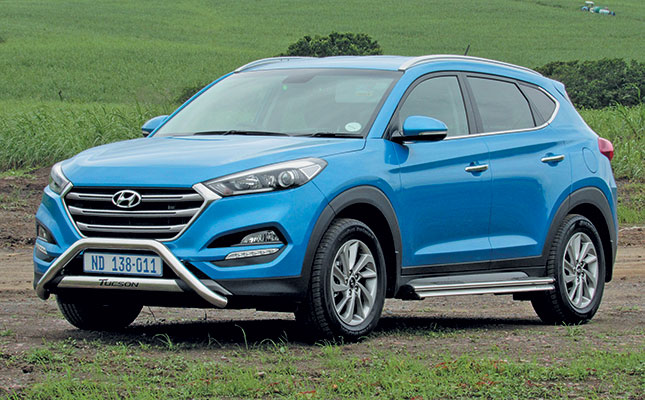 Hyundai has been with us for two decades now, and the brand has gained a reputation for quality, with its cars no longer judged on price alone. The latest version of the popular Tucson family compact is a clear improvement on the outgoing wagon.
It is also bigger, being 65mm longer and 35mm wider, while the wheelbase has been extended by 30mm to allow for a longer, more spacious cabin.
The new range initially consisted of five versions, all with either the 115kW naturally aspirated 2-litre engine or the 130kW 1,6-litre turbocharged petrol engine.
In November last year, two new diesel versions arrived: a 1,7-litre Executive with a 1 685cc forced-induction engine delivering 85kW of power and 280Nm of thrust, and a 131kW/400Nm 2-litre Elite six-speed auto turbodiesel for those who need to tow or are in more of a hurry. Unfortunately, there is still no diesel-powered 4WD version available in South Africa.
Depending on the model chosen, you can opt for a six-speed manual or auto transmission across the range, and there is a seven-speed dual-clutch gearbox standard in the Active-on-Demand 4WD petrol version.
At the launch of the diesel model, I drove the 1,7-litre manual Executive and thoroughly enjoyed it (the 2-litre auto Elite was tied up in Customs).
Useful mode
In the 1,7-litre model, the torque from just off idle is very useful, and the six-speed manual transmission is crisp, with well-chosen ratios. Hyundai claims a 0-100km/h time of 13,7 seconds and a top speed of 176km/h for this model, with the 2-litre version being 4,4 seconds quicker and 25km/h faster.
The smaller engine does not feel as lethargic as these figures imply, and I would happily live with the car I drove. The 2-litre would doubtless be even better, but at a price. The jump from R440 000 to R520 000 is off-putting, even with the higher specs and beefier engine.
Despite its all-wheel-drive power train, the Tucson is not a serious off-roader, lacking as it does a low-range transmission and differential locks. However, it does feature a useful 4WD lock mode that can be engaged at below 40km/h.
Dirt roads
In any form, the Tucson is a well-built, well-equipped family wagon that can cope well with dirt roads as long as traction is not too much of a factor.
The Hyundai Tucson is priced between R370 000 and R520 000 and comes with the company's generous five-year/150 000km general warranty and roadside assistance plan, as well as a new seven-year/200 000km drivetrain warranty and a five-year/90 000km service plan.