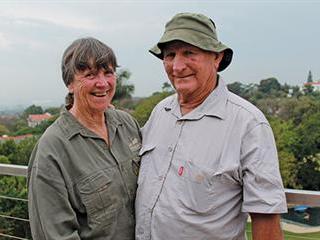 The Reillys established the 10 000ha Mkhaya Game Reserve in the south-eastern lowveld of Swaziland in 1979, so that they could re-establish the pure-bred Swazi Nguni, a breed that had been eroded to a remnant of its original size. Mkhaya was founded after the Reillys had converted their family farm into the Mlilwane Wildlife Sanctuary in 1960 and transformed King Sobhuza II's private hunting ground into the 22 000ha Hlane National Park in 1967.
These dedicated areas were established to restore the Swazi wildlife population, which had been decimated by poaching and land development. "In the early part of the 19th century, Scottish land surveyor David Forbes had a substantial population of Nguni cattle on his 100 000ha ranch," says Ted. According to the Reillys, these cattle ran with game, including buffalo and wildebeest, carriers of snotsiekte (bovine malignant catarrhal fever) a disease fatal to cattle.
Read: The milk trait in the Nguni: a lost value?
The Ngunis had resistance to ticks and were therefore not susceptible to tick-borne diseases. They used their horns to protect their calves from predators. "They were not managed and were absolutely attuned to nature," explains Ted.
Rescue operation
When Swaziland gained its independence in 1968, there was a drive to cull cattle that could not be dipped and controlled, and the Ngunis were virtually wiped out. "With that, out of the window went the resistance, hardiness and natural survival features that had taken thousands of years to develop. It was probably the most foolish livestock decision ever taken in Swaziland," says Ted.
In 1975, Swazi King Sobhuza II started the Nguni movement, turning to the Reillys to help rescue the remnants of the pure-bred herds. The Reillys bought a remote tract of land and founded Mkhaya as a cattle ranch, where they established a nucleus breeding herd. "We went to dip tanks all over the country looking for pure-bred Ngunis. There were hardly any left. Out of a group of 2 000 cattle, we may have picked three or four animals," says Ted.
Colour and horn shape can be used to judge breed purity, but with the official policy of dehorning animals, the Reillys' ability to select for purity was impaired. "We got some of the old government Ngunis, which had been bred by Derek Faulkner at the Mphisi cattle breeding station. They sold them to us at meat value as they were seen to be inferior," Ted recalls. The Reillys started with 20 breeding cows. Over 40 years, the herd has grown to 400 cows. A genetic bottleneck is avoided by using eight different bull bloodlines.

Ngunis in a 1 600ha camp at Mkhaya.
As Swaziland's Ngunis historically grazed alongside game animals, the Reillys moved game to Mkhaya. The cattle ranch became Mkhaya Game Reserve in 1981, and breeding rhino, roan and sable antelope and tsessebe were brought in. The more the Reillys worked with the Ngunis, the more they saw how well-adapted they were to the environment.
"We realised the Nguni's great economic potential," Ted continues. "The larger commercial breeds die more easily, need more food, and drink more water. The Nguni is the most efficient breed at converting grass to beef under African conditions."
Although the oldest breed on the sub-continent, the Nguni was not officially recognised as a breed by SA Studbook until 1983, when it was officially registered. Ted and Liz were the first to register their herd in 1983 and in 1986 had gathered sufficient support to form the Nguni Cattle Breeders' Society.
Read: Know your cattle – Nguni
Today, Mkhaya cattle are sold in South Africa, Namibia and Swaziland and have substantially boosted Nguni genetics in the national herds of these countries. "The Swazi people provide a good market for Ngunis," says Liz. "To the Swazi man, nothing is more important than his cattle. They are his bank balance and a significant source of his spiritual well-being."
Management strategies
Ngunis on Mkhaya range in camps of up to 1 600ha, competing with game for space, forage and water. "They are at home in the wild," says Ted. "That is where they shine. They are diverse foragers and eat grass, leaves, pods and twigs." Ngunis can tolerate predator pressure as long as they are not dehorned, says Ted.
The Mkhaya herd receives no supplements or licks. "We don't exceed the carrying capacity of the land," explains Ted. "A good principle in veld management is the Australian saying: 'Full stock is half profit; half stock is full profit; over stock is no profit'." Veterinary help is seldom needed. "In the early days, we intervened because we had so few Ngunis and were trying to build up numbers. But now we don't interfere," says Liz. In the event of mortality, carcasses are taken care of by the vultures.
Cattle are dipped only when tick pressure is excessive. "We are trying to regain a level of natural resistance by using oxpeckers to control ticks," Ted explains. "When run naturally, with minimal dipping and veterinary treatment, Ngunis are very cost-effective. It is one of their greatest attributes." People are unaware of how well these cattle can do in an extensive environment, says Ted. "Today, there are so many small registered herds, artificially propped up, over-managed and over-protected. The larger 'wild' herds are valuable."
Heifers in good condition can breed at about 14 months and cows normally calve once a year. Cattle are mustered every week for counting and checking. "They are herded in the traditional way, called by a herdsman blowing a luveve (the horn of a sub-adult impala or duiker). The Swazis have habituated the Ngunis to this style of mustering. They are fantastic with cattle," says Liz.
The Reillys run multiple sire herds with one bull to 20 females. "Bulls have to find the cows in the big camps," says Ted. "The most fertile bull will most probably cover the most females. 'Natural' selection eliminates human weakness in selection. We are turning back the clock and preserving the Nguni as it was."
Phone Liz Reilly on 00268 760 21275 or email [email protected].
Phone Monique Lawrenson on 083 651 2414 or email [email protected].