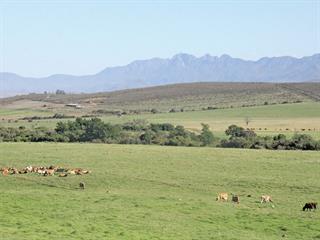 In 1994, Eckard Leicher made far-reaching changes to his farming enterprise: he stopped supplying fresh milk to Bonnita, established an on-farm cheese factory, La Montanara, and began processing his milk through this. It was the beginning of a highly successful business built on value-adding, and one that would continue to evolve.
Today, Sarahsrivier Boerdery, situated near Ashton in the Western Cape, has an organic Jersey herd and a total mixed ration (TMR) Jersey herd that is milked twice a day. But the cheese factory has grown so much that almost 75% of the one million litres of milk processed there every month is bought from 13 other producers – collected in tankers every second day.

Establishing the cheese factory
Eckard started 20 years ago by enrolling in a cheese-making course presented by the legendary Norman Roberston at Elsenburg in 1994. He started making cheese in his milk parlour the following year, even before the first phase of his cheese factory was complete.
In the mid-1990s, few local farmers were producing their own cheese to supply the retail supermarket sector. Commercially produced cheeses were the norm and consumers had not yet been exposed to speciality cheeses. Eckard grabbed the opportunity to produce a range of speciality cheeses which is now marketed under the La Mont brand.
La Montanara cheese factory processes about one million litres of milk per month for its 100t speciality cheese range.
The innovation and boldness displayed by Eckard 20 years ago has remained – and is integral to this family enterprise. His son Rudi is farm manager and in charge of the organic pasture and the TMR herd. "When Rudi went to study at Stellenbosch University, I played devil's advocate to make sure he really wanted to study for a BSc Agric," Eckard recalls. "But in the end this is what he chose to do. Thanks to Rudi being on the farm, we started a new phase to expand our own milk production gradually and to run trials with feeding our organic herd more effectively."
Always open to change
The past two decades have seen a number of carefully considered changes to La Montanara, each successful in its own way. In 2000, the dairy became the first in South Africa to import an ultra-filtration machine. This reduces the water content of the milk, resulting in a higher percentage of solids. The process is used specifically in the production of soft cheese such as Danish feta.
By 2006, Eckard had expanded the cheese factory successfully in several stages. In the same year, he decided to make more economical use of the factory equipment by replacing his Holstein herd with Jersey cows. While the factory can produce 1t of cheese from 10 000l of Holstein milk, it can make 20% more cheese – 1,2t in total – from the same volume of Jersey milk.
At about the same time, Eckard realised that there was a demand – albeit relatively small – for organic cheese. Taking advantage of this would allow him to supply Woolworths in addition to his existing clients, Checkers and Pick n Pay. The farm was certified organic in 2007, and Woolworths is now La Montanara's biggest individual client, although more than 50% of its production is destined for the hotel and restaurant industries.
Organic cheese today comprises 14% of the factory's total output. Eckard and his team established a high-density grazing system using portable electric fencing on the 50ha irrigated pasture. This means that a large number of animals graze a relatively small area – 0,4ha – over just 12 hours. The electric fencing is then moved to allow them to graze another section of pasture.
"This system increases competition among the cows, so they eat instead of walking around compacting the soil," says Eckard. "Towards the evening and at night, the organic cows graze in camps closer to the milking parlour." He explains that the organically fed herd consists of only 110 cows lactating at any given stage, whereas a conventional producer will usually milk 250 cows or so off 50ha of pasture.
The reason for the lower grazing density is twofold: in order to be certified organic, no chemical fertiliser may be used on the pastures, and cows' supplement intake may not exceed 5% of their total daily feed intake, unlike cows on conventional pastures. In the case of Sarahsrivier, cows fed organically each receive a supplement of only 0,85kg concentrate
per day. However, because cows are in milk for only 300 days and are dry for the rest of the year – during which time they only graze and receive no concentrate supplement – Eckard feeds each cow 1kg concentrate per day during its lactation period.
Pasture & silage
Sarahsrivier has sandy and clay loam soils. Eckard established kikuyu, clover and rye grass pastures on the farm, while lucerne is also grown. The pastures reach optimum growth in September, and to avoid any wastage, the lush growing pastures are cut for silage, which is then wrapped and stored. Having witnessed farmers in Germany feeding their cows more grass pasture silage because it contains less moisture, Eckard and Rudi plan to make more silage from the pasture and conduct a trial after winter to test its effectiveness.
"Eating pasture silage, cows benefit from a higher nutritional value in the rumen, while compaction of the pastures can also be lowered," Eckhard says. During Farmer's Weekly's visit to Sarahsrivier, three feed silos with a capacity of about 35t each were being erected. A storage shed for lucerne is also on the cards. One silo will be used for non-GM barley (or triticale, if the barley is unavailable) for the organically-fed cows. Non-GM canola, bought in bags, is another substitute. The other two silos will be used to store maize for the TMR herd.
Expanding the TMR herd
The Leichers bought the TMR herd two years ago. It currently consists of 150 cows in milk at any stage, but Eckard and Rudi have embarked on a programme to expand this to 600. Rudi uses semen imported from Denmark for artificial insemination in both herds.
A camp rotation system is used for the TMR herd. The camps are each about 3ha in size, sandy and with no cement strips alongside the feed troughs, which is more natural and easier on the cows' hooves, according to Eckard. Several feed bins and water troughs are placed throughout the camps to reduce muddy conditions. When the TMR cows are dry, they are moved to a 450ha section of old croplands.
The milk solid content of the TMR's herd is relatively high, containing 4,8% to 5% butterfat and 3,9% protein. Sarahsrivier is equipped with an 18-point herringbone swingover milk parlour. As per the requirements for organic dairy, the organic herd is milked before the TMR herd. The TMR herd produces 170 000l of milk per month, while the organic herd produces 65 000l per month. The milk yield and feeding or grazing costs per litre of milk produced is shown in the table above.
Eckard says that 20% of the organically fed cows are already 13 years old, which bears out the fact that they experience fewer problems with their udders and have considerably longer productive lives. Although some of the cows in the TMR herd are already 12 years old, it is still a young herd and the average age is five to six years.
Based on the rate being paid for milk and milk solids in the Ashton area, La Montanara factory currently pays R4,80/l for normal Jersey milk plus a premium of 20% for organic milk. La Montanara also buys milk from another organic producer in the Western Cape. A bonus is paid when the somatic cell count is below 250 000, no bonus applies to milk with a somatic cell count of 300 000, and producers who supply milk with a somatic cell count of 300 000 to 500 000 are penalised according to a sliding scale.
A solid foundation
Reflecting on his operation's success over the past 20 years, Eckard acknowledges that it was a steep learning curve, especially at the start. "There are a lot of financial pitfalls in building and running a cheese factory, and this called for very careful calculations. I paid plenty of school fees before I eventually decided to bring my financial and administrative manager, Carel Hager, on board as a shareholder. I don't think one can rescue a poorly performing dairy farm by starting a cheese factory," he says.
Today, La Montanara produces 100t of speciality cheeses every month and exports a small quantity to Namibia. The most popular lines are feta, pecorino, parmesan and halloumi. Despite the fact that the La Mont goat milk pecorino won an award in the 2002 Dairy Championship, the factory's goat's milk cheese production was too small to be viable and was not a good fit for the rest of the business. It was therefore discontinued in 2008.
A family affair
As mentioned, Eckard's family is closely involved with the operation. In addition to Rudi running the farm's milk production, Eckard's daughter, Karla, studied cheese-making and succeeded him as the factory's production manager. Recently, Karla's husband, Rohan Steyl, was appointed project manager.
From left: Eckard Leicher (managing director), Karla Steyl (daughter and cheese factory production manager) with her youngest brother Bernard, Rohan Steyl (son-in-law and project manager), Rudi (son and farm manager), Norbert (brother and operational manager).
Eckard's brother, Norbert, a mechanical engineer by profession, has also joined as the factory's operational manager. Eckhard jokes that his nine-year-old son, Bernard, has decided to join the family enterprise by appointing himself events manager. The family has taken advantage of its pleasant surroundings to own another link in the value chain: an on-farm delicatessen and restaurant, with a deck overlooking the organic pasture. The venue is hired out for weddings and other events.
Email Eckard Leicher at [email protected].