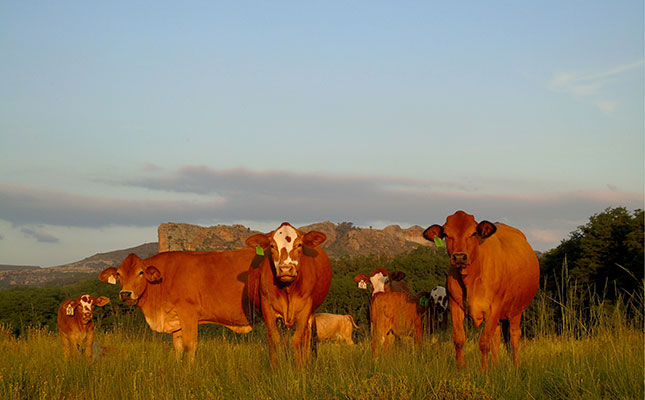 A high conception rate should be the most important consideration in any herd management system, which is why bull selection is so important. The right bull is the one with the genetic abilities to produce good-quality calves. Such a bull forms the genetic and economic foundation of a sustainable cattle concern.
"It's illogical to use just any old bull, as the bull is the proverbial goose that lays the golden egg," says Rick Dell, who runs the R2K Simbra stud near Ficksburg in the eastern Free State with his wife, Riëtte.
Dell stresses the importance of breeding seasons in cattle management. Removing bulls from the cow herd once the breeding season has concluded creates an opportunity for producers to test the bulls' fertility and test for sexually transmitted diseases. This also opens a window for vaccinations and treatment against parasites.
Most importantly, though, the bulls are given a chance to rest and gain condition for the coming breeding season. A bull in good condition before the breeding season starts is an asset in a herd. In contrast, a bull that is too fat usually struggles to keep up and could, in the long run, cause the producer to lose money.
Dell says it is essential to keep track of the bulls' behaviour during the breeding season, as this is a vital management tool that allows the producer to pick up problems and take action before it is too late.
"Merely chasing the bull or bulls in with the cows without regular observation is a mistake that can cost a farmer a lot of money in the long run. The economic realities of beef cattle production are such that substandard or poorly performing bulls simply can't be allowed in a herd," he explains.
More than one bull works better
Dell advises the use of multiple sires in herds. Firstly, in the case of big camps with more than one watering point, the cows tend to break up into smaller groups, making it difficult for a single bull to get around to them all every day.
Secondly, there is the danger of a single bull falling ill and failing to service the cows, which would obviously reduce calf numbers. Multi-siring provides a backup, and doubles or triples the chance of conception.
Dell adds that it is advisable to put an older bull with a younger one, as it creates a clear pecking order and results in less fighting.
Bulls should be put to the correct number of cows. Dell recommends between 20 and 24 cows for a bull younger than 24 months, and between 25 and 35 cows for an older bull, depending on its age and condition. Too few or too many cows per bull do not make for good business. Having too many cows can cause injury or infertility in young bulls if they are worked too intensively.
"Instead of having 40 calves to sell, the producer now only has 20. At R7 000 for a weaner, this will reduce the possible income from R280 000 to R140 000. A loss of R140 000 in potential income is a serious matter in any business, regardless of its size."
Top-performers
Dell focuses on breeding top-performing Simbra bulls that excel on the veld under all farming conditions and meet the requirements of the commercial breeder. He therefore breeds hardy bulls with strong masculine characteristics, well-defined muscling with a good topline, strong forequarter development, large testicles, and a well-shaped scrotum.
A masculine head with strong eyebrow ridges is extremely important. These characteristics are indicative of a high libido and the ability and desire to mount a cow, traits that will, in the long run, add tangible value to a herd in terms of rands and cents.
Dell says that bulls should show attitude, but not aggression. In extensive farming conditions, it is crucial for a bull to be able to move easily, be fit and have the endurance to cover large areas and service many cows.
Simbras fare well in crossbreeding programmes due to the breed's adaptability and the large genetic pool in South Africa. This affords a buyer the opportunity to select a bull best suited to his/her cow herd and farming conditions. Simbras also produce heavy weaners and good replacement heifers, and are known for their excellent mothering abilities.
A few years ago, the Dells began to select animals with a polled gene and had one of the first tested homozygous polled Simbra bulls in South Africa: the animal itself has no horns and its offspring are born without horns.
Polled cattle are less prone to injury, and farming with polled cattle cuts down on labour, as there is no need for dehorning.
Fertility and structure
Fertility, productivity and structural soundness should form the cornerstone of a breeding herd. Fertility is a repeatable trait, which is why prospective bull buyers would be wise to include only registered bulls with proven and verified estimated breeding values, says Dell.
The fertility of a bull's dam and even grand-dam is of utmost value for the long-term sustainability of any cattle herd.
The same goes for milk production. A dam that yields a high volume of milk can drop and raise a calf annually, even under extensive and taxing conditions.
"If a cow in our herd is not in calf and she had a fair chance of conceiving, she's culled from the herd. It might seem like a heartless policy, but it's necessary to improve the genetic integrity of the herd and to provide highly productive animals to our commercial clients," says Dell.
The ideal cow for any farming concern, stud or commercial, shows feminine characteristics. She has a wedge-shaped appearance from the side, with deep hindquarters, fleshed, not muscled, and a lean hump and neck.
Dell prefers a medium-framed animal with a good temperament that is not overly fat and has a good udder. Cows must also have good mothering instincts and look after a calf with sustained milk production.
"A smaller, fertile cow that calves easily by herself every year is a pleasure to farm. And that's where the Simbra genetics come in. From the Simmentaler side, the breed has inherited its high milk production and exceptional growth rate, while from the Brahman it inherited hardiness and disease resistance," he explains.
Adaptability
Dell's R2K stud animals are bred to adapt and perform even during cold winters and on sourveld with minimal supplemental feeding. "We select strong, muscular bulls out of fertile mothers that have bred well."
The stud consists of 200 breeding cows and about 60 heifers. The stud also includes some 30 bulls, ranging from one-year-olds to mature bulls, some of which are earmarked for the Lovedale Auction, which will be held in Lindley in July.
Dell's breeding criteria and philosophy is simple: breed from the middle, sell from the
top, and cull from the bottom. Dell credits his father, Fred, an acclaimed South African interbreed-cattle adjudicator, and the late Ephraime Jabula Mbele, a top Shorthorn breeder, for his love of cattle.
"I learnt from my father, a great cattleman, to consider estimated breeding values and other animal performance statistics, as well as physical structure, in the selection process," he says.
Technology
Dell makes use of DNA-testing technology to confirm parentage, and also tests for specific traits such as the homozygous polled gene. The young bulls are subjected to the GrowSafe program, where accurate data is collected to measure individual animal feed intake and weight, monitor animal behaviour and growth, and predict feed efficiency traits.
This helps Dell make informed decisions on the selection of bulls that will add optimal value to a breeding herd.
Dell says he has always been fascinated by red animals with a white blaze. To him, Simbras are the complete all-rounder of cattle breeds. He acquired his first Simbra animals in 2000 from Diethelm Metzger's acclaimed Kamab stud in Namibia.
Dell farms on two farms totalling just over 900ha and leases additional grazing land. The veld's carrying capacity is 4ha/1 MLU year-round, and a high-pressure grazing system is employed.
According to Dell, they have established a loyal customer base, including many commercial farmers who return year after year to buy R2K bulls.
"We believe that customer service is extremely important and have built relationships with the people we do business with. The needs of cattle farmers vary tremendously, and we try to find out exactly what they're looking to achieve and suggest bulls that'll help them achieve that goal."
Email Rick Dell at [email protected], or phone him on 084 400 0570.