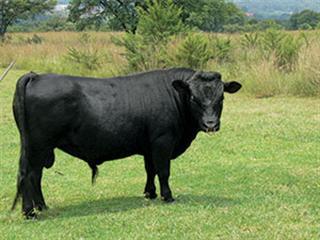 A love for the breed of choice is what sets good stud breeders apart. Successful stud breeders have an obvious passion for the breed they have chosen. Piet van der Merwe, owner of the Zwavelpoort Dexter stud in Pretoria East, is no exception to this rule. He maintains that if a stud farmer does not have a love for the breed of his choice he shouldn't be breeding it. Piet's love of Dexters grew from sentiment. Although he always wanted to be a farmer, this did not necessarily include taking over a Dexter stud from his father, Piet (Snr).
Piet wanted to go to an agricultural school, but his father denied his request. "He said he couldn't afford to buy me a farm and that I wouldn't be happy farming for someone else. So I ended up in a city school where I was named Piet Koei (cow) because I came from the farm," laughs Piet. Despite his nickname, Piet never could understand his father's obsession with his Dexters. "I always threatened that when he retired I would sell them. But when my father passed away I got sentimental and kept them. "This," he explains, standing in the cattle shed, "is where I feel closest to my father."
The Van der Merwes have been breeding pure dual purpose Dexters since 1968. Piet, a full-time animal health product salesman, follows a simple breeding system that produces prize-winning animals on minimum inputs. The farm is situated in what was once a rural farming area on the outskirts of Pretoria. Today it is an extension of the city where residential estates cover hectare upon hectare.

Piet van der Merwe says that a stud farmer should have a love for the breed of his choice.
The Dexter is the smallest registered cattle breed in South Africa. Dexters have a low feed intake and a high feed conversion ratio, so the 25ha farm is all Piet needs for his stud herd. He explains that the Dexter remains one of the most economic breeds to farm with, as more animals can be kept per unit area. "Their size makes them very manageable, so less labour is required. They have the optimum slaughter weight to produce ideally sized meat cuts for the household market.
"Essentially the Dexter gives more milk and meat per hectare with fewer risks than other larger breeds," says Piet. "Losses due to theft or illness make for a lower financial loss because it is a smaller animal. "Dexter cows are excellent mothers and can breed earlier than other cattle breeds can. One of my cows has given me 15 calves in 18 years and is presently six months pregnant."
Less is more
Piet can keep a maximum of 20 head of cattle on his 25ha. An annual auction of the Overvaal Dexters Club keeps his herd small and he currently has eight females and one bull. While cows are used to breed until they are about 20, Piet replaces his bulls every three years. He does not use his own bulls for breeding in his herd because of the small Dexter gene pool.
"This was a mistake my father made when he started farming," Piet recalls. "We could see the quality of the herd declining even though we were producing cows with good conformation. As soon as we brought in a new bull the herd improved. My father always said the bull is the core of any herd and a breeder can't show without a good bull." Piet says a bull normally produces females that look like his dam. "So when I am interested in a bull, I look at his dam. If I am satisfied, I will then consider buying the bull."
He selects strictly according to dual purpose characteristics, quality, longevity, fertility, temperament and uniformity of conformation. "In stud breeding you need to know what the calves are going to look like and that they will comply with breed standards. Temperament is very important as a calm animal greatly reduces the chance of injury to people and to the rest of the herd.
"An animal with a bad temperament should be culled to ensure the maintenance of good temperament in the national herd."
The Zwavelpoort herd is very tame and Piet attributes this partly to the cows being milked every morning. "It is not strictly necessary to milk the cows, but it builds a good relationship between the workers and the animals." He gets about 5l from each cow every morning, and sells the milk off the farm.
"I prefer a true dual purpose Dexter because milk produces meat. If a breeder selects for meat only, milk production will decline. "The reverse is also true. A cow that produces sufficient milk will wean a strong calf. Once a breeder finds the balance between milk and meat production, he has the best of both worlds." Heifers are put to the bull between 14 and 16 months. A heifer must have calved by three years. "The earlier the heifer can calve, the more fertile she will be," he explains.

Piet's Dexters are strictly selected for temperament and uniformity.
Piet's herd has an average conception rate of 90% and a weaning rate of 100%. Calves are born at between 16kg and 22kg and the average weaning weight is 150kg to 160kg. Nutrition plays a big role in fertility. "Animals that receive adequate nutrition will show above average production." The Zwavelpoort Dexters graze veld that receives an average annual rainfall of 550mm. In summer, the animals are given a phosphate lick and in winter they get a protein lick. Lactating cows are fed a 3,5kg ration consisting of lucerne, groundnut shells, maize meal and soya bean meal every day. Dry cows get half the ration "for a bit of love", smiles Piet.
Breed promotion
Piet explains that, to promote the breed, the best animals must be sold. "Selling substandard animals downgrades the breed. I take pride in selling good animals to new breeders." Piet says that "it's criminal" for stud breeders to change the appearance of the breed as their task is to improve it. "There is a tendency among some breeders to increase the size of the Dexter to compete with the larger breeds. This goes against the breeding standard, which stipulates that females should not be higher than 112cm, and bulls 120cm just in front of the rump.
"And why would any breeder want to change the Dexter? It is mos perfect just as it is."
Contact Piet van der Merwe on [email protected]