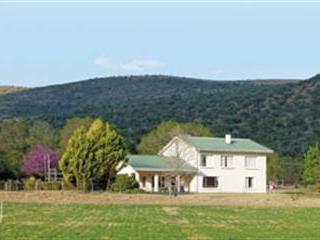 "The work of past generations makes it possible for me to farm. Going into partnership with my neighbour allows me to expand my business," says Richard Morgan (35) as we stop at a dam built by the Morgans, and their neighbours, the Meyers, on the Mankazana River in the early 1990s. A guaranteed water supply from this dam means that Richard has been able to develop 75ha of irrigated pastures for fat lamb production.
His flock of 3 000 Dohne Merino ewes also supplies a good annual wool clip. The switch to dual purpose Dohne Merinos represents a significant move away from the Morgan's traditional focus on Merino wool production and the sale of hamels.
This is not the only change Richard has made since he took over the family farms, Whytebank and Glendenning, in 2000. A more profound change has been made by forming a business partnership with his neighbour, Adrian Meyer (50)an accountant and investment banker who lives in Barbados, in the West Indies.
In partnership, the two hope to grow the Dohne Merino fat lamb/wool operation and to expand a herd of 500 Red Brangus cows and 300 Boer goat ewes. "The partnership gives us immediate economies of scale and means we can grow by leasing or buying ground as we expand our livestock operation. The increased strength in human capital adds to the success of the business," says Richard.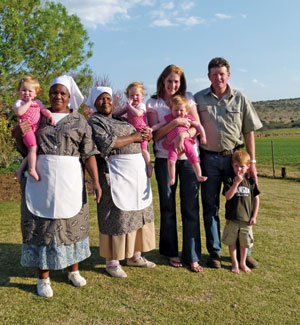 (From left)Triplets Elizabeth, Juliana and Isabella with Sheila Ludwabe, Priscilla Jack, and Kate Morgan and Joshua with Richard, on Glendenning. The Morgan family have farmed in the Mankazana Valley since 1895.
Deep roots
Of Welsh descent, the Morgans arrived in the Eastern Cape in the 1860s. Originally wagon builders and transport riders, they bought the farm Whytebank in 1901 after leasing it for six years. On the walls of the Whytebank shearing shed are the mounted horns of antelope shot beyond the Vaal River by early generations of Morgans. An only son, with his heart set on farming from an early age, Richard matriculated at Winterberg Agricultural High School near Fort Beaufort in 1994. He spent a year on an AI station near Queenstown before attending Cedara Agricultural College. After graduation he worked on farms in Australia and New Zealand.
He spent time at the famous Haddon Rig Merino stud in New South Wales, joined an Australian sheep shearing team and worked on a cattle ranch in northern Queensland before returning to the Mankazana Valley in late 1999. "Travel gives you a different perspective," he says. "I enjoyed it, but there really is no place like home."
Richard married Kate (30), an occupational therapist, in 2005. The couple are now raising the next generation of Morgans, Joshua (3) and baby triplets Elizabeth, Juliana and Isabella. Adrian, from a fifth generation Eastern Cape farming family, has two sons at school, and two daughters at university in England. The Meyer family spend their six-week summer break on the farm Linton. Adrian's son Andrew is keen to join the farming business.
Joining forces
In 2011, a partnership between the Morgan family business (the Whytebank Farm Trust) and Triple M Estates (the Meyer's farm business) was set up. "With improved profitability and better business practices we can cost management and return on capital separately," says Adrian. He believes that forming this distinction allows farming families the flexibility to pursue non-farming careers while retaining the farm for the next generation.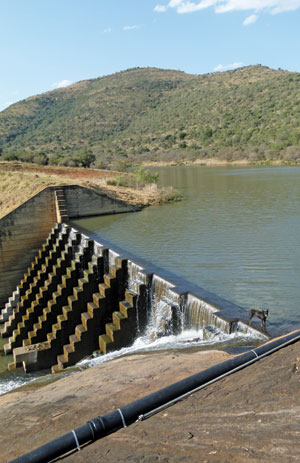 A dam built on the Mankazana stream in the early 1990s guarantees water for the irrigation of 75ha of pasture.
"I have seen many farming dynasties come to an end because the next generation was unsuited to a career in farming."
The partnership, Meyer Morgan Farms (MMF), owns the working capital, the livestock and the moveable assets. The land belonging to the Morgans (Whytebank and Glendenning) and the Meyers (Linton, Jericho and Oliphantsbos) is leased from the respective families.
Richard manages the agricultural operations on 6 000ha while Adrian focuses on the financial administration of the business. He attends quarterly BKB board meetings and visits his farms and the two men communicate telephonically once a week. "Some decisions need to be made jointly," says Richard. "But we don't sweat the small stuff." "Financials are obviously Adrian's strong point, but he understands farming as well which makes all the difference in the world."
Livestock restructured
The 75ha of irrigated pastures consist of 10ha of lucerne (for hay production) and 65ha of a rye grass, clover and fescue mix. During the lambing season from August to November, these pastures are stocked at a rate of 40 sheep per hectare. The 3 000 strong flock contains 300 Dohne Merino stud ewes. Breeding ewes are supplemented in winter with a Maxiwol maintenance lick and a Maxiwol production lick is provided for four to six weeks before lambing. In summer, all sheep have access to a Voermol phosphate block.
Twinning ewes are put into lambing pens for three to four days before going onto pasture. In the pens they receive a complete ration of Maxiwol, maize and milled lucerne hay. Lambs are weaned at 90 days and marketed from the pastures. An on-farm feedlot that can handle 1 000 sheep makes value adding an option. Wool is an important part of the sheep farming operation on MMF with Dohne Merino ewes producing an average fleece weight of 4kg/animal.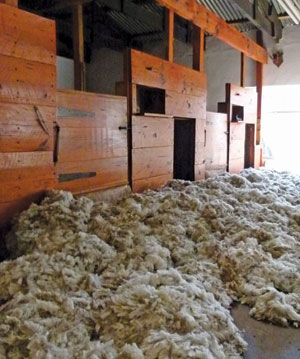 In the shearing shed on Whytebank. The average fleece weight of the ewes is 4kg and the clip ranges between 17 microns and 20 microns.
The wool clip ranges between 20 micron and 17 micron. "We keep a quality wool component going," says Richard. "Coming from a Merino background is an advantage and breeding our own rams makes it easier. We apply rigorous selection criteria to maintain top quality livestock."
Richard's father, Robbie, introduced Red Brangus cattle to the business in the late 1990s and today 300 stud and 200 commercial medium-framed cows (with an average weight of 450kg) are farmed extensively. "The polled Brangus does well here in the mountains. The cows deliver small calves and they milk enough to grow out good weaners," says Richard.
In winter, mature cows get a Voermol Dundee-based maintenance lick while pregnant heifers receive a Voermol Dundee-based production lick. From September to November, breeding cows and heifers get Super 18, while replacement heifers and bulls continue with the Voermol Dundee-based production lick.
Richard aims for the herd to have an ICP of less than 400 days and a weaning rate of more than 90% of cows mated. Calves are weaned from 1 May at six to seven months at average weights of 200kg (heifer calves) and 220kg (bull calves).
"Producing quality, marketable weaners off the veld is critical for the notoriously fussy feedlot market."
Veld management
Cattle graze on the sweetveld in the valley in winter and the higher altitude mixed/sour grassland in summer. "We stock to achieve a balance between animal production and veld production," says Richard. Consultants Prof Winston Trollip of Fort Beaufort and Dr Wayne Vos of Grahamstown assess MMF's grazing and browsing capacities and monitor species composition and trends on 65 permanent sites.
MMF follows management guidelines to ensure long- term improvement and optimum utilisation of the veld. Because browse species have been under-utilised, 300 Boer goat ewes were introduced to browse the sweet thorn (Acacia karoo) and to combat bush encroachment, which is a serious problem.
Labour asset
"My outlook on labour has changed since I worked in Australia where you have to do everything yourself," Richard explains. "We want our guys to have a career in farming so we upskill staff by sending them on courses in livestock handling, chainsaw operation and fencing." Richard feels these courses empower workers and improve farm production. Labour has been restructured to optimise efficiency. The staff of 18 permanent workers is divided into teams headed by foremen responsible for three sectors; livestock, pastures and feeding, and maintenance and development.
Performance assessment and goal setting takes place at monthly meetings. The neat, electrified, three-roomed staff houses on Glendenning (built in the mid 1980s) with running water, water-borne sewage and solar geysers show a willingness to invest in workers. "We give our employees the opportunity to uplift themselves," says Richard. He was involved in the establishment of Sowentsa Shearing, owned by former SA champion machine shearer, Isaac Ndlongwane. Isaac currently manages 28 shearers, in demand throughout the Eastern Cape, who shear on Whytebank every October.
Predator control
Predation by black-backed jackal (Canis mesomelas) and caracal (Caracal caracal) is a serious problem in the Mankazana Valley. Richard says that at one stage he lost 10% of his flock to predation, annually. However, since the introduction of two hound packs, his predator-related mortalities have decreased to below 5%. The hounds are rotated on various farms covering an area of 40 000ha. Farmers pay a fee on a per hectare basis. Hounds are fitted with GPS tracking collars.
Contact Richard Morgan on 046 684 0793 or at [email protected]