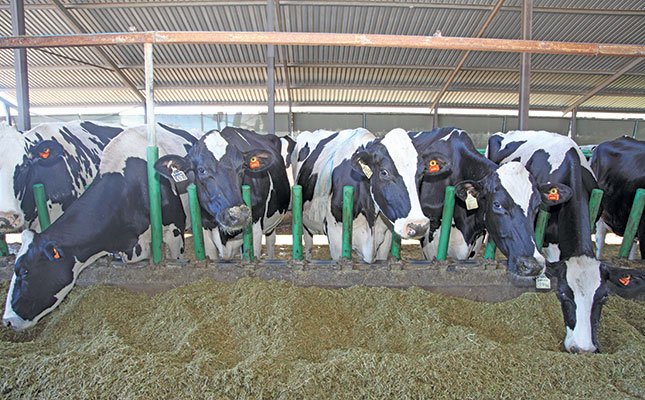 When Farmer's Weekly interviewed JK Basson in 2013 after he won the Agricultural Research Council's (ARC) Master Dairyman Award for the first time, Basson advised others against starting a dairy farm because of the high costs and barriers to entry.
He said the situation was particularly difficult in a total mixed ration (TMR) system, as was the case with all dairy farms in the Swartland, where he runs his operation.
Things haven't changed much since then, with the past year's spike in fuel and fertiliser prices placing further pressure on margins that are already under great strain.
To contain feed costs, Basson buys feed ingredients in bulk from Nova Feeds and uses them to develop his preformulated feed recipes. He also produces silage on a large scale, planting roughly 700ha to oats, triticale and feed barley in rotation with 200ha of wheat and 200ha of canola each year.
"But rising fertiliser and fuel costs will make it difficult to plant profitably this year," he says. And as if that isn't enough, Basson has to deal with the impact of power outages on production.
"Dairy production is highly energy intensive as cows need to be milked when they need to be milked. We have invested in a 150kW solar-panel system to reduce our energy costs, but it is tied to the grid, so we are still dependent on generators, which use roughly 50ℓ of diesel per hour when there is load-shedding."
So what does Basson do to keep afloat? He consults experts and uses the latest technology to make the most of his genetics and improve production efficiencies.
Cow management
Basson's farm houses about 1 100 cows in milk, each of which produces 42ℓ to 44ℓ from three milking sessions per day. Since his herd is so big, he uses the CowManager ear-tag sensor system, which monitors cow health, nutrition, fertility and location in real time by measuring the movement and temperature of each individual animal.
The data is processed and compared with that of the rest of the herd, and then presented to him through a user-friendly program via his smart phone or other devices.
"The biggest advantage of CowManager is that it takes the guesswork out of fertility, as it determines when cows are ovulating and when they should be artificially inseminated. Our herd has an average inter-calving period of 373 days," says Basson.
CowManager also helps to identify systemic diseases and metabolic problems before they get out of hand.
Gerrit Ebersohn, manager of CowManager in South Africa, says the tool is the only one on the market that automatically measures fever in cows, allowing farmers to take much quicker action when cows are sick than would have been possible otherwise.
This is especially important for the early identification of mastitis and tick-borne diseases in largely pasture-based systems.
Ebersohn adds value to the CowManager program by advising Basson, his veterinarian, animal nutritionist and managers on how to improve animal performance based on the data gathered each month.
"The data can be used, for instance, to improve reproductive management.
"As an example, we saw a decline in cow conception percentages across most dairies in the Swartland in March, and were able to attribute this to high ambient temperatures," explains Ebersohn.
The ear tags are guaranteed for life, but warnings are sent to farmers when there are breakages or when the batteries need replacing. They are also reusable, and can be delinked from an 'old' cow and linked to a 'new' one.
"Better fertility management and improved health management more than make up for the cost of the system," adds Basson.
Breeding
To avoid speculation when it comes to breeding, Basson makes use of the services of Theuns Bruwer, a consultant at World Wide Sires (WWS).
Drawing from the WWS database, Bruwer shortlists the most suitable sires based on Basson's production criteria, which include high fertility, longevity and milk production. This database contains information about all the sires available for artificial insemination, and their stats are updated three times a year to ensure that a farmer has the latest numbers at his or her disposal.
Basson selects six sires to use on his herd, and utilises the WWS's World Wide Mating Service (WMS) program to decide which genetics to use on which cow.
Bruwer explains that every animal in Basson's herd is subjected to genomic testing, and this data is then pulled into the WMS program to identify the impact that a specific sire will have on a particular cow. In this way, genetic progress is greatly accelerated.
The WMS program also helps to prevent inbreeding, which has been identified as one of the biggest "hidden costs" for dairy farms due to its long-term effects on fertility, longevity and disease resistance.
Chantelle Erwee, technical manager for ruminants at Zoetis, says the genomic testing is done via Clarifide Plus, a DNA test developed by Zoetis.
Erwee explains that, while in the past, producers had to base their dam-selection decisions on visual appraisal, past performance and the performance of the parents, Clarifide Plus accurately predicts the genetic performance of a female animal for a wide range of traits, including cow and calf wellness. This, in turn, leads to more precise and selective breeding decisions.
Quality Colostrum
In-calf cows are moved to a maternity ward where they are supervised during calving, in order to address birth complications and other problems early on and ensure their smooth transition back into the milking string. The cows are removed from their calves shortly after calving, and milked along with the rest of the herd to supply the farm with a solid flow of colostrum.
The colostrum is stored in a fridge in the calf nursery and heated to roughly 36°C before it is given to the calves to improve their absorption of antibodies.
Basson points out that colostrum lasts for roughly a day when refrigerated, but longer if it is frozen. However, he admits that he doesn't like using frozen colostrum, as the quality thereof can be negatively affected if it is heated too much.
The quality of the colostrum is tested before it is supplied to the calves.
"We don't leave the cows to supply their calves with colostrum, because this would make it difficult to gauge the quality and intake thereof. Mistakes at this point can make or break your farm in the long run through their impact on calf growth and health," advises Basson.
Each of Basson's calves receives 3ℓ to 4ℓ of colostrum within an hour of their birth. To evaluate their colostral immunoglobulin uptake, a transfer of passive immunity (TPI) test is conducted weekly on all the calves in the nursery by the Darling Animal Clinic.
Basson says records are kept of when each calf is born, when they receive colostrum, and the person who administers the colostrum, allowing him to trace any poor results back to whomever was responsible for the animals at the time.
It also allows him to identify trends, such as whether the problem only occurs on specific days or at specific times.
"Calves that don't receive sufficient colostrum never catch up with those that do, so we have a bonus incentive tied to the results of the TPI tests to motivate workers to take extra care when giving colostrum to the calves," adds Basson.
When test results fall below his expectations, he evaluates the situation along with the worker responsible to identify the cause of the poor performance, and revisits good colostrum-administration practices with the worker.
If the results are not adequate for more than one calf, all of the nursery staff are sent on a refresher course.
"The difference that training can make is really amazing," he says.
Calf management
The calves are kept in a nursery that was recently revamped to improve animal comfort and make hygiene protocols easier to maintain. As part of this, the floors have been fitted with Big Dutchman non-slip plastic panels.
For the first three to four weeks of their lives, the calves are kept in separate divisions to prevent them from getting cryptosporidiosis, a disease that causes scours and high mortality rates.
During this time, they have access to water and receive 3ℓ of Sprayfo milk replacer twice a day. Calf starter (21% protein) is supplied from three days after birth, beginning with small amounts to get the calves used to it, and gradually increasing the volume to around 2kg each per day by the time the calves are three to four weeks old.
Thereafter, they are moved to another nursery, where they are kept for another six weeks, and it is here that they receive straw to stimulate rumen development.
In the week before they are weaned, their milk rations are gradually decreased from 2ℓ to 1ℓ per feed, while their calf starter and straw supplies are substantially increased to roughly a bucket of each by the time the calves are weaned at around 60 days old.
Comfortable cows
Basson has been using cow housing since 2001 in light of its numerous benefits, which include improved cow health and reduced stress in a TMR system.
The heifers are kept in a deep litter system for their first 30 days in milk, with their bedding consisting of canola straw from the farm to help them get used to the cow housing.
In these houses, each heifer has access to 20m² of space, while the cubicles in the houses used for older cows measure roughly 8m² each. The bedding in the latter consists of compost, which is topped up every two weeks.
Basson explains that cow manure is scraped into channels located at the end of every house and flushed into a manure well, from where it is pumped and separated into solids and liquids. The solids are taken to compost lanes, where they are turned at regular intervals to dry for two to three weeks, depending on climatic conditions. Once dry, the material is used for bedding.
"A deep litter system is better than a crate system with compost bedding, but you would need too much straw to maintain such a system under our wet winter conditions. We have also used sand as bedding, but this is highly corrosive and damages pumps over time," explains Basson.
The floors are slatted and some are covered with non-slip mats, both of which help prevent the cows from falling.
In addition, the houses are equipped with fans and feed line soakers, which automatically switch on when the temperature reaches a certain level to cool the cows down in the hot summer weather.
Benchmarking
To ensure that he remains at the top of his game, Basson draws on the expertise of consultant Chris Fourie of Dairy Management Consulting.
Fourie visits Basson's farm every month, during which time he benchmarks the dairy's current performance against its past performance, as well as that of other farmers.
"The exercise allows Basson to identify areas that need attention and can be improved upon, which in turn helps to bring greater efficiencies and savings to the farm," says Fourie.
"Basson is easily among the top 15% of the farmers who participate in the programme."
Email JK Basson at [email protected].