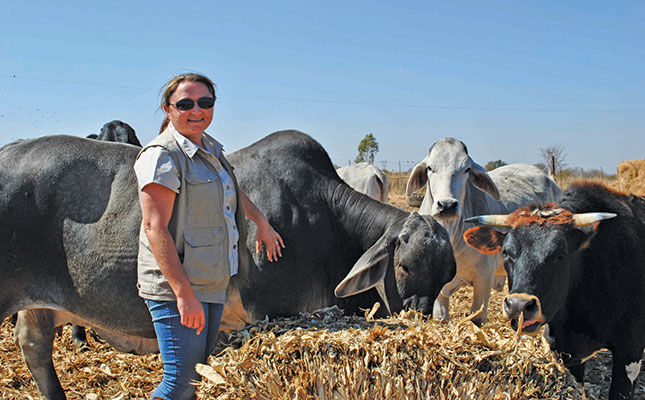 Lizemari de Klerk started farming in 2006. At the time, she and her father, Hans Terblanche, bought three animals with which they established the De Blanque Brahman Stud.
"To be able to farm Brahman cattle is a dream come true! I am very pleased with the adaptability of the Brahman. These are hardy animals that adapt well to any environment," she says.
READ Breeding Brahman cattle with superior genetics
The herd is run on a 8ha smallholding near Pretoria, but De Klerk and her father lease an additional 300ha of grazing veld, which is divided into four camps, each with its own watering point. The De Klerks also have a farm in Limpopo, where they run a commercial herd and raise bulls to include in the stud.
Veld and feeding
As they are situated in a relatively high rainfall area, the smallholding and grazing veld that they rent consist mostly of sourveld. There are no planted pastures, and for this reason they can keep only between 180 and 250 animals.
Due to the drought in Gauteng over the past few years, they have had to maintain a low stocking density because of the poor condition of the veld. Moreover, De Klerk says that during the drought, their borehole and underground water levels dropped significantly, leaving most of the dams on the farms dry.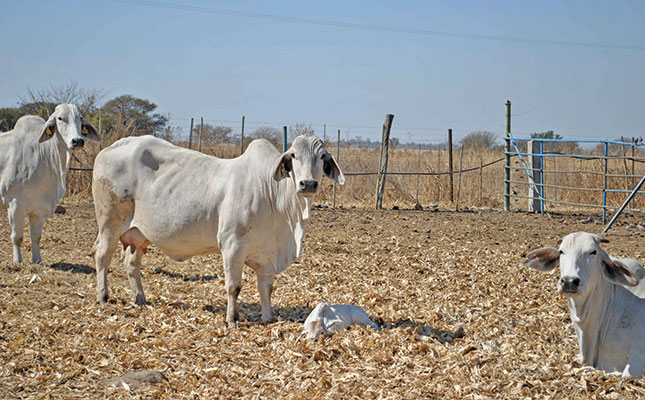 "The veld struggled to recover, forcing us and many other farmers to cut back on numbers," she explains.
In order to protect the cattle from predators and stock thieves, the cattle are kraaled at night. This means that the animals walk an average of 13km every day to the veld and back.
READ On a quest to breed 'the perfect Brahman'
Due to this and the poor veld conditions, De Klerk supplies the animals with licks and supplemental feed throughout the year: in summer, when grazing is at its best, they receive a lick; in winter, they also receive additional feed.
Breeding and genetics
De Klerk follows a strict selection process that allows only the best animals to be included in the stud or to be eligible for sale to potential buyers.
"I believe that a Brahman must be able to compete in the modern-day beef industry by offering exceptional growth, a manageable temperament, good mothering qualities and a lot of beef," she says.
De Klerk sources her genetics from all over the world and across South Africa, and aims to improve her herd by buying in exceptional genetics from renowned breeders.
"I have had really good success with my own bulls, weaning above-average calves that really impress me in terms of growth, temperament and overall quality. I like strong, beefy bulls with good estimated breeding values [EBVs] for milk, growth, and low birthweights. They must also have a good temperament and be easy to handle."
Brahman cattle are known for their hybrid vigour, and most of her bulls are sold to commercial farmers for use in crossbreeding programmes.
"A good bull will produce good offspring. I'm very pleased to have farmers coming back to purchase more of our bulls; it makes me feel a sense of satisfaction as a breeder."
READ Imported genetics: a winning strategy for top Angus breeder
De Klerk says she aims to build and retain a reputation as a breeder who consistently supplies the industry with high-quality animals, which is why she places such strong emphasis on performance testing, especially for bulls. In recent years, her young bulls have been sent for phases C and D testing at accredited testing facilities.
"Without performance testing, we will not be able to predict and select which animals will be able to add value to the herd. Through these tests, we can select the bulls to use, as they give us a good indicator of how their progeny will grow and perform. We only keep animals that have an above-average growth score. Only these bulls will be eligible for sale to commercial and stud farmers."
She stresses the importance of using veld-tested bulls for breeding, as they are hardier and adapt better to harsher environments. She also focuses on improving cow fertility, and selects only female animals with high milk production and good inter-calving period (ICP) scores.
"The ICP for the herd is now at 438 days. My aim within the next couple of years is to bring the herd ICP down to 411, which is below the breed average."
The breeding herd
The breeding herd consists of four mature herd sires, four young bulls, 128 female animals in various stages of production and 48 replacement heifers, which will begin breeding in November 2020.
"Bulls are rotated every three months, which means there is always a bull with the main breeding herd."
The bulls are rotated to ensure that they are not overworked, and that they receive a four-month rest before breeding again. Replacement heifers are artificially inseminated (AI) and then put with a young, potential herd sire to ensure that any heifers that failed to conceive with the AI have another opportunity.
Marketing
De Klerk hosts a production sale every year during which most of her female animals are marketed. Most of her bulls are sold directly from the farm to commercial and stud breeders.
"Bulls that don't meet the criteria to become breeding bulls are sent to the feedlot," she says.
As a stud breeder, her main buyers are commercial beef producers.
"The bulls that I put on the market are the animals that will affect the value and quality of the weaners that are produced, as well as the quality and growth of the animals that will go to the feedlot industry," she explains.
Disease management
In terms of animal health across South Africa and the cattle industry, De Klerk says that better animal health and disease management practices must be promoted, and education regarding health management for new farmers, as well as active involvement by all farmers in the industry, will help grow awareness about the necessity of vaccination programmes, especially to control contagious diseases such as brucellosis.
"I implement a very strict programme every year. All replacement heifers are inoculated against brucellosis with the S19 and RB51 vaccines at the appropriate times.
"Breeding bulls are also tested at least once a year and I have built a good relationship with the state veterinary department."
Brahman cattle are well adapted to South African conditions, and as a result have good resistance to most tick-borne diseases.
"They have short, smooth, oily hair covering their bodies, which makes it harder for parasites to latch onto their skins. As most of our diseases are tick-borne, natural resistance helps a lot in managing losses due to heartwater, redwater and gallsickness."
The biggest challenge De Klerk faces in terms of disease in this part of Gauteng is heartwater. In order to manage the disease, she ensures that the cattle are dipped as often as needed.
Another challenge De Klerk faces is stock theft, and thus she hires an armed guard to keep the cattle safe at night.
"During the day, a herder accompanies the animals to monitor and keep them safe," she says.
A head count is performed every morning and evening to ensure that all animals are accounted for.
In terms of the lessons she has learnt over the years, De Klerk says one of the biggest mistakes she has made was not trusting her instincts. She says she has since learnt from her mistakes, and now has more faith in her opinions.
She adds that one of the best decisions she has made over the past few years was to start attending shows. She attended her first in 2015.
"Since then, I have been able to visually and competitively compare my animals with those of my fellow breeders, which is a skill that has helped me improve my herd."
De Klerk says she wants to become one of South Africa's most prominent Brahman cattle breeders, producing animals that can compete in any environment, any show ring, and in any breeding programme.
Her advice to prospective farmers is to use the support structures available, such as agricultural organisations, and to never be afraid to ask for help from fellow farmers.
"Gather as much information as possible, and educate yourself!"
Email Lizemari de Klerk at [email protected].