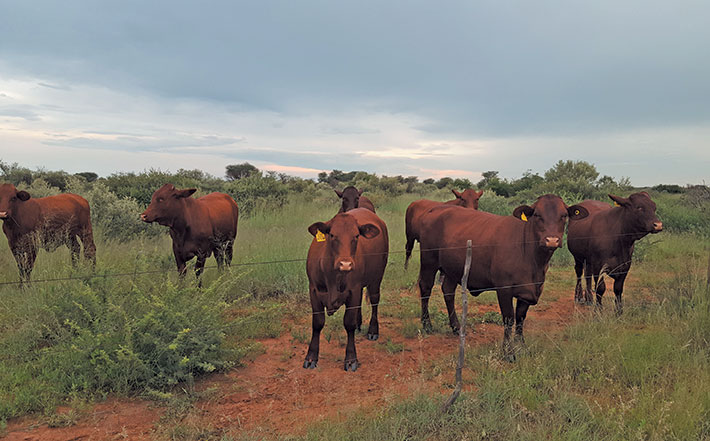 The versatile Santa Gertrudis beef cattle breed excels in a purebred system, but is also ideal for crossbreeding in a commercial herd, according to Ingo Rix of Black Nossob Santa Gertrudis stud near Witvlei in Namibia.
Namibia is a harsh country in which to farm. Local cattle producers must cope with regular droughts, extreme temperatures and vast tracts of farmland. The economic realities of cattle farming in Namibia are such that hardy, adaptable animals are called for.
That is why Ingo believes the Santa Gertrudis breed is the ideal choice for red meat production in that country.
The medium-framed Santa Gertrudis is an exceptionally good and non-selective forager, and coupled with its outstanding walking ability that enables it to cover the long distances on extensive Namibian farms, it is the ideal breed for the industry.
The breed's suitability for extensive conditions is further underscored by the fact that Black Nossob bulls, raised exclusively on the veld, weigh between 530kg and 570kg at 30 months.
An unrelenting environment
The Rix family acquired the 5 000ha farm, Sachsenwald, north of Witvlei in the Omaheke region in 1999, and it is here that the Black Nossob stud is run.
Soil on the farm consists of calcrete and Kalahari red sand, and the average rainfall is 450mm/ year. The average summer temperature is about 30°C, but temperatures in the high 30s are not uncommon.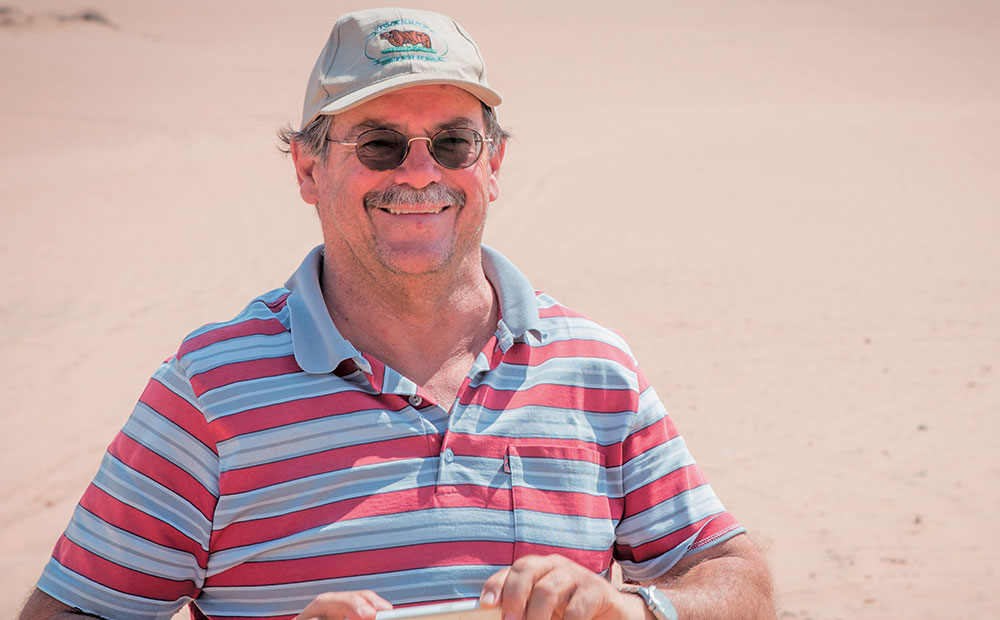 The average winter temperature is about 24°C, but below freezing temperatures have been recorded.
Cattle have to compete with large herds of migrating game species on the farm, such as red hartebeest and gemsbok.
The sweetveld grazing consists of, amongst others, wool grass (Anthephora pubescens), buffalo grass (Cenchrus ciliaris) and silky Bushman grass (Stipagrostis uniplumis). The woody component includes camel thorn (Acacia erioloba), brandybush (Grewia flava) and trumpet thorns (Catophractes alexandri). Sachsenwald's grazing also includes 7ha planted to blue buffalo grass, which is used for, among others, ill and recuperating animals.
The official carrying capacity for the region is 10ha/MLU and Ingo stocks accordingly.
The farm is divided into 32 camps of between 90ha and 300ha, each with at least one watering point. Water is supplied from nine boreholes.
Farming philosophy
Ingo started farming commercial Santa Gertrudis cattle when his family purchased Sachsenwald, but branched out into stud breeding in 2007. His stud now consists of 100 breeding females, including replacement heifers.
The business also includes a 130-strong commercial crossbreeding herd consisting of Santa Gertrudis, Braunvieh, Santa/ Braunvieh crosses and Brahmans.
"We strive and succeed to breed well-adapted and hardy Santa Gertrudis animals for the commercial producer. Our bulls get no extra treatment and are weaned along with our commercial weaners. After weaning, they are put on the veld with only a phosphate lick in summer and a maintenance lick in winter," he says.
In April, when they are about 30 months old, bulls with the potential to be presented for screening are selected as stud sires. These bulls are rounded off with Feedmaster's Rangeland Grower on the veld for four months, and Ingo and his team undertake stringent weighing, measuring and scanning of animals.
"Commercial red meat producers are our main clients and each farmer's requirements are unique. Production and performance recording allows us to advise our clients on the animals best suited to their individual demands and production circumstances.
The fact that the animals are measured and weighed from day one serves as an additional selection tool," he explains.
All birth and weaning weights are recorded. The female animals are weighed at 400 and 600 days, while bulls' scrotums are measured at 400 and 600 days. The ideal scrotal circumference at 600 days should be no less than 38cm.
The animals are also scanned for rump fat, eye muscle and intra-muscular fat in April or May. Parentage is determined through DNA testing, while DNA tests are also carried out to determine whether the animals carry the polled gene. Ingo prefers polled animals, but breeds both horned and polled Santa Gertrudis.
Black Nossob Santa Gertrudis' commitment to breeding top-performing animals was recognised when the herd achieved a Breedplan 5-Star Completeness of Performance accreditation.
According to Breedplan, the Completeness of Performance herd rating system assesses the pedigree and performance information submitted by breeders. One of the key factors underpinning the accuracy of estimated breeding values (EBVs) is the volume of performance information that has been recorded.
Breeding for commercial production
Because the stud animals are handled in the same way as the commercial animals, Ingo has a clear understanding of what can and cannot work for commercial production.
Black Nossob bulls have been sold all over Namibia, and have excelled as far north as Grootfontein, Wilhelmstal in the west, Gochas in the south- east and Maltahöhe in the south- west, among other regions.
The ideal Black Nossob bull is medium-framed, well muscled, hardy and even-tempered.
The ideal cow is feminine, a good milk producer and has good mothering skills. Cows are expected to give birth to a calf and raise it successfully every year, and an average intercalving period of 410 days is maintained.
The main breeding season is from March to May, as Ingo was forced to adjust the season from January to March due to the changing weather patterns in Namibia. He says the stud maintains an average conception rate of 88%.
Heifers are first mated at 24 months, and those weighing a minimum of 330kg have a much better reconception rate than lighter and younger heifers. The average conception rate for heifers is 90% over a 63-day mating season.
"We mate our heifers from 18 months of age at a minimum weight of 320kg, and found this gives us good results under our extensive conditions. Heifers that do not calve the first-time round are culled. Cows get a second chance in a 63-day breeding season during June and July."
Grazing management
A rotational grazing system has been implemented on Sachsenwald. The herds are rotated every two weeks in summer, and every four to six weeks in the dry winter season.
Due to the devastating drought that Namibia has experienced since 2012, Ingo decided to reduce herd numbers drastically. A total of 180 stud and commercial animals were removed in 2015.
Good rain towards the end of the 2015/2016 season, coupled with the reduced numbers, ensured the survival of the cattle left on the farm.
Although he agrees that the breed is sought-after by feedlots. Ingo says there is a misconception that the Santa Gertrudis was bred exclusively for the feedlot and does not do well under extensive veld conditions.
He insists that the breed can excel under such conditions, as is evinced by the Black Nossob stud's good results in the Witvlei Farmers' Association slaughter oxen competition, where the stud won first prize, two second prizes and third prize over a period of four years.
"The oxen were entered directly from the veld. The Santa Gertrudis has proven its efficiency and performance on the veld over and over again," Ingo concludes.
Phone Ingo Rix on +27 264 81 124 0673.