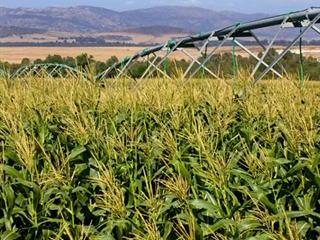 If you happened to take a drive through the rural farm lands of the Overberg and Swartland in Western Cape this summer, you might have noticed a strange sight for these parts − lands of lush green maize under centre pivot irrigation.
The province gets winter rain and therefore conditions are far from ideal for maize production. Climate change, however, was not to blame for this strange phenomenon this past summer. The high maize price was.
A worldwide maize shortage, coupled with low local stock levels, saw the maize price increase from around R1 700/t last year to about R2 500/t in February this year, putting pressure on farmers who have to buy in feed for their livestock.
Dairy farming is one of the main agricultural industries and the demand for feed is always high. Jannie de Villiers, CEO of Grain SA, says, "Because it is a winter rainfall region, large-scale maize production as we know it in the northern parts of the country will never be a viable option in Western Cape."
However, dairy farmers in the Swartland region fortunate enough to have access to sufficient irrigation water responded to the high maize price by planting maize to produce their own maize silage and thus save on feed costs.
CHEAPER, FEED
Grain SA regional chairperson for the Swartland areas, Koos Blanckenberg, owns the farm Klipheuwel in Philadelphia. He and his father Boy, and brothers Vlok and Philip produce grain and milk on their farm. They milk about 820 cows three times a day and each cow produces between 33l and 37l of milk daily.
Koos says producing their own maize silage has saved them money. "However, there are several variables that might impact on overall savings, such as the maize price, yield/ha and production costs," he says.
"If you can manage to keep production costs low, you can save at least R1/cow/day and up to about R3/cow/day. And, with the current maize price, you could even save up to R5/cow/day." Koos says last year they had an increase in milk production when they started feeding their cows maize silage, but he cautions that it is not a given, as many other factors play a role.
"We have seen how the weather influences milk production. When it is very warm, productivity decreases," says Koos. "We harvest our maize towards the end of summer and by the time we start feeding the silage to the cows, the weather has started cooling down. So we have no conclusive evidence to prove that cows on a maize silage diet produce more milk." he says. The Blanckenbergs expect to save between R3/ cow/day and R5/ cow/ day this year by feeding a cow 20kg to 24kg maize silage daily.
BENEFITS
According to Koos, while the cost of water and electricity impacts hugely on the production cost of maize in Western Cape, planting the crop for silage can, however, be justified due to the very high maize price. He adds that farmers should keep in mind that it requires substantial capital to plant maize under irrigation, since a centre pivot can cost between R40 000/ha and R100 000/ha to install. This means that if the maize price drops substantially, it would no longer make financial sense to grow maize for silage.
However, Koos is quick to point out other benefits. "Maize silage is high-energy forage for dairy cows and can aid the healthy functioning of the rumen when it is included in a balanced diet, even more than other options such as oats, available in winter rainfall region."
He adds that since Western Cape is a winter grain production region, maize can be planted in summer after the winter grain has been harvested. This means two crops on the same land per year, which increases productivity and possibly also the profitability per hectare. Farmers can use the same machinery for oats silage as for maize silage.
"We have also found that planting maize has been beneficial for soil health as we apply much more manure per hectare. This season we applied about 60t/ ha of manure. "It is amazing to see how the soil has improved on plots where we planted maize and applied large quantities of manure."
CHALLENGES
"Last year we planted 52ha, but this year we only had enough water available to plant 22ha. So far we have achieved average yields of about 50t/ ha of silage," says Koos. However, he has serious doubts about whether large-scale maize production will ever take off in Western Cape. "We simply do not have enough water."
Jannie de Villiers agrees. "There are no figures available on how much maize has been planted in Western Cape because it is planted for farmers' own use." It is estimated that in 2011 about 2 000ha were planted to maize. While the real figure may be a bit higher this year due to the higher maize price, Jannie insists that meaningful quantities are not being planted when compared to SA's total maize planting of over 2 million hectares for both white and yellow maize.
"I saw a few plots of maize under centre pivots when I visited Western Cape recently for the regional Grain SA annual meeting, but I don't think that plantings in the province will have much, if any, influence on the maize market," he says.
Contact Koos Blanckenberg at [email protected]; contact Jannie De Villiers on 012 807 6023, email: [email protected]
Production notes for Swartland maize
Dairy farmer Neels Neethling, who has a 3 500-head dairy herd on his farm Dieprivier, near Malmesbury, is one of the farmers in Western Cape to take the unconventional decision to plant maize for silage.
"We decided on this because of the high maize price," he states simply. He appointed seasoned maize grower Boesie Herbst to manage the maize planting. At the start of November 2010, after removing invasive Port Jackson trees from large areas of land, they planted 180ha of maize under centre pivot irrigation.
"We get water from the Diep River that runs through the farm. During winter when the river is in flood, we pump the water to farm dams for use in summer," explains Boesie. To prepare the soil, they started by correcting the pH and phosphate levels, applying lime to get the pH level to between 5,5 and 6, and then the soil was ripped to a depth of about 750mm.
"Prior to planting the maize, we planted a mix of oats and barley during winter. This was harvested, ensilaged and the plant residues were retained in the soil," he says. The notorious south-easterly wind, known as the "Cape Doctor", was one of their main challenges because it blows away the soil and plant residue. They also had to protect the young plants from the wind. They sprayed with Alachlor, a pre-emergence herbicide used to control annual grasses and broadleaf weeds, as well as with a pesticide to control cutworm and bollworm.
Most of the fertiliser was applied via the irrigation system. Two weeks prior to emergence, they applied the first round of fertiliser; thereafter it was applied weekly for eight weeks. During the first four weeks, the plants required large quantities of nitrogen, while from the fifth week onwards, they applied NPK 101.
"During the fourth week we applied a heavy dose of zinc and during the sixth week we applied boron in addition to the regular fertiliser," says Boesie.
Maize needs a great deal of water due to its high yield and utilises up to 70% of its requirement in roughly three weeks on either side of tasselling. "Depending on the weather, we applied 50mm to 60mm of water/ha/week. Two weeks prior to, and three weeks after tasselling, we applied 60mm to 80mm/ha/week," Boesie explains. They plan to harvest in early March and hope for about 80t of silage/ha.