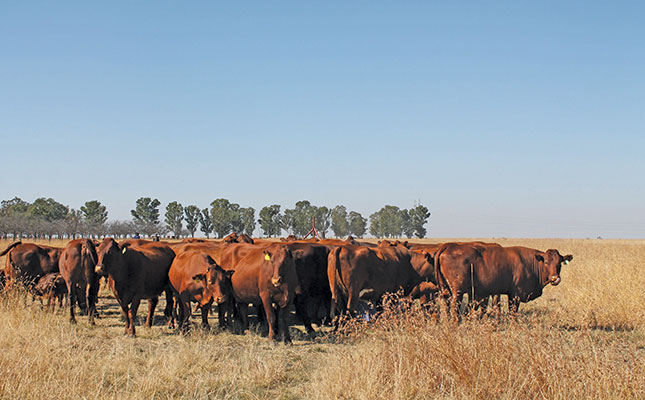 Zachariah Matli is a born cattleman. Before becoming a farmer in 1994, he had already gained valuable experience as a livestock producer in Kroonstad. From a young age, he raised calves at his family's home, and slowly increased his own cattle herd.
As an adult, he started a taxi business. Then, in 1994, he bought an 8ha smallholding, where he continued cattle farming. By the time he moved to the 463ha land reform farm Groenpan in 2008, he already owned a herd of 15 cattle.
Groenpan is in the Free State's Fezile Dabi District Municipality. The official carrying capacity is 4ha/MLU. About 100ha are arable; the rest, consisting mainly of red grass (Themeda triandra), is suitable for grazing.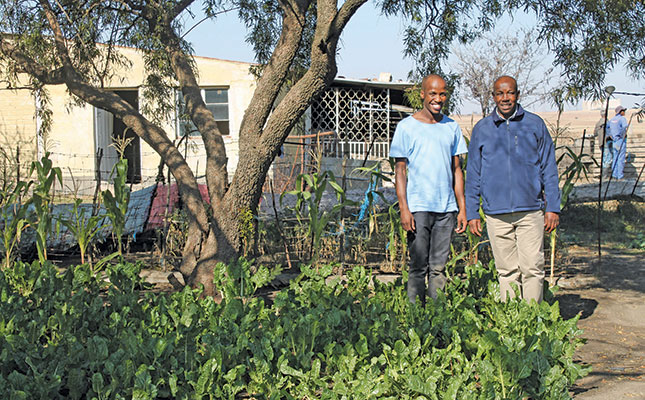 The farm is divided into eight camps, and water is supplied from seven boreholes. Temperatures vary from below freezing in winter to the high 30s in summer.
Matli says he has not really been affected by the ongoing drought in the Free State due to the limited size of his herd. But he has had his fair share of other challenges.
Power problems
Electricity was initially one his biggest expenses. Yet without power, it was impossible to pump water for his livestock.
Carl Visagie, the farm's previous owner, came to his aid by offering Farmerto pay Matli's monthly electricity account until he got on his feet.
"Electricity is an extremely expensive input, costing around R6 000/month. If it hadn't been for Carl, I don't know how the business would have survived," says Matli.
When he took over the payments, he had to sell at least one cow every month in order to meet the bill. However, the Sernick Group, a private diversified agribusiness, in co-operation with government's Jobs Fund, gave him a monthly allowance to help cover his electricity costs.
The fact that the support promised by government did not initially materialise was another problem. Aside from the electricity supply, fences were needed on the farm.
Land Bank
In the 2016/2017 production year, he obtained a R270 000 Land Bank loan. This enabled him to buy 20 cows (10 with calves) and a bull from Sernick Bonsmaras. He was finally able to put his cattle production concern on the right track, genetically, financially and economically.
In 2018, Matli received R700 000 from government to plant maize. Because he had no experience in grain production, Matli approached Jaco Jonker, a nearby farmer, for help.
They planted in partnership, and the harvest was such a success that they decided to continue their partnership this coming season.
This year, government gave Matli R895 000 to plant 100ha to maize, and R400 000 to plant Smuts finger pastures.
Sernick
Matli has been a member of the Sernick Emerging Farmers' Programme since 2016. Earlier this year, he began receiving a monthly allowance of R15 000 from Sernick.
At the same time, they gave him 35 Bonsmara cows with 29 calves and a breeding bull. The calf group consisted of 17 bull calves and 12 heifers.
The Sernick Emerging Farmers' Programme, supported by National Treasury's Jobs Fund, is helping 660 emerging farmers to become commercial farmers.
Matli says the insight and training he has gained through the programme's study groups have been invaluable to the success of his operation.
He also has high praise for the Department of Agriculture, Land Reform and Rural Development's study groups.
The Sernick programme will provide him with feed supplements, including winter and summer licks, for the next five years.
"If it hadn't been for Sernick, nobody would even have known about me and my farming enterprise," he says.
Sernick also assisted Matli with 2km of fencing, and donated a portable loader.
The monthly allowance "is vital in my quest to become an independent commercial farmer. It gives me a financial breather," he says
Matli markets his weaners at a weight of between 180kg and 200kg. The animals receive winter and summer licks and are treated with Ivomac for intestinal parasites when needed. The herd is tested every three months for ecto- and endoparasites.
Piggery
Matli also has a 130-strong piggery, which includes 15 breeding animals. The pigs are taken to auction at between five and six months. Matli says he usually gets the price he wants because he has become known for his good-quality animals.
His son, Kgotso (26), is very much involved in the business. Currently with the South African Police Services, he plans on joining the family farm as soon as it becomes financially possible.
After completing Grade 12, Kgotso enrolled as an apprentice with Sernick for three years and completed a wide range of training courses on livestock production and beef cattle breeding.
"When I'm not on duty, I'm at the farm," he says.
"This is my passion and I look forward to the day I can join my father on the farm. Farming is the way forward for South Africa."
Matli says the Bonsmara's exceptional adaptability, hardiness and growth make production in South Africa. It's also good for crossbreeding because of its hybrid vigour.
Title deed
There is just one problem with Matli's farming operation, and he is powerless to do anything about it. He applied for the title deed to Groenpan through government's Proactive Land Acquisition Strategy (PLAS) in 2005. To date, he still has not received the title deed.
"I was under the impression I'd get the title deed to the land after I started farming here, but that wasn't so," he says.
"For a farmer in my position, it's extremely difficult to access any form of financing without a title deed because I can't use the land as collateral."
Phone Zacharia Matli on 083 477 4005, or email him at [email protected].