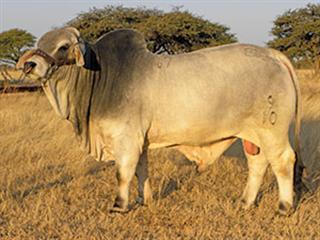 Heinrich Bruwer (27) started breeding stud cattle in 2001 while still at school. He had been to the USA for a youth show to learn about judging cattle, an experience that left its mark on him and charted his future. "I always loved cattle and started breeding Santa Gertrudis on my parents' farm. I saved what I could and borrowed from my dad in the beginning. The first year I kept only one heifer and a bull, sold the other calves and bought a top in-calf cow.
"After school I worked for well-known Vryburg stud breeder Jan van Zyl of Kroonvee Brahmans, who taught me the basics of breeding stud cattle. I soon realised I couldn't run my own animals by remote control!" Heinrich farms about 60km north of Vryburg on a spread of three farms, Lovedale, Grandview and Excelsior. He bought Lovedale farm in partnership with his parents Bokkie and Amanda two years ago and runs Brahman, Santa Gertrudis and Simbra studs, a commercial Braford herd and a flock of 50 indigenous speckled goats.
The three farms provide 2 400ha of veld grazing in the Kalahari thornveld of the far North West. Deep, sandy soils are typical of this arid area and the dominant tree species is the camel thorn (Acacia erioloba). Cattle eat the nutritious pods of this acacia in winter. Annual rainfall is between 450mm and 550mm.

Agri North West 2013 Young Farmer of the Year, Heinrich Bruwer, is passionate about cattle. He is seen here with two hand-reared Brahman calves. Photo by Annelie Coleman
Grazing consists mainly of bushman grass (Aristida uniplumis), black-footed signal grass (Brachiaria nigropedata), Kalahari Sand Quick (Schmidtia pappophoroides) and wool grass (Anthephora pubescens). The wool grass occurs naturally on undisturbed sandy soils and Heinrich, like other farmers in the area, collects seed and plants old maize lands to wool grass. "It is a hardy species with nutritional value that provides quality roughage," he says.
Herd management
The Santa Gertrudis and Brahman herds consist of 50 animals each, while there are 30 animals in the Simbra herd and 70 animals in the commercial Braford herd. "I run about 200 breeding females and use the remaining land to grow out heifers and bulls," explains Heinrich. "I sell commercial calves as weaners and select bulls as weaners, either to grow out or to keep for my stud."
"Managing the grazing is the core of my business. I manage for expansion, not just to have enough of a reserve to see the next season through." Heinrich rests one camp a year for each herd and uses the grazing during the tough winter months. "I also rest camps for calving cows. This reduces calf losses and makes management of the different studs easier."
The stocking rate is between 8ha to 10ha/ MLU and 50ha camps are rotated weekly in summer and every two weeks in winter. The camps have dedicated water points and cattle have access to a phosphate lick year round. Heinrich does his own pregnancy diagnoses and uses a vet mainly for surgical procedures. "In summer, we dip for ticks every three weeks. I vary the active ingredient in the dip to avoid resistance. Once a year I dose for internal parasites," he says.
Diversification
A three-breed operation gives Heinrich access to a broader spectrum of buyers. "An extended client base enhances income per hectare," he explains. "Stud breeding costs almost the same as running commercial animals, but the return on investment is greater. "Instead of a higher per hectare stocking rate, which would force me to supplement, I look at getting the best from individual cows. I expect a cow to give me half of her body weight in a calf weaned at between seven and eight months. If she doesn't succeed, I breed her to a different bull, but cows that give me less than 40% I cull immediately."
Heinrich also selects for a short inter-calving-period (ICP). The breeding season is from January to March and one bull runs with a 20-cow group. Calving is timed to coincide with the first spring rain. "Bulls that don't make the grade in Phase C testing are culled. I sell bulls off the veld as my clients are mainly commercial cattlemen that need tough bulls with good growth for profitable weaner production. Fortunately, I have a reputation for producing hardy, adaptable animals."
Heinrich mates his heifers at two years old and considers later mating a good investment. The heifers have a maturity advantage, he maintains, and this allows them to maintain condition during pregnancy and after calving. "Reconception rates in the first-calver group are about 90% and I've bred some of my best bulls from heifers."
In 2012 Heinrich's herd was selected by the Santa Gertrudis Society as the herd of between 25 and 50 animals with the lowest ICP (389 days). "In 2013 I came second for a herd of between 50 and 100 animals with an average ICP of 388 days. I aim for an ICP of 380 days. One of my bulls won the trophy last year for the best feed conversion in Phase C testing and a bull from my stud represented the breed in the Vleissentraal-ARC Special Performance test class," he says.
Brahman stud
Heinrich started the Grandview Brahman stud in 2005. "Brahman-type cattle are suited to extensive cattle ranching in arid and semi-arid regions. Brahman and Simbra are good choices for communal farmers because of their hardiness and ability to do well on poor grazing."

Deep sandy soils are typical of the Kalahari thornveld which has a stocking rate of 8ha to 10ha per MLU. Photo by Annelie Coleman

He bought 10 heifers from the Hunt Brahman stud in Warrenton and mated them to Sugarland bulls, as he was impressed with the strong bone, fertility, milk production and maternal ability of the Sugarland animals. The current herd bull GBS 08 12 was bred from this line; he formed part of the Armoedsvlakte Agricultural Institute's 2012 performance testing programme and attained gold merit status and best of breed ADG of 2,2kg per day with a growth index of 156.
Grandview cow GBS 07 07 was selected as the 2012 National Champion White Brahman Cow at the Vryburg show. Her first calf was the 2012 Intermediary Champion and was later sold for R250 000 to Rudi Lemcke from Botswana. Most of the Grandview Brahmans are naturally mated. "I artifically inseminate the top 10% of the Brahman herd and the two other studs to introduce new genetics," Heinrich explains.
"I use the best genetics I can find, such as JD Hudgins from the US and Llewellyn Labuschagne from Letsitele's R10 stud. Most of the Grandview bulls achieved Phase C performance gold merit status in 2011 and the average Grandview Brahman ICP is 387 days." In 2009 Heinrich decided to breed Simbras, as the breed's prepotency and hybrid vigour make it an excellent choice for commercial beef producers.
Commercial herd
Heinrich chose Brafords for his commercial herd because of the longevity, fertility and high weaner weights of this breed.
"I bought Droughtmaster genetics at the Considerata Droughtmaster Stud's recent sale. I believe they'll add value to my business. I don't mix my stud and commercial herds but cull any animals that don't meet my standards," he says.
Show
Show ring competition is important to Heinrich, a qualified interbreed judge. "There's no better way of marketing animals," he stresses. "The show ring allows stud breeders to compete with the rest of the breed's stud animals and establish a good name in the industry. My advice to other young breeders is to attend as many shows as possible to learn the breed standards for functional efficiency. Established breeders already have buyers; new entrants must work to find them."
Questioned on his business philosophy, Heinrich says he tries to stay humble and quotes Abraham Lincoln: "I've been driven many times upon my knees by the overwhelming conviction that I had nowhere else to go. My own wisdom and that of all about me seemed insufficient for the day."
Contact Heinrich Bruwer on 079 506 8198 or [email protected].