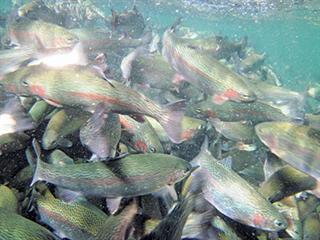 One of the many charms of trout fishing is the joy of being surrounded by beautiful scenery. Peak Trout, nestled in an unspoilt Drakenberg valley and watered by the crystal clear uMlambonja River, is no exception. Yet Peak Trout is far from being a fly-fishing holiday destination. This is a busy commercial trout farm that grows tens of thousands of rainbow trout (Oncorhynchus mykiss), both as stocking fish and for the table. The farm has 37 hatching troughs, growing ponds and raceways, all fed by water diverted from the fast-flowing uMlambonja River.
Peak Trout, at Cathedral Peak in KwaZulu-Natal, is owned by husband-and-wife team Simon and Nina Bunn, and Simon's cousin, John Bevan. The three bought the farm – then named Try Me Trout – from long-time owner Hugh van der Riet in April last year. The purchase was largely due to Simon's passion and persistence. Growing up on the family farm near Estcourt, Simon developed an abiding love of fish and fishing – trout in particular – and became determined to own and manage his own commercial trout farming operation one day.
Seeing an ideal opportunity in Try Me Trout, he eventually persuaded Hugh to sell the hatchery to the three partners. Since taking over, the team has made several significant changes to the operation. "Hugh used to farm mainly table trout for on-premises slaughter and supply eateries and fish wholesalers," explains Simon.
"Our research showed that we needed to change focus to producing both stocking and table trout. We decided not to process the table trout on-farm, only slaughter and clean the fish here, and then sell it on to processors. We also changed the company's name." The intention is that the business be fully paid off in two years. In the meantime, the partners have begun renovating the farm's extensive facilities to their own standards – a laborious process that is still taking place. They are assisted in this by their six employees, five of whom were re-employed by Peak Trout after being retrenched from Try Me Trout.
Optimal genetics
Simon chose not to buy Hugh's breeding stock, purchasing only the table trout. As soon as it was of suitable size, this stock was sold off to generate much-needed capital to finance the partners' plans for the operation. "We wanted to be in total control of our rainbow trout genetics from the absolute start," explains Simon. "While we agreed that we wouldn't start breeding our own trout in our first few years of business, we still wanted the best rainbow trout genetics possible for our table and stocking trout production."
Genetics from Danish-bred rainbow trout are sought after worldwide due to their quality. According to Simon, Denmark's trout-breeding industry is highly advanced, with laboratories constantly researching improvements. Buyers can even choose egg size, fish sex and the genetic lines for traits such as colour, growth rate and maturity rate. These do not involve genetic modifications, simply strict selective breeding.
So far, the partners have bought 230 000 rainbow trout eggs from Danish trout ova supply company Troutex. Most of these have been imported directly from Denmark; the rest are produced by Mpumalanga-based Troutex subsidiary, Sabieshoek Trout Hatchery. Transported in trays housed in cooler boxes, the eggs are kept moist by dripping ice made from sterilised water. A trout egg can survive for four days out of water provided that it remains moist. "For our table and stocking trout production, we order only female eggs because they produce the most marketable adults," explains Simon.
"These grow very quickly and have big fleshy bodies. The table market wants a good eating fish, and the stocking market wants a good fighting fish. A female rainbow trout, a so-called hen fish, produces a better muscle to weight ratio. These trouts' physical traits also enhance their survival rates and feed conversion."
By contrast, rainbow trout males, or cock-fish, divert growth energy towards fighting other males and developing breeding characteristics – brighter, thicker skins and the characteristic lower jaw kype (hook). "This undermines feed conversion into flesh growth, increases mortalities, and ultimately eats into potential profits," says Simon.
Breeding
The 3mm to 4mm diameter female trout eggs, bred by Troutex, arrive at Peak Trout at the 'eyed-over' stage – the embryos have eyes and are almost ready to hatch. They are placed in meshed trays holding 5 000 to 10 000 eggs each and immersed in flowing water. This not only ensures water flow and oxygenation for optimal development, but allows newly hatched fry to fall through the gaps into the larger hatching troughs. The egg shells remain in the hatching trays, from where they can easily be removed.
The eggs spend their first week in the trays acclimatising to the farm's water temperature and pH, and most will hatch during their second week. The Danish rainbow trout achieve a hatching rate of up to 98%, although this can be lowered by variations in water temperature and pH levels. "Just one day of poor egg management can lead to growth, health and quality problems months later," stresses Simon. "During the hatching process, it's essential that all empty egg shells, opaque eggs that won't hatch, and other organic materials, especially river sediment, are removed from the troughs. These encourage the growth of protozoa that could compromise the health of the eggs and fry."
Rainbow trout are a temperate species, so Simon and his team are able to hatch trout eggs during the cooler months of May to September. In the remaining months, when air and water temperatures become too warm for hatching, the partners arrange for Sabieshoek to hatch rainbows at their specialised hatching and acclimatisation facilities to prepare the fry for Peak Trout's specific water temperatures and pH levels. Once the fry are swimming and feeding independently, they are transported to Peak Trout.
The fry that are hatched on the farm spend their first four weeks in the hatching troughs. During their initial 10 to 14 days, they are unable to swim, and feed off the remains of their internal yolk sac. After this, they become 'swimmer fry' and can be fed with fish meal.
Specialised feed
The trout feed used at Peak Trout is manufactured by KZN-based AVI Products. The No. 0 feed given to the swimmer fry comes in powder form and has up to 53% protein and high fish fatty acids, all of which help to ensure optimal growth. These fry can be fed up to 15 times a day, depending on environmental factors.
"Once the swimmer fry are about 5cm long, we use nets and buckets to move them from the hatching troughs to larger holding ponds," explains Nina. "Stocking densities vary up the age cycle, depending on water temperatures and flow rates from the river water, and these vary constantly. We have to adapt to these, otherwise the fish could die within minutes." Simon concurs: "One has to be flexible and have an intimate knowledge of one's own production conditions and parameters."
During their time in the holding ponds, the fry receive, in turn, No. 1 (0,3mm diameter), No. 2 (0,6mm) and No. 3 (0,8mm to 0,9mm) crumble feed ranging from 53% to 48% protein five to six times a day. Once most of the fry in a particular holding pond are about 10cm in length – at about four months – they are caught in a net and size-graded using a special tray. This allows fish smaller than 10cm to fall back, allowing them more time to grow. Fish 10cm and longer are moved to a growing pond.
"A rainbow trout should grow about 2,5cm a month under good conditions," says Simon. "Optimal water temperature for
their growth is 12°C to 17°C, but they are still comfortable from 4°C to 19°C. Temperatures either side of this dramatically slow a trout's growth as it diverts energy towards trying to deal with the stress."
The rainbows spend two to three months in these ponds, where they are fed three times daily with 1,5mm to 2mm pellets. When they are 150cm to 180cm long, they are graded by hand (gloves are used to protect the fishes' slime barrier) and transferred to the next tank or raceway for the final stage. Here they are fed 3mm, 4mm and 5mm pellets in turn, the largest of which contain 38% protein. The fish spend four to five months in these tanks until they are ready for harvesting, either as table trout or stocking trout.
Marketing
Peak Trout's production facilities can hold up to 20t of trout of varying ages. This allows the company to supply the table trout market throughout the year. The stocking market only comes into play during the cooler months of May to November.
Nina explains that the table trout market demands whole, gutted, cleaned fish of 250g to 350g. In its first year, Peak Trout produced 42t live weight of trout.
Of these, about 6,5t were sold as stocking trout to clients in KZN and Mpumalanga, while the rest were sold as table trout. The company is one of only three commercial trout farms in KZN, and is likely to grow market share as it aims to increase output to 60t in the second year. According to Simon, they may push this even higher provided it does not compromise quality and the business's environmental footprint.
"Demand for trout exceeds supply, so we have the market, the prices are good, and if we manage our business properly, there's money to be made," he concludes.
For more information, email [email protected]