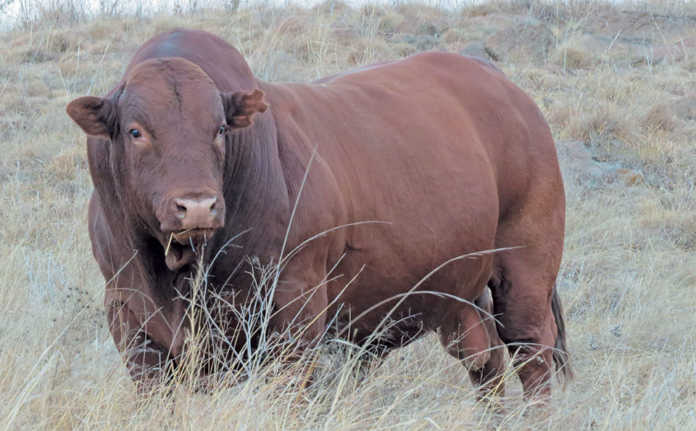 Although bulls make up only 3% to 5% of a herd, they are responsible for 50% of the genetic composition of a calf crop, says Martin Seyfferdt, interbreed cattle judge.
He stresses that, above all, a bull buyer must be clear on what he wants to achieve with a new bull.
Selection priorities
The breeder's primary task is to choose a bull that will maintain the cow herd's good qualities, and improve on the poor ones. Importantly, he should have a specific goal in mind when selecting a bull, and arrange his priorities accordingly.
READ What to look for when selecting a bull
Seyfferdt warns against an extensive list; the breeder should focus on a short list of economically important traits in order to improve the herd rapidly.
Heritability
Heritability plays a key role in bull selection; it measures the relative importance of hereditary and environmental influences on the development of a specific quantitative trait.
Traits with higher heritability factors will obviously play a more important role than low heritability factors.
High heritability traits include scrotal circumference, weight, growth, birth weight, eye muscle area, and bone and hoof thickness. Medium heritability traits include shoulder height, hide thickness, fertility, and eye pigment.
READ Understanding the basics of heritability – Part 1
Low heritable traits are body weight, feed conversion, general appearance, and sheath and prepuce.
Visual inspection is just one of several selection criteria. However, choosing a bull on eye value alone is a waste of time and money, Seyfferdt stresses.
A prospective buyer should learn as much as possible about the breed, and this should include getting expert advice on it. The animals' pedigree and performance should back the decision to buy or not.
The condition of the reproductive organs is vitally important. A normal scrotum, for example, should be a bottleneck shape.
Buyers should avoid scrotums that are long and flat-sided, concave, wedge-shaped, or hypoplastic.
A wedge-shaped scrotum is usually smaller than normal and less mobile, while a hypoplastic scrotum indicates that one or both of the testes are underdeveloped. Testes that are too low can easily be injured; an ideal sheath hangs at a 45° angle.
Seyfferdt adds that a buyer should never buy a bull based solely on its performance in the show ring. The bull's specific recorded performance and its dam's recorded performance are far more important.
"There's much truth in the saying, 'great bulls have great dams'," he says.
Performance testing
In South Africa, performance testing is based on the measurement of economically important attributes in a herd or at a testing centre.
These traits include birth mass, pre-weaning mass, and feed conversion ratios. Year-old mass, 18-month mass, and average daily gain are also considered economically valuable.
Reproduction is measured by inter-calving periods and calving percentages.
The performance of the bull and its family lines should be considered in conjunction with a visual appraisal.
READ Performance testing: not only for stud farmers
Note, too, that visible traits such as straight hocks or an inferior build, can outweigh excellent breeding values. A bull's pedigree indicates how it has been bred; its performance test results indicate its capabilities; its progeny indicates the type of animals its breeds.
Seyfferdt advises breeders to remember that "the bull's daughters are the future breeding animals".
"The last three breeding bulls in a cattle concern contribute nearly 90% of a herd's genetics. The long-term effect of bulls, the owner needs to constantly monitor the bull to make sure it does not lose too much weight during the mating season.
A new bull should be bought a reasonable period before the start of the mating season, as it takes about 40 days for sperm cells to develop before ejaculation.
Seyfferdt counsels that buying a bull without conducting research could be an expensive exercise if the animal does not perform as expected.
Finally, the buyer should remember that a breeding bull is being bought to strengthen a herd. Part of the research should therefore include assessing that herd's strengths and weaknesses.
The bull breeder's role
According to Arthur de Villiers, the owner of Arcadia Bonsmara stud, a buyer is looking for a bull that successfully services females, is adaptable, can keep its condition, and produces superior offspring.
Bull breeders should identify bulls with these traits, and with the best libido and semen. Bulls should be masculine and functionally efficient, and their pedigrees should reflect dams' and sires' performance.
He advises that bulls be suited to both heifers and cows, as buyers want them to serve many cows in a relatively short breeding season.
"Buyers expect bulls to maintain the same body condition as the cows during the breeding season," he says.
He recommends that the breeder should assist the buyer in making the correct choice, by informing him about a specific bull's breeding values and any deviation from the breed averages.
READ Buying a bull at an auction
A 20% deviation either way is acceptable, according to De Villiers.
Buyers naturally want bulls that produce offspring with excellent growth rates. They also want to breed good replacement heifers. So it's important to sell bulls that breed good, functional, long-lived mothers with acceptable breeding values.
Bull breeders would be well-advised to produce animals from mothers that calve regularly and maintain body condition.
"Beef cattle producers want uniform calves that are born together during a fairly short time. This is why libido and semen quality are so important," says De Villiers.
Buyers look for affordability. A good rule, he says, is that the price of a new bull should be equivalent to that of between eight and ten weaners, or four or five slaughter cows.
Finally, buyers prefer bulls with good records. So it is the breeder's responsibility to help them understand sale catalogues and ensure that bulls put up for sale are backed by breeding soundness certification.
"Should a buyer experience problems with a newly bought bull, we as sellers should be fair and accommodating, and approach the problem with dignity. Stud bull producers who treat their clients in this way will have a client for life."
Phone Martin Seyfferdt on 073 291 2516, and Arthur de Villiers on 082 564 8912.