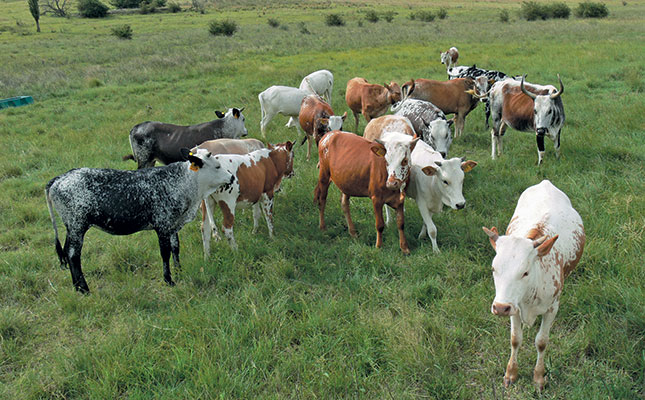 Both former professionals from Johannesburg, Johan and Danita de Swardt started farming part-time in November 2011. Leasing grazing on a per-head basis, they established their Nguni herd of 85 animals, bought at Nguni stud sales in Bela-Bela, Mooi River and Springbokvlakte, on 2 000ha of the farm Langkloof near Vaalwater in the Waterberg.
But in August 2012, tragedy struck. The Waterberg is prime habitat for Dichapetalum cymosum (gifblaar), one of the first plants to put out fresh growth in spring. True to its name, a high level of potassium fluoroacetate in the young sprouts makes it highly toxic.
The losses were devastating. Of 85 cows and 72 calves, 12 in-calf cows and 19 calves died or had to be put down. Between 10 and 12 female animals aborted.
Following this experience, a long search for more suitable land began, and in November 2013, the De Swardts relocated their remaining 73 cows and 53 calves to the farm Damplaas, 6km from Paul Roux in the Bethlehem district of the eastern Free State.
Johan took early retirement in the same month, took transfer of the farm in December 2013; Danita retired and joined him in May 2015.
Farming after retirement
"We chose how we wanted to spend our retirement from corporate life," says Johan.
"We jokingly refer to our farm as our retirement village with only one unit," Danita says.
"We made a conscious lifestyle change and created a new type of business that keeps us going Farmingand challenged. We invested a portion of our retirement funds in the cattle, as our return on investment had to at least exceed the prime market rate.
"We are both involved and committed to making it a success, based on our love for Ngunis. Each one is unique in appearance and quite easy to get to know as individuals.
"We also did a great deal of research beforehand. Johan found a mentor in [scientific manager] Dr Chris de Brouwer. We spent a lot of time learning about cattle before we bought our first animals. Initially we sought the advice and assistance of our vet, other farmers, academics and other experienced people."
They had to start debt free, Danita says, especially in light of the three-year drought.
"We were fortunate in that we succeeded."
Johan adds that the most important factor in cattle farming is not the size of the cattle.
"The two basic issues are simply the size and nature of the forage, and the amount of beef we can produce at the lowest cost per hectare. These [considerations] are one of the reasons we selected Nguni cattle."
Finding the right farm
Damplaas has significant advantages and benefits. The 465ha farm is situated close to a main road, with good grazing (grassveld and pasture) ideal for cattle and sheep. It also has only a few ticks.
The farm's well-developed, suitable infrastructure includes an electric-fenced farmhouse, well-built outbuildings and staff quarters, as well as a large storeroom.
There is also a five-section feedlot for 1 800 cattle, and 16 properly fenced grazing camps that range from 27ha to 41ha in size, which are connected by 4m-wide, steel swing gates. Each camp also has a sufficent amount of drinking troughs.
The farm also has three boreholes, each delivering more than 10 000ℓ of excellent-quality water per hour for domestic and stock use. There are three abattoirs situated within 30km.
The previous owners used the farm mainly for crops, says Johan, but he adds that Damplaas is "primarily a grazing farm".
"The veld has consequently suffered, and parts are still recovering. Our careful veld and grazing management has seen two-thirds of the land improving remarkably. Large patches of red grass, Themeda triandra, are now well established. Three erosion gullies have stabilised and are 80% overgrown with good grass cover."
Recording performance
Referring to creator of the Bonsmara breed, Prof Jan Bonsma's, dictum, "man must measure", Johan stresses that a modern cattle farmer cannot measure performance without an infallible identification and real-time information system.
A farmer regularly moving among his/her Nguni cattle herd can readily identify most individual animals, even from a distance, due to their distinctive colour patterns. As such, other systems serve mainly as backup, or for positive identification in case of stock theft or sale.
The De Swardts take no shortcuts or chances. In the stud herd, all animals are branded and carry yellow ear tags and digital ear tags. A Bluetooth stick reads the digital tag and a Bluetooth electronic weighbridge scale automatically downloads the data onto a laptop.
A DNA sample of each animal serve as an independent, irrefutable reference. Commercial animals are identified and recorded, but no DNA reference samples are taken.
"We keep comprehensive records of each animal in the Thandanani herd, whether stud or commercial," Johan says.
"Additional information in the field, recorded in a notebook, is computerised as soon as possible. We use an Excel spreadsheet, with macros and formulae, to measure the performance of both herds according to the same index, including more factors than are available with online stud software."
Each cow in the herd, whether registered or commercial, has an impressive data set that is more comprehensive than on online systems.
This includes factors such as physical appearance and conformation, and the following is also recorded: birth date, as well as age at first calving; the identity number of each calf; time from first to second calf; average inter-calving period; photo of current unweaned calf; birthweight of latest calf; average birthweight of all calves; weight of cow at latest calving and average weight at all calvings; weaning weight of latest calf and average weaning weight of all calves; weight of cow at latest weaning; and average weight at weaning of all calves.
Any calf mortalities and their causes, as well as comments on the general health of the cow, are also recorded, as are details of all veterinary treatments and inoculations.
Every cow is scored on a scale of one to five. A score of five is excellent, four is good. An animal with a score of three or lower is culled.
Adding value
Thandanani is unique in that it supplies professionally slaughtered and dry-aged, high-quality veld-reared Nguni beef in retail packs direct to clients in Gauteng.
The Klipscheur abattoir, a registered professional slaughtering facility between Bethlehem and Paul Roux, slaughters on contract for Damplaas.
The carcass is hung and dry-aged at Klipscheur for seven days to ensure a high-quality end product.
An approved butchery in Bethlehem processes the carcass into retail cuts, then vacuum-packs, weighs, labels and deep freezes them in hampers according to individual order.
Johan and Danita deliver directly to clients once a month with a cooler trailer, using this opportunity to build personal relationships with their clients.
Human capital
Johan and Danita's approach to personnel management is based on the principle of ubuntu.
"We work as a team in which every member has responsibility and takes accountability to do his/her job to the best of his/her ability," says Johan.
"Workers are free to air their opinions and to make suggestions as to a better way of doing something."
Sipho Makoena is the farm and herd manager, and concentrates on cattle production.
Samuel Motholo is responsible for maintenance, water reticulation and fencing.
"We celebrate success together and, before the Christmas break, host a staff dinner in the main house," says Danita.
After five years of service, the workers share in the net profit of the cattle sales.
Phone Johan or Danita de Swardt on 082 570 7966, or email them at [email protected].