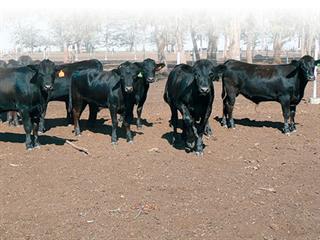 "No, we do not feed our Wagyu cattle beer or massage them like the Japanese do," quips Brian Angus. But the legend of such practices only enhances the luxurious image of the Kobe beef the cattle produce.
This highly marbled beef, the tenderest ever tested in South Africa, retails  at an average of
R1 500/kg worldwide.
"A friend recently attended an auction in Kobe, Japan where the 82 carcasses on sale averaged R74 000," marvels Brian. "The most expensive sold for R150 000. Imported Wagyu steak currently retails at R700/300g in Cape Town."
Brian runs his Wagyu stud in conjunction with Red and Black Angus, Red Brangus and Merino studs, but he says that once you've tasted Wagyu you're hooked, and no other steak will ever taste the same again.
"My plan is to expand and run the Wagyu stud as pure genetic resource, and to cross Wagyu with Angus to produce and supply top-quality beef to local consumers in exclusive niche markets," he explains.
"Pure Wagyu beef is so highly marbled that the average housewife won't buy it. Our initial trials were enthusiastically received by consumers. We sold some Wagyu carcasses to the Mini Pick `n Pay in Bethlehem, and the cuts virtually flew off the shelves. The latest batch was sold out even before it was unpacked. We also supply beef on a trial basis to a restaurant in Sandton and the Hyatt Hotel, both in Johannesburg, and have had enquiries from leading supermarkets.
"Prospective Wagyu breeders are welcome to contact me. This year we might be able to sell some embryos if there's a surplus. But I'm not selling any breeding stock yet since I'm still building up my own herd."
Tenderest the ARC ever saw
"This breed could drastically change South African beef production," says Brian, who imported the first Wagyu embryos from Tekada Farms in the US in 1998.
"First I had to conduct a comprehensive biological impact study with the Agricultural Research Council (ARC) and prove the breed would add value to the South African cattle industry," he recalls.
"We had to compare the tenderness of Wagyu, Angus and Sanganer. Tests at the ARC's Meat Centre in Irene revealed the Wagyu meat was the most tender ever tested in the country, with Wagyu/Angus meat in the second place."
A sample of aged loin and rib-eye steaks from a Wagyu/Angus F1 cross was tested against the benchmark tenderness for aged beef. According to the Boleman and Shackleford benchmarks, consumers can differentiate between three categories of tenderness: 2,27kg to 3,85kg of shear-force value; 4,08kg to 5,4kg; and 5,9kg to 7,21kg.
The individual shear values of Brian's specimens varied between 2kg (tail-end steaks) and 2,9kg (rear-end steaks and rib-eye) – far below the minimum for exceptional tenderness, for which research shows consumers will pay a premium.

Although he initially imported embryos from the US, Brian Angus now imports mainly from Australia, which  has become a major player in the Wagyu industry. The live feeder trade with Japan is a vital part of the industry, and the Australian feedlot industry is a major purchaser of Wagyu and Wagyu-infused cattle.
In the feedlot and at stud
The Wagyu is a medium-sized breed, and Woodview Angus x Wagyu steers are rounded off to about 600kg in a feedlot for slaughter. Cows weigh 450kg to 500kg.
"It takes about 1,2t of feed to get a feedlot steer to about 420kg," says Brian.
"Wagyu crosses need at least 2t of feed to finish properly, but the high returns on investment offset this."
READ: Cattle in feedlots
The breed is extremely fertile and early maturing. Cows drop small calves, making Wagyu bulls ideal on heifers. All Woodview cows are artificially inseminated. Purebred calves grow at about 1kg/day, and Angus-cross calves grow faster due to heterosis.
"The Wagyus are kept on the veld with standard licks," says Brian.
"The breed doesn't differ markedly from the others I use in terms of adaptability, hardiness, or resistance to disease and parasites. Long-term, he aims to expand the feedlot to full capacity, and to lend or sell Wagyu bulls to commercial breeders and buy back calves.
Wagyu cattle on the international scene
"It now costs some R5 000 to import an embryo from Australia," says Brian. "US Wagyu breeders became exceedingly protective of their industry, and it's difficult to get embryos from them.
"The Wagyu industry is thriving in Australia. The Japanese bought feedlots and breeding farms there and bring the animals, live or slaughtered, to Japan. Japanese companies such as Nippon Ham, Maribane and World K are major players in the Australian Wagyu industry."
Phone Brian Angus on 082 573 9687.
This article was originally published in the 25 December 2009 – 1 January 2010 issue of Farmers Weekly.