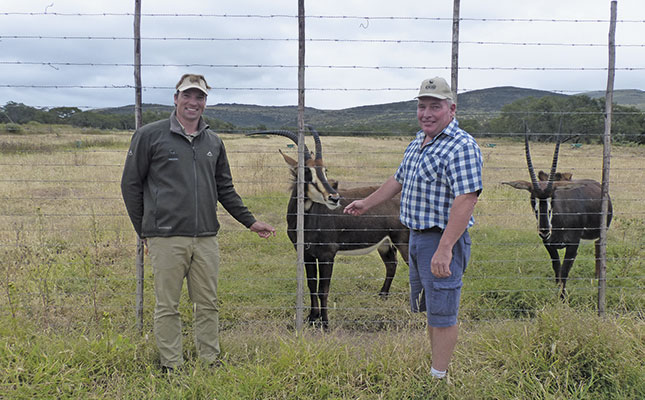 We were searching for a property across the Eastern Cape, but when we found Benghoil we absolutely loved it,'' says Warren Rieger (34).
The 2016 Wildlife Ranching SA's (WRSA) Eastern Cape Best Newcomer's quest to establish a game enterprise started in 2006 when he purchased this former livestock farm.
His love for the property, which was declared a national heritage site in the early 1990s, isn't surprising considering its rich biodiversity, ranging from the higher lying grasslands of the Windvogelberg to the dense bush of the valleys leading to the Waqu River.
Since purchasing Benghoil, two more neighbouring farms have been added to create a 3 500ha reserve that is home to more than 28 species of game and 325 black and red Brangus breeding female animals.
Getting started
The first major challenge after purchasing the 1 600ha Benghoil was to erect 22km of game fencing that was partly funded by leasing the property to a local livestock farmer. Once the fencing had been completed in 2007, Warren began to introduce endemic game as documented in the numerous rock art shelters in the area.
Soon, game such as eland, black wildebeest and springbok joined resident mountain reedbuck, duiker and kudu. Later, non-endemic species such as impala and lechwe were introduced to the reserve followed by rare game species.
However, an important source of income for Benghoil over the years has been a Brangus beef operation that still generates 70% of the property's turnover, and has funded approximately 30% to 40% of all game purchases.
The first cattle to arrive on Benghoil were 80 Black Angus-type cows in 2008, a portion of which were put to a Brahman bull. The resultant crossbred weaners led Warren to commit to the Brangus breed, and in the next few years he sourced genetics from breeders including Barry King (Tarkastad) and Hylton Green (Ladysmith in KwaZulu-Natal).
In 2011, the Rieger Brangus Stud was established, and in 2016, Warren achieved the top price of R46 000 for a bull at the Eastern Cape Brangus Sale in Tarkastad. The 325 medium-framed Rieger Brangus breeding females (87 of which are stud animals) are run extensively on the reserve, and are dipped once every second month in summer and once in winter.
The 325 medium-framed Rieger Brangus breeding females (87 of which are stud animals) are run extensively on the reserve, and are dipped once every second month in summer and once in winter.
The herd is supplemented with phosphate and protein licks, while maize silage will also be used this year. Currently, the combined stud and commercial herd, in which heifers are mated at 24 months, boasts an 80% calving rate, while average weaning weights range between 220kg and 230kg at six months.
Black Impala                                                                                                              
In 2010, it was decided to introduce black impala to Benghoil. A ram was purchased from Oceana Beach and Wildlife Reserve near Port Alfred, and put to a herd of base ewes. Black impalas were then successfully bred from the resultant splits.
Last year, more black impala genetics were purchased from Tembani Wildlife near Thabazimbi and Nyumbu Game near Brits. Today, Benghoil boasts two black impala breeding herds of between 35 and 40 animals each that include base, black and split animals.
The herds run in semi-intensive, non-rotational 40ha to 60ha camps and receive no supplementary feeding. Ewes lamb from November to January when predation becomes a major challenge.
Over the years, numerous impala lambs have been lost to black-backed jackal, with two black lambs already lost so far this year. What's more, a black impala ewe purchased from Oceana Beach and Wildlife Reserve was killed by stray dogs in 2013 after producing just one lamb.
These losses occurred despite the use of various predator management techniques.
Nevertheless, despite the risk of predation and a decline in black impala prices in recent years, Warren explains that this colour variant still represents a solid investment with very few inputs, compared with livestock, for example.
"If you want to condition and sell a three-year-old [beef] bull at an auction for R30 000, the amount of feed is significant,'' he says.
"But if you sell a black impala that needs no dipping or dosing, for even as little as R10 000, you are making R8 800, because your darting cost is only R1 200."
However, good-quality black impala still fetch exceptional prices, such as a 13-month ram sold for R380 000 in 2014, he explains.
Sable Antelope
Warren is particularly passionate about his sable antelope breeding operation, which is today arguably Benghoil's flagship initiative boasting 60 animals with genetics from West Zambian, Zambian and Matetsi bloodlines.
The herd includes two premier breeding groups of 20 to 25 animals each, run in 30ha to 40ha rotational camps and supplemented with between 700g to 1kg of game pellets/ animal/ day, along with lucerne in winter to boost production.
Heifers calve at 26 to 28 months, while the herd has an average inter-calving period (ICP) of 9,5 to 10 months.
The first sable antelopes to be introduced to Benghoil were 10 bulls purchased near Thabazimbi in Limpopo in 2010. The idea was to see whether they would adapt to the area, which they did, in fact they thrived on the reserve.
These bulls were then hunted and sold off, while one bull was kept for breeding purposes.
Between 2013 and 2015, 10 exceptional females with genetic links to the Thaba Tholo, Nyumbu Game and Cottondale Game Ranch sable herds were introduced to the reserve.
In addition, daughters of renowned West Zambian bull, Sam (45") bred by Piet Warren of Sable Park arrived on Benghoil in 2015, while genetic links to other exceptional bulls including the celebrated, Nike (Thaba Tholo) can also be traced in the Benghoil herd today.
The current Zambian herd sire, Apache (45" with a spread of over 23") is the offspring of the Thaba Tholo bull, Chief (46"), which in turn is the half-brother of the legendary Thaba Tholo bull, Tilman (54").
The combined genetic influence of these outstanding bulls and the purchase of selected in-calf cows are now beginning to pay off for Warren.
For example, the Zambian cross Benghoil bull, Phakama (33" at 30 months), the offspring of Milwaukee (45") from Nyumbu Game, has deeply impressed him. Another young Benghoil bull, Maasai, is also showing exceptional potential with a measurement of 20,5" at 15 months.
Maasai is the offspring of the West Zambian bull Assegai (47"), which in turn is a grandson of Sam and a brother to bulls such as Charlie, Tsunami, Black Jack and Zambezi that have all had a significant influence on sable breeding in South Africa.
According to Warren, the strong demand for sable bulls has resulted in sales to top game farmers, including Arthur Rudman of Blaauwkrantz Safaris near Uitenhage and Murray Danckwerts of Stormberg Elangeni Safaris.
To date, Warren has sold 12 sable bulls, both for hunting and breeding purposes, and in 2016 achieved a top price of R380 000 for the 45" bull, Big Blue.
A number of female animals have also been sold, including three heifers (R300 000 each) to Bertus De Waal of Yellowwood Estate near Van Stadens in 2015.
Buffalo
The most recent additions have been buffalo (Addo and Madikwe bloodlines) in 2013.
Currently, Benghoil boasts a herd of more than 25 buffalo, which include 10 breeding female animals that are run in 50ha rotational camps and receive supplements of game pellets and lucerne when necessary to boost production.
Cows have been purchased from Buffalo Kloof Safaris near Grahamstown, some of which were bred from the 47" bull, Tabo. The current Benghoil herd sire, Jabu (44" plus) was purchased from Nyumbu Game and was sired by Jabulani (45").
Two East African buffalo bulls have also recently been purchased, one to be hunted and another for breeding purposes. As purchasing buffalo require a significant capital outlay, they represent a challenging long-term investment.
"This year will be the first time we get a return from buffalo purchased,'' he says.
Hunting on Benghoil
The first trophy animal hunted on Benghoil was an eland bull, shot by a client from Columbia in 2009.
Today, Benghoil Private Reserve (along with its two self-catering lodges) are visited by international clients who hunt between 10 and 15 trophy animals/year. More than 20 animals/year are also hunted by local hunters at a rate of R29/ kg to ensure affordability.
In recent years, rare game has also been added to the trophy hunting packages, at a significant premium, including the first trophy sable bull last year, while the first buffalo and black impala will be hunted on Benghoil this year.
According to Warren, colour variants such as copper and white springbok remain an important drawcard for trophy hunters keen to notch up as many species as possible; colour variants simply broaden their scope within a species.
"Trophy hunters and collectors will always have a place on their walls for colour variants," says Warren.
Phone Warren Rieger on 072 345 3338, or visit benghoil.co.za