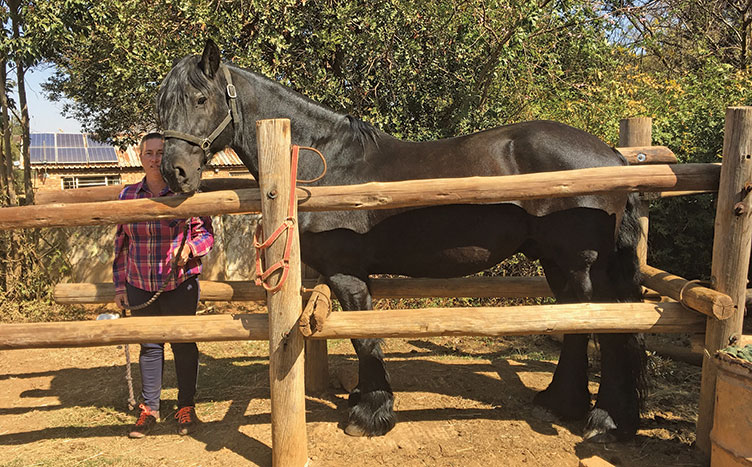 Most cattle farmers own a crush and if they also own horses, use the crush to dip, deworm and vaccinate their horses, as well as to perform general health checks.
Although not ideal for horses, a cattle crush is better than no crush at all. Even if you keep only one horse, a crush certainly makes life a lot easier.
A crush pen for multiple horses
If you own a large herd of horses that normally run together, it is worth building a solid crush made from creosoted wooden poles that can hold five or more horses. The general height required is 1,2m to 1,4m.
If most of your horses are about 16hh or higher, build the crush at 1,4m.
You need four uprights for every horse, and these need to be at least 30cm longer than the height of the crush at 1,5m or 1,7m as they must be buried in concrete. Uprights should be 100cm in diameter.
The length between the uprights should be a horse's length, at around 1,8m to 2m. Between each horse length there are two other uprights, spaced so that you can put a crosspole (or two) between each horse.
Crosspoles are 75cm in diameter and about 750cm long. You can choose either two or three horizontal poles.
Four are generally needed for cattle, but adult horses do not creep between the poles like cattle do. Horizontal poles can be 50cm to 75cm in diameter. You can choose flat creosoted boards (100cm wide x 4cm thick) instead of poles, but they are not always available in South Africa.
The internal width of the crush is 700cm to 800cm, with the latter best for warmblood breeds and quarter horses (see illustration).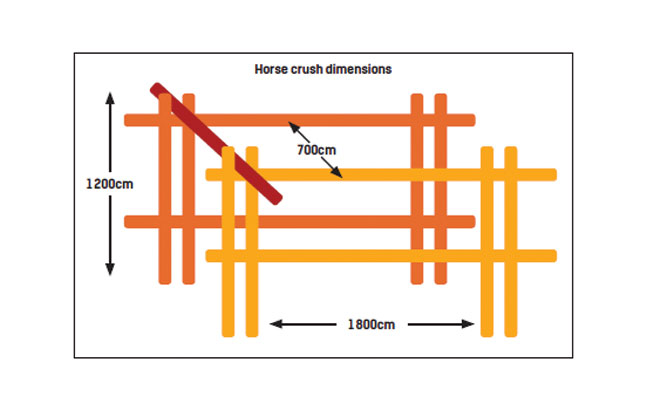 Mares and foals
On stud farms, mares need to be examined for fertility and as they may have foals at foot, you can build two crushes in parallel, so their foals can stand next to them.
The crush is usually built using TALKmetal poles and rubberised walls and gates. The mare crush is 1,2m high, 700cm to 800cm wide, and 1,8m long, with two horizontal poles.
There are hinged gates at the front and the back of the crush (you can use horizontal cross poles instead of gates). The foal crush, which is next to the mare's crush, has solid walls.
If you decide to build it from creosoted poles, the same measurements apply. At the back, to prevent the veterinarian being kicked when doing fertility examinations, you can use a length of conveyer belt hung over the bottom pole.
Training horses to go into crush 
It is worth training all your horses to go into a crush easily. Lure them in quietly, using food and let them stand and eat lucerne, concentrates or carrots while you groom them.
Once they are accustomed to going in and standing still, you can use the crush to spray them with midge repellents during horse sickness season, vaccinate them, or treat wounds.
Dr Mac is an academic, a practising equine veterinarian and a stud owner.